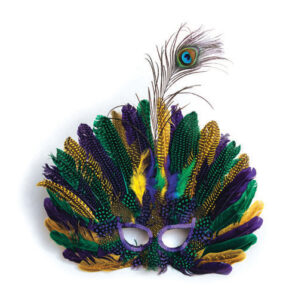 Your New Year's resolutions may have been fastidiously observed … until now. Are you ready to have some fun? Mardi Gras is French for "Fat Tuesday," a time to relax the rules and indulge before the austere religious season of Lent that begins on Ash Wednesday. These dates are determined by moon phases and coincide with many even more ancient celebrations like the Roman holiday of Saturnalia. The point? Since the beginning of history, everybody has needed a break from everyday life right about now. Dig in to these recipes, and let the good times roll!

Crawfish Cakes with Cocktail Aioli
Ingredients
2 cups corn oil
3 pounds crawfish
½ pound trimmed white bread, cut into ½-inch cubes
2 tablespoons Old Bay seasoning
½ teaspoon ground white pepper
¾ cup chopped pimientos
2 tablespoons chopped fresh parsley
1 egg
1¾ cups mayonnaise, divided
1 teaspoon prepared mustard
1 teaspoon lemon juice
1 teaspoon Worcestershire sauce
¼ cup zesty cocktail sauce
Instructions
Pour the oil in a large skillet and place over medium-high heat. Bring to 350 degrees.
Meanwhile, mix together the crawfish, bread cubes, Old Bay, pepper, pimientos and parsley. In a separate bowl, beat the egg and stir in all but 2 tablespoons of the mayonnaise, mustard, juice and Worcestershire. Stir into the crawfish mixture and combine to a meatloaf-like texture. The mixture should not be too dry or too wet. Adjust accordingly with more bread.
Divide the mixture into 16 equal portions (about 4 ounces each) and shape into patties. Carefully place a few patties at a time into the hot oil and cook each side 4 to 5 minutes, until golden brown. Drain on paper towels and repeat with the remaining patties.
Stir together the remaining mayonnaise and cocktail sauce. Serve with the warm crawfish cakes.
Holy Trinity Shrimp Creole
Creole cooking always makes good use of tomatoes and is a blend of French, Spanish and African cuisines. The "holy trinity" of green peppers, onions and celery is found here as well.
Ingredients
¼ cup bacon drippings or vegetable oil
¼ cup all-purpose flour
1½ cups chopped yellow onion
1 cup chopped green onions
1 cup chopped celery
1 medium green bell pepper, seeded and chopped
2 garlic cloves, minced
1 (16-ounce) can stewed tomatoes
1½ teaspoons kosher salt
1 teaspoon black pepper
½ teaspoon ground red pepper
2 bay leaves
1 tablespoon lemon juice
1 teaspoon Worcestershire sauce
¼ teaspoon hot sauce
5 pounds large or jumbo shrimp, peeled and deveined
½ cup chopped fresh parsley
Hot cooked rice
Instructions
Place the drippings or oil and flour in a cast iron skillet over medium heat.
Stirring constantly, cook 15 minutes or until the roux is dark brown. Add the yellow and green onions as well as the celery, green peppers and garlic. Cook another 15 minutes, stirring often.
Transfer to a large Dutch oven. Add the tomatoes, salt, black pepper, red pepper, bay leaves, juice, Worcestershire and hot sauce, stirring well. Bring to a boil, cover and reduce heat to low. Simmer 45 minutes, stirring occasionally.
Stir in the shrimp and simmer 5 minutes or until the shrimp turn pink. Remove and discard the bay leaves. Sprinkle the parsley on top and serve immediately over hot cooked rice.
Oyster Po'Boys
Two brothers, Benny and Clovis Martin, owned a sandwich shop in New Orleans in 1929. When the streetcar workers' union went on strike, the brothers fed the striking workers sandwiches. A greeting of, "Here comes another poor boy," worked its way into the name of this popular sandwich.
Ingredients
½ cup mayonnaise
1 tablespoon hot sauce
1 (24-inch) loaf French bread
1 recipe Fried Oysters (see below)
1 lemon 4 cups shredded iceberg lettuce
Instructions
In a small bowl, whisk together the mayonnaise and hot sauce. Split the bread in half lengthwise. Smear the mayonnaise mixture on the inside of the top and bottom.
Fry the oysters as directed in the recipe. After draining on paper towels, drizzle with lemon juice.
Place the oysters on the bottom slice and top with the lettuce. Place the top bread slice on the lettuce and press down gently. Cut the entire loaf into 4 sandwiches and serve immediately.
Fried Oysters
If you have those in your midst who think they don't like oysters, start them out on this Southern dish to change their minds. Use a thermometer to make sure the oil is heated to the proper level before you begin.
Ingredients
Vegetable oil
1 cup self-rising flour
1 cup self-rising cornmeal
½ teaspoon red pepper
2 eggs
2 tablespoons milk
2 (12-ounce) containers oysters, drained
Instructions
Pour the oil to a depth of 3 inches in a large Dutch oven or skillet. Place over medium-high heat and bring to 375 degrees.
Meanwhile, in a medium bowl, combine the flour, cornmeal and pepper. In a separate bowl, whisk together the egg and milk. Dip the oysters in the egg mixture and dredge in the flour mixture.
Fry until golden brown in the oil, 1½ to 2 minutes. Drain on paper towels and serve warm.
Spiced Right Crawfish Stew
Ingredients
4 tablespoons unsalted butter
⅓ cup all-purpose flour
1 cup chopped onions
1 cup chopped celery
1 jalapeño pepper, seeded and minced
2 cups water
1 (14.5-ounce) can crushed or diced tomatoes
1½ teaspoons salt
¼ teaspoon black pepper
3 cups crawfish tails
1 (10-ounce) package frozen sliced okra
1 medium green bell pepper, seeded and chopped
¼ cup chopped fresh parsley
2 teaspoons gumbo file powder*
3 cups hot cooked rice
Instructions
In a large Dutch oven over medium heat, melt the butter. Whisk in the flour and stir constantly until the roux is the color of chocolate, around 10 to 12 minutes. Stir in the onions, celery and jalapeño pepper. Cook 3 minutes longer.
Stir in the water, tomatoes, salt and pepper. Cook 15 minutes. Add the crawfish, okra, bell peppers and parsley. Simmer 10 minutes, stirring frequently. Stir in the file powder. Ladle the rice into warm soup bowls. Top with the stew and serve warm.
*File powder can be found in the spice aisle of the supermarket. It is a spicy powder made from dried and ground sassafras leaves.