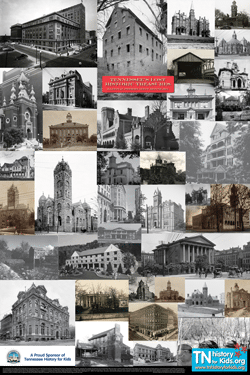 May is National Preservation Month. In honor of this, Tennessee History for Kids and the Tennessee Historical Commission have produced a poster honoring some of the state's "Lost Historic Treasures."
Unlike our previous four posters that contained color photographs of things that are still standing, this poster features black-and-white pictures of structures that are gone. In the process of gathering material for the new poster, I came to a few conclusions.
A lot of beautiful buildings have been torn down in Tennessee history; among those I chose for the poster are homes, churches, courthouses, businesses, hotels, schools, a theater, a fire hall and a train station. When I look at photographs of some of these buildings, I find it difficult to understand why they were destroyed.
One thing that has become clear through my years of being a newspaper reporter and history writer is that until the 1970s, few Americans had high regard for preserving old buildings. As best I can tell, each of Tennessee's four largest cities had a turning point — a single debate over a building's fate that made preservation a viable cause. In Nashville, for example, the turning point was the saving of the Ryman Auditorium in the mid-1970s.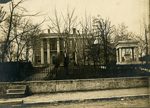 Two of the buildings that made the poster once sat side by side. One is the original Memphis Cotton Exchange building, an ornate, detailed structure that may have been the most glorious place of business ever constructed in Tennessee. The other is the Cossitt Library — a building known in its time as the "castle" — which was majestic before a series of "renovations" turned it into an architectural hybrid. Or, as the website of Historic Memphis says, "The original Cossitt Library was one of the most beautiful public buildings in Memphis. (It's current form) is one of the ugliest."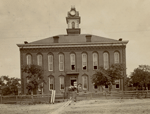 Many of the greatest buildings torn down were at institutions of higher learning. I found three examples at the University of Tennessee in Knoxville: the Old Law School, Science Hall and the Carnegie Library. (Knoxville history columnist Jack Neely informs me that UT has torn down a lot more than that!) I know from my own research that Vanderbilt University lost two beautiful buildings by fire (College Hall and the original Wesley Hall), while it tore down another massive structure in the 1950s (Kissam Hall). In the course of producing the poster, I came across two long-gone and long-forgotten higher-education buildings: the administration building at Grant University (now the University of Tennessee at Chattanooga) and the main building at the University of Middle Tennessee (a now-defunct Tullahoma institution).
Speaking of fire, Tennessee has lost quite a few buildings in that manner. Among structures lost to fire are the 100 Oaks home near Winchester, Maxwell House Hotel in Nashville, Assembly Inn in Monteagle, Lenoir Cotton Mill in Lenoir City and Tabard Inn in Rugby. Several of these made the poster.
A few years ago, Tennessee History for Kids produced a poster of Tennessee's 95 courthouses. With that in mind, I found some high-quality photographs of some courthouses that have been torn down, and the ones that made the poster were in McNairy, Crockett, Davidson and Bradley counties. The old Bradley County Courthouse is an especially handsome structure (apparently identical to the one that still stands in Henry County). I can find no one in or near Cleveland who can defend the decision to tear down the Bradley County Courthouse and replace it with the one they use now.
Some of the buildings that might classify as "Tennessee's Lost Historic Structures" were never photographed in the first place. The best example of this phenomenon is the First Presbyterian Church in Murfreesboro, which served as the Tennessee State Capitol in the 1820s. During the Civil War, Union troops tore the building down. To the best of my knowledge, no photograph of it was ever taken. Author and tour guide Mike Freeman of Memphis tells me that there is no photograph of the first-ever Piggly Wiggly store.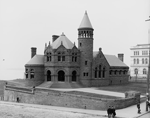 I came up with many examples of "lost" buildings of which we do not have high-quality photographs. There is a photograph of the Capitol of the "Lost State of Franklin," for instance, but it is of very poor quality and couldn't be used on a poster. The nice folks at the Sumner County Archives sent me a digital image of that county's courthouse, torn down in the 1930s. It is not a very clear photograph, and I don't think a better one exists. I would also have loved to have found a good image of the old Stewart County Courthouse because there is no way to take an attractive photograph of the current one.
In my opinion, the most important building ever torn down in Tennessee was the Polk Place Mansion in downtown Nashville, which was intended by President and Mrs. James K. Polk to be preserved and used by the state. Today the site of Polk Place is a parking lot. About 10 years ago, former Nashville Mayor Richard Fulton told me that he would love to see a replica of the Polk Place mansion rebuilt on the site. I agree with him.
The new Tennessee History for Kids and Tennessee Historical Commission poster honoring "Tennessee's Lost Historic Treasures" has been primarily produced for teachers. You can get copies for a small shipping and handling fee from the Tennessee    History for Kids website, tnhistoryforkids.org.