From Munford to the Macy's Thanksgiving Day Parade, this award-winning high school band is going places.
Have you ever watched a high school marching band perform in the Macy's Thanksgiving Day parade in New York City and wondered why those performers were chosen and what it took for them to get there? According to Munford High School's band director, Barry Trobaugh, it takes at least four months of intense planning and enough energy to hold down a second fulltime job because that's what it was like for four months dealing with extensive application regimen from Macy's.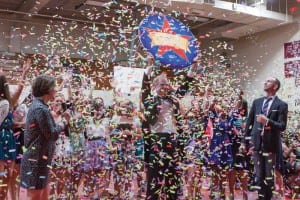 Trobaugh, a member of Southwest Tennessee Electric Membership Corporation, has been in music education for 34 years and band director at Munford High for 22 years. He spearheaded the submission task for his 230-member band with the fervor and passion rarely seen by average faculty and administrators. But the Munford High School Marching Cougars is no average band, and Trobaugh is no average director.
The Munford musicians have won numerous awards around the country, including USBand's top honors as national champs in 2013. As director, Trobaugh has been acknowledged for his contributions as well, even qualifying as a semifinalist for Tennessee's Teacher of the Year in 2008, but prefers to "focus on the achievements of my kids. These amazing, hard-working students," he says, "are just the best, and I'm very proud of them."
"Hundreds of bands submitted to Macy's from all over the country," says Trobaugh, "and we were one of six bands chosen this year. It truly is a great honor. We are having 'pinch me' moments right now. It really is a dream come true."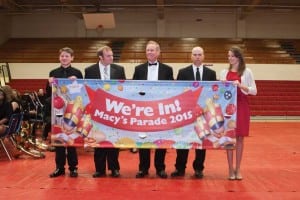 As any dreamer can tell you, dreams only come true after a lot of hard work and perseverance — things Trobaugh and his marching musicians know something about.
Cost of the trip is estimated at $300,000. Neither Macy's nor NBC pays anything to the bands that perform — their reward is the honor of being accepted. Most of these students will enjoy their first trip to the Big Apple and are looking forward to a little downtime for sightseeing while they are there.
One can imagine that it's not cheap to transport an army of students — complete with instruments, equipment and uniforms — 1,000 miles from home and back. Since last June, when they received word of their acceptance into the parade, the band members, with the help of many boosters, have organized countless fundraisers. They've baked cookies, washed cars, sold fruit, conducted auctions and accepted corporate sponsorships large and small to make their goal, which is still around $40,000 short. Donations are still being accepted at the band's website, www.munfordband.com. Click on the link that says, appropriately, "Macy's."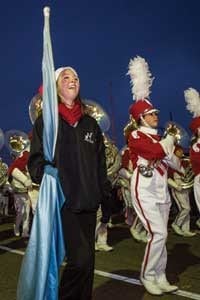 When asked if performing for 50 million television viewers and scores of local parade-watchers makes him nervous, Trobaugh explains, "We are ready for this. It's hours of practice each day, in the heat, in the rain, in the cold, but these kids are tough. They are the best in the world. I'm confident that when we get there, they'll rise to the occasion and perform the way they were trained. And they will amaze you."
True to its Tennessee roots, the band will be performing songs familiar to readers of The Tennessee Magazine. And being from Munford, a bedroom community of Memphis, it's planning a little something for Elvis fans as well.
Macy's has sponsored the parade since 1924. NBC has televised the three-hour event since 1952. It will air on NBC starting at 9 a.m. Eastern time on Thanksgiving Day.
And on Thanksgiving morning, it will be nice to imagine a proud, small town in West Tennessee, neighboring communities and now thousands of our readers in front of our televisions at the same moment. We'll cheer on 230 of our hardest-working dreamers and feel the goosebumps of pride as they march in unison with our hearts, playing music that connects us all.