"Old-Fashioned Basketball" by Robin Conover
Canon F-1, 10-200 mm 2.8 L-series lens mounted on a Bogen tripod, ISO 50, ƒ8 at 1/250 second
When you take photographs for a living, you always have a few favorites and, most of the time, you know when you shoot them that they'll be special. The image at right is a bit of an exception. It has grown to mean much more to me today than the day I shot it.
In the early '90s, I was searching for places to take scenic images for the magazine and found this red barn near Henrietta. The overcast day provided very nice, even lighting across the face of the barn. Checking it more closely, I found this classic basketball goal — complete with a perfectly worn net.
Now I have to admit that at the time I definitely knew who Pat Summitt was: She coached the U.S. Olympic gold medal-winning team in 1984 and was the revered coach of the talented University of Tennessee Lady Vols. I did not know she grew up very close to where I shot this image — within 10 miles or so, in fact.
After I realized this, I always wondered if she might have played summer pick-up games at this old barn. The original image was shot on Velvia slide film, which helped to enhance the deep reds and blacks of the image. The original slide was digitized by scanning it with a Nikon film scanner.
Ultimately, this image became buried in the thousands of archived slides I shot prior to digital photography. About 10 years ago, I had a reason to find it and print it when a friend of mine, Deanna, a high school teacher and coach who loved Pat Summit, was stricken with cancer.
I wish I had thought of this image earlier on in Deanna's battle, but it was late in the game when it came to mind again. I knew it would inspire Deanna if I could get it signed by Pat in time.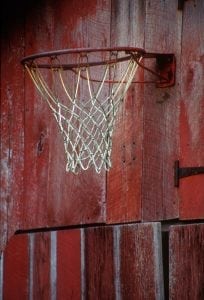 I made two 11-by-14-inch prints and matted them before mailing them to the University of Tennessee to Pat's attention. I sent a note with the entire story and asked that they keep one of the prints and return the other if Pat was willing to sign it.
After only a few weeks, I received one of the prints back with an inspirational message to my friend. Sadly, Deanna had already passed. Since then, I have kept the print on a shelf in my studio, waiting for the right time to give it to her son.
With Pat's passing, I was once again reminded of this image and realized it's time to give the print to the rightful owner with the story of who Pat Summitt was to so many — a gritty, self-disciplined leader who made everyone around her stronger. I will pass it on with the story of how his mother was inspired by Pat Summitt in coaching and in life and, in turn, how Deanna inspired her own world as a strong-willed, determined friend who expected everyone's best on and off the court.