"Roosting Turkeys at Radnor Lake" by Robin Conover
Canon EOS 5D Mark III, 100-400 mm,
4.5-5.6 L IS USM lens with circular polarizer
ISO 6400, ƒ5.6 at 1/125 second, Gitzo tripod
It was beginning to get dark as I headed to my car after a late afternoon hike with my camera in tow. Motion to my right caught my attention enough to compel me to investigate. I knew something had flown, but I didn't know what it was or where it went.
After carefully scanning the forest floor and not seeing anything of interest, I heard chirping from above.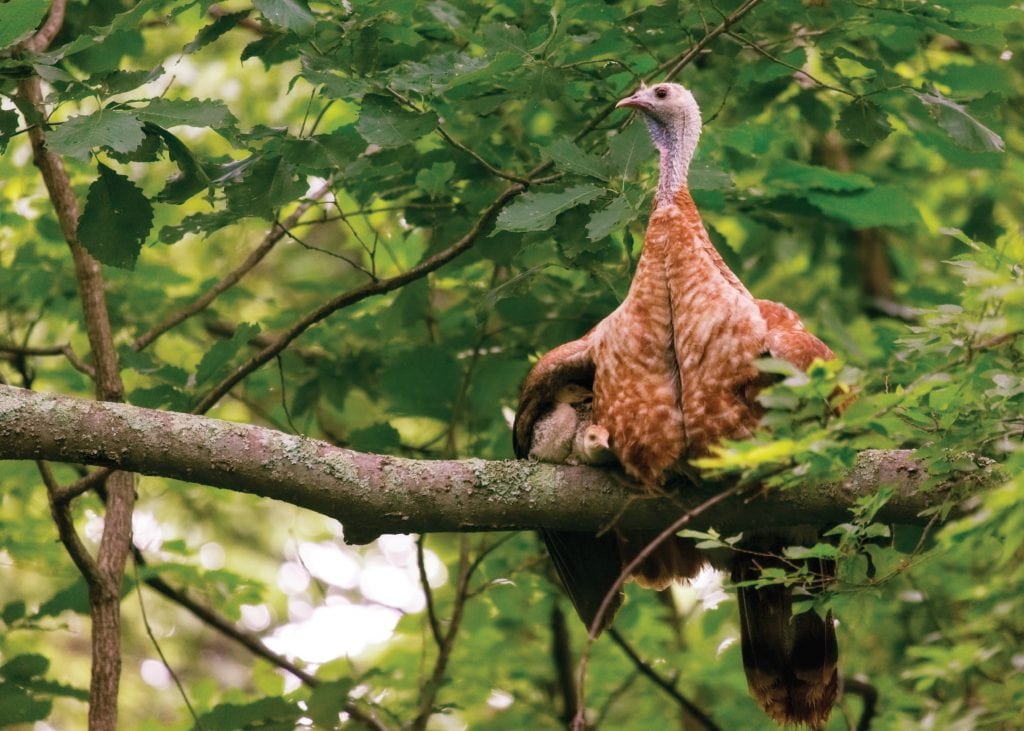 Looking up, I discovered, to my surprise, a wild turkey nestling in with her brood to roost for the night. Quietly, I set my camera and tripod down and began to watch the three poults jockey for position under their mother's enveloping wings.
The tree they had chosen was just a few feet off the trail, so I was concerned I might disturb them. They were scurrying along the tree limb about 15 feet off the ground as I started to photograph them. With the light fading quickly, I had to use an ISO of 6400 to have any hope of capturing useable images.
While the turkeys were aware that I was watching them, they didn't appear to feel threatened, so I continued shooting stills and video. I shot for about 10 minutes before it grew too dark to continue.
Though I've been exploring the trails of Tennessee's state parks for nearly 25 years, I've never witnessed poults this young roosting in a tree.
After some investigation, I've learned that turkeys have no wing feathers when they hatch. It takes about two weeks for them to grow enough feathers to be able to take short flights.
This could have been one of this brood's first nights to make it to the safety of a tree limb. I watched for a few more minutes until they settled in and began to nod off, one by one, for a safe night's sleep.
I just can't keep the scene to myself, so you can view the video below.