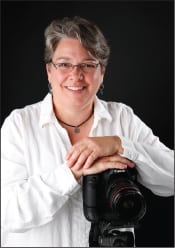 For nearly three decades now, the thousands of readers who enjoy The Tennessee Magazine have recognized — and appreciated — the tireless work of Robin Conover, first as a staff writer and photographer and for the past 15 years as editor of the our state's most widely circulated monthly publication. She's indeed a seasoned staffer who's dedicated to our co-op cause.
That said, it's my personal pleasure to announce that Robin's talents and achievements have been recognized nationally, too, in a meaningful way. At a glitzy gathering on the evening of June 6 in Baton Rouge, Louisiana, a surprised Robin received the 2017 H.E. Klinefelter Award from the Cooperative Communicators Association (CCA). She's the very deserving 59th winner of the organization's highest individual honor, and we're proud that the Klinefelter plaque now hangs in Robin's office here at TECA. It's a fitting tribute to her passion and commitment.
She was also chosen as CCA's photographer of the year.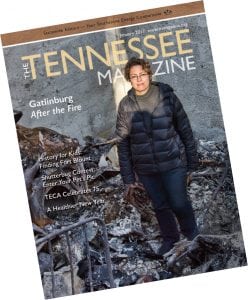 Hired as a communications specialist straight out of Murray State University in Kentucky (with a bachelor of science degree in journalism), Robin joined the TECA staff in 1988. She's had an array of TECA titles through the years — communications specialist, photojournalist, managing editor, editor and now vice president of communications. She manages a small but hard-working, multifaceted department that incorporates internal and external communications via outlets like social media and media relations as well as what we proudly refer to as "a hugely circulated, prized, reader-and-cooperative-pleasing member publication known as The Tennessee Magazine."
As I told judges who were evaluating nominees for this year's CCA Klinefelter Award, I spend a lot of time traveling across Tennessee attending co-op meetings. As a longtime co-op employee, I wear a lot of shirts with TECA, co-op or Touchstone Energy logos. However, the only logo that gets consistently recognized is that of The Tennessee Magazine. Co-op members care about their electric service, but they love their magazine. "I love that magazine!" is a comment I often hear when I'm wearing one of those shirts.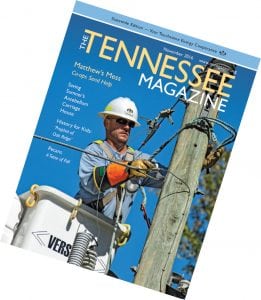 There's no doubt about it: Robin Conover is synonymous with The Tennessee Magazine and has been for many years. Her editing skills are on par with her photographic skills, and she's one of the premiere photographers in the industry. I've always been amazed at her ability to take one or two shots that turn out remarkable where other photographers will take a dozen. Her skills are admired not only by co-op members but also the beautiful Radnor Lake State Natural Area near Nashville, which benefits from her talents as a photographer and her knowledge as a board member.
Her understanding of and appreciation for rural areas — along with her dedication — weave a seamless story each month for readers of this magazine. Following the fires that struck Gatlinburg in 2016, Robin spent several days, including a weekend, chronicling the tragic event and bringing a personal focus to the national tragedy. Proving she'll do almost anything to get the right shot, she texted me on a Saturday morning requesting permission to rent a helicopter to get a full view of the town. As a result, some of the shots she made in Gatlinburg captured honors in the CCA competition in Baton Rouge and helped her claim the photographer of the year title. A solemn shot titled "Prayer Circle" showing a group volunteers and homeowners huddled to pray after searching for items that could be salvaged took third-place honors in the photo feature category.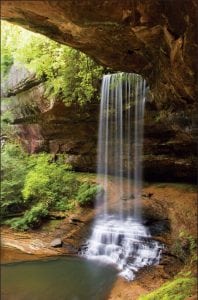 Robin's relatively new Tennessee Magazine photography column, "Point of View," took first-place honors in its category in the 2017 competition. Each of her submitted columns had real meaning. One, titled "Old-Fashioned Basketball," showed a simple basketball goal, net intact, nailed to the weathered side of an old barn. Another was an image Robin shot with her iPhone of her beloved dog Daisy following her rescue after being lost in the woods for weeks. "Her eyes and body language are the epitome of exhaustion and relief," Robin said in the copy. The third "Point of View" column, titled "Faires of the Forest" featured a jar of fireflies she and her mother captured at night and placed in a jar. "I chose the darkest area I could for a background and set the ISO at 128,000," Robin wrote in the article. "Each time a firefly blinked in that 25 seconds, the sensor captured its green spot of light." The result was an awesome still shot. It made for a stunning full-page feature in the magazine.
Another of Robin's "Point of View" shots, this one of Northrup Falls at Colditz Cove, captured third-place honors in CCA's scenic/pictorial category. Robin also had the cover the year with her January 2017 shot of Andrea Ludden surveying what little was left of her Gatlinburg home. The accompanying article took second place in the photo essay or story category. Robin's article "After the Storm" in November 2016 took second place in the featurette category. It told how Tennessee's electric cooperatives answered the call to help other co-ops rebuild in the aftermath of Hurricane Matthew.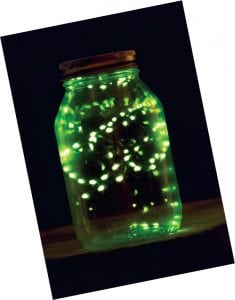 Also in the competition, Trent Scott took first-place honors in the social media competition with TECA's Facebook, Twitter and Pinterest outlets. And Chris Kirk placed first in headlines with "Milk-Made," the title of his Tennessee Magazine feature about the dairy goat herd of Middle Tennessee Electric Membership Corporation members Dustin and Justine Noble in Franklin.
All in all, CCA in Baton Rouge was kind to electric cooperatives in Tennessee. It's a reflection, I think, of the work our communicators are doing in keeping members informed and promoting the cooperative way of doing business.