Our animal friends use their powers for good, helping victims of disease, trauma and PTSD
The human-animal bond is strong. It also heals. If I have a difficult day, my dog, Shlomi, will lick my face, place her paw on my arm and let me know she's there. When my pit-bull mix, Amigo, was still alive, he would curl his body next to mine and cover me with kisses. Over and over again, the companion dogs and cats I have lived with — and other animals who have crossed my path — have helped me through rough moments. So, when I was diagnosed with post-traumatic stress disorder (PTSD) six years ago, it was natural for me to turn to animals for help. And that's where Healing Through Horses came into my life.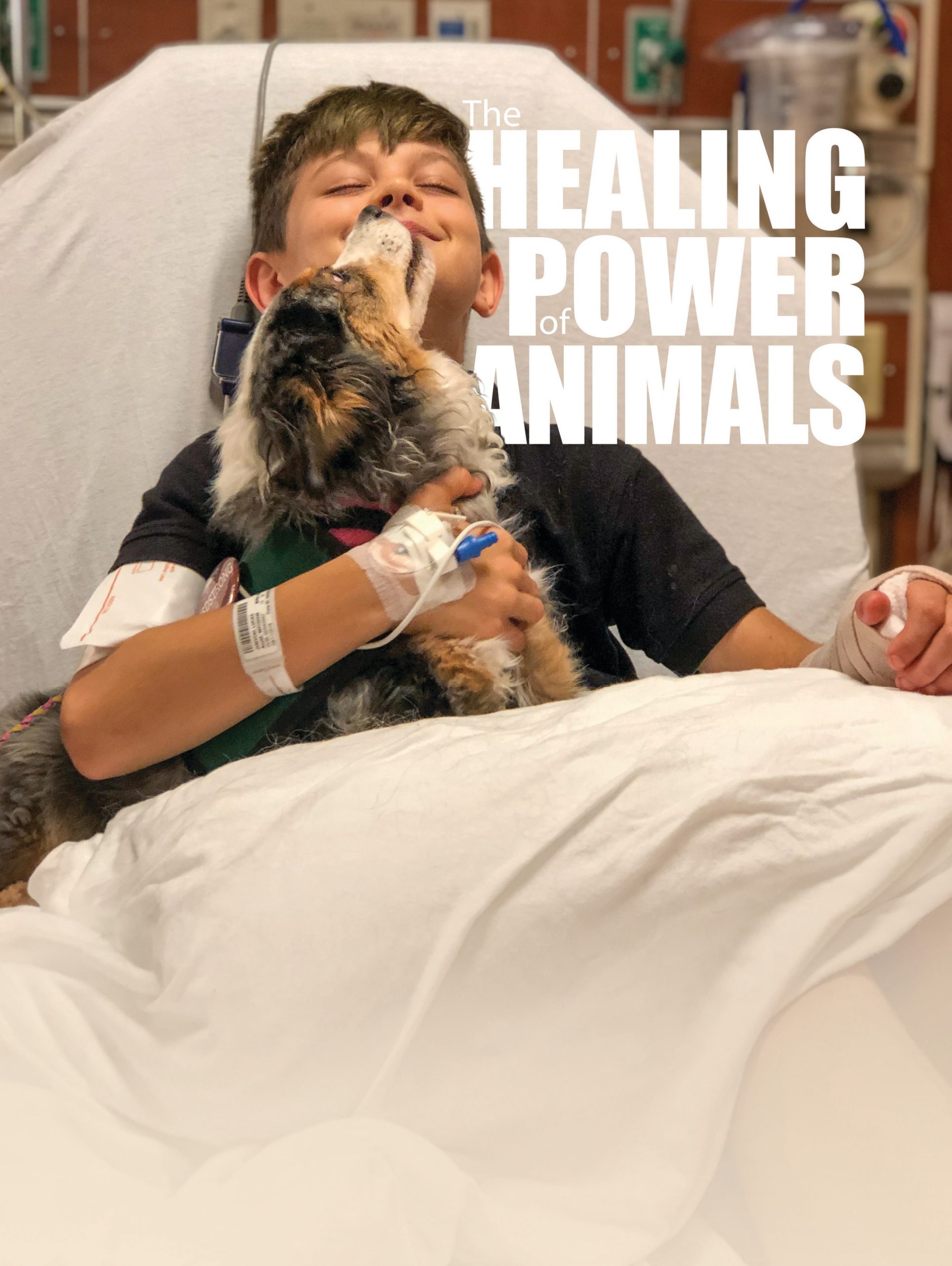 Healing Through Horses
I found Judy Schneider and her animals through serendipity. A friend of mine had picked up a Healing Through Horses brochure and shared it with me. Schneider lives in Abiquiu, New Mexico, and is a member of Jemez Mountains Electric Cooperative. My friend and I drove down together to attend one of Schneider's all-women retreats with horses. I was hesitant at first because it was difficult for me to be among groups of people, but Schneider welcomed me warmly. With the horses looking on, I soon felt my anxiety lessen.
In the months that followed, I worked with Schneider and her horses in group settings as well as one-on-one. I bonded with Buster, a large sorrel draft horse who beamed strength and solidity. Then there was Einstein, a mischievous black horse who liked to knock people's hats off and play other tricks. Other horses included Jack, Madonna and Guapito.
PTSD can cause a person to feel different and distanced from others, leading to social isolation. In my own case, acceptance by the horses helped to alleviate this. If the horses could accept me, maybe I could accept myself — and maybe other people would accept me, too.
I remember one day when Schneider asked me if I would like to climb onto Buster's back. This was unusual, but I did it. Then, she suggested I lie down on Buster's bare back. This was even more unusual. I lowered myself down, placing my spine against his, my chest open to the sky. I felt the horse breathe under me, and my whole body relaxed. His broad back supported me completely. It felt like I was lying on a warm beach or a whale — lulled by the gentle rise and fall of Buster's breathing.
It was a strong reminder of all the support that I have in this world, even when I cannot feel it. Buster gave me hope in the natural rhythms of life again and in my abilities to heal from my wounds.
Schneider, a licensed social worker, has worked as a therapist since 1986. She founded Healing Through Horses in 2007 to inspire wellness through the power of the equine spirit. Schneider says horses can help those who have PTSD because the animals are well-grounded and tune in quickly to what is going on with a person.
Schneider gave an example of how she might work with someone with PTSD who was feeling overwhelmed. She might have him or her walk in the corral among the horses. As the person's heart rate drops and he or she feels calmer, the horses may feel safe enough to approach, positively reinforcing the person's behavior.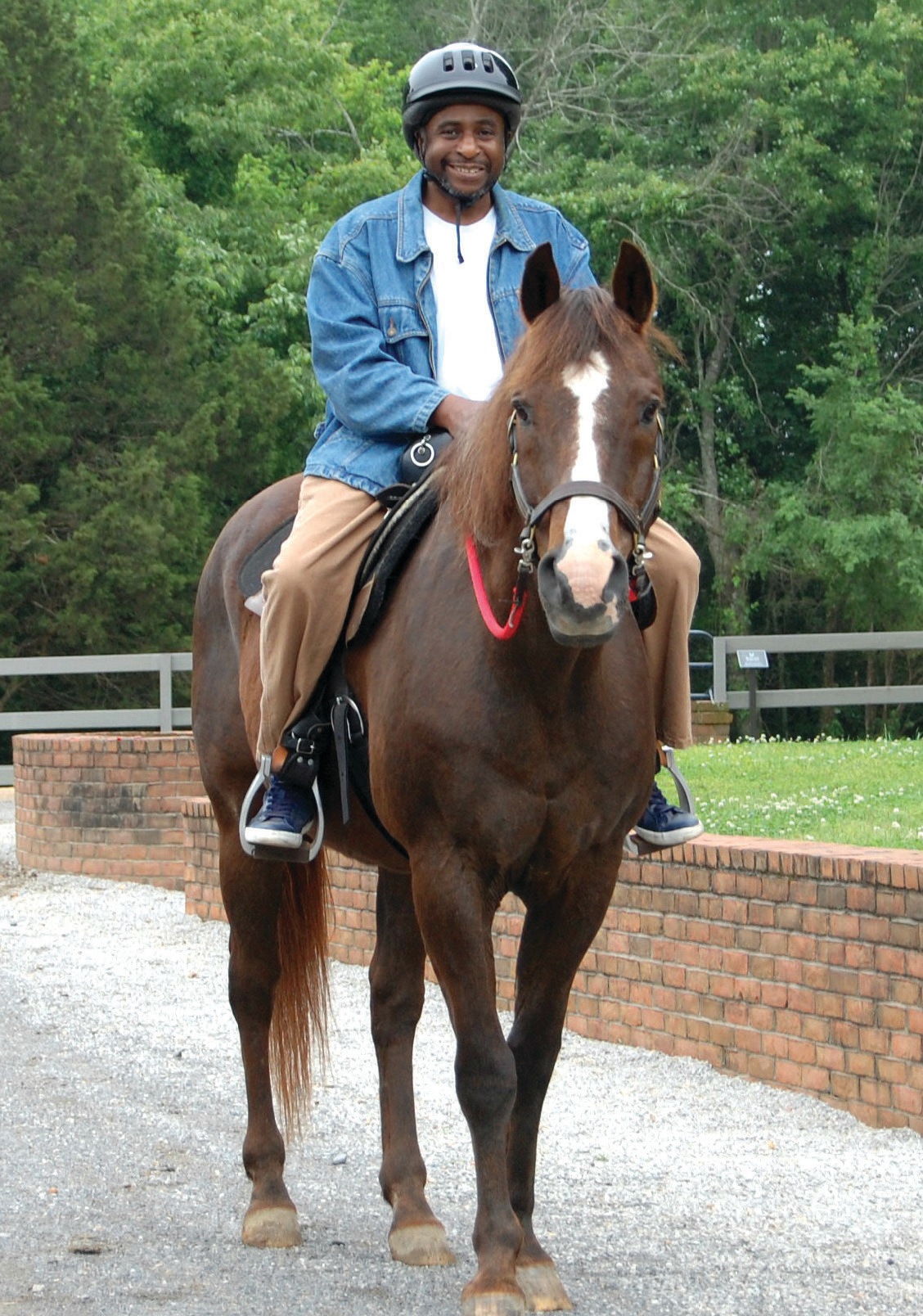 For someone showing signs of distress, Schneider might guide the person to place his or her hands on one of the horses.
"Eventually they will come back to themselves because they have contact," Schneider says.
For some people, the size of the horses and their power can be frightening, even terrifying. Schneider told a story of a young girl in foster care who came to see her for therapy. The girl had been badly hurt by the adults in her family of origin. The horses were another large, ominous presence to her. The girl was so frightened of the horses that she expressed anxiety whenever she came near one.
"She thought anything bigger than her was going to kill her," says Schneider. "Eventually, she learned that big people — adults — are not all dangerous. But she only learned that through the horse. That was what we worked on for a long time. Touch the horse, and you survive. Brush the horse, and he likes you, he doesn't move away, he's not going to hurt you. For her, that was monumental."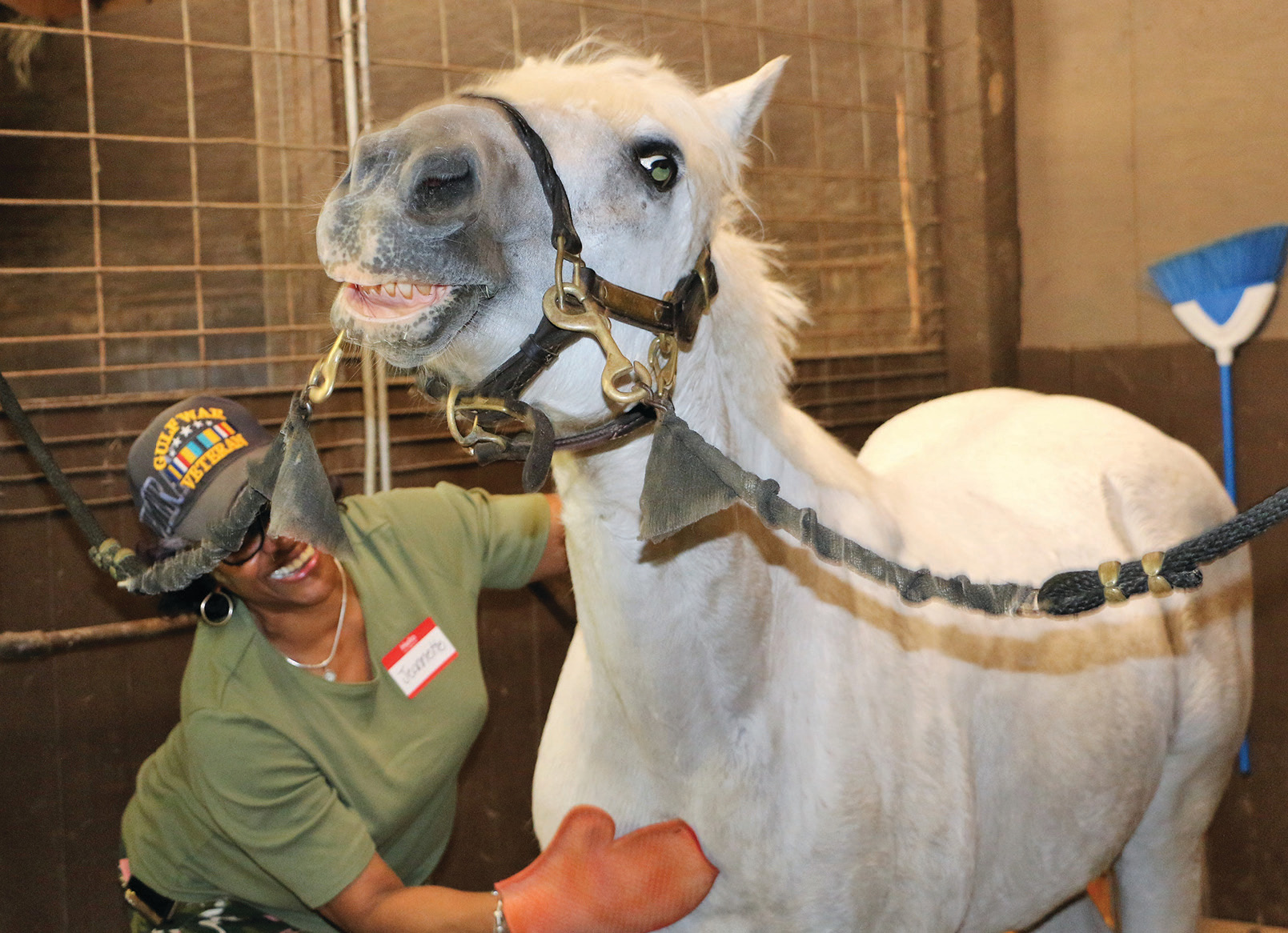 Eventually, the girl was able to get up on the horse.
"It was a surrendering," says Schneider. "She surrendered to the fear of death. She learned that trusting something is OK."
The girl not only conquered her fear, she made friends. The horses would follow her around, says Schneider. They became her companions and confidants.
One of the programs using therapy horses in Tennessee is Southern Reins Center for Equine Therapy in Collierville, which uses 12 horses in several different programs, including the PATH International Equine Services for Heroes dedicated specifically to veterans and first-responders suffering from PTSD.
"We offer a wide variety of mounted and unmounted activities for people who are working through PTSD," says Sara Beth Raab, development and communications manager for Southern Reins. "There have been so many studies that showcase how and why a horse is an excellent resource for someone who is suffering from PTSD, but mostly it is because they are an excellent mirror to your energy. As a prey animal, they constantly give you nonverbal feedback about where you are emotionally. Doing what is called 'at liberty' work with a horse — which is work in an arena, unmounted, with no lead — can really show you so many aspects on where you are. If you are timid, the horse might not respond. Too assertive, the horse might over-respond or respond away. Too reactive, the horse might feed off that nervous energy. It's really so fascinating, and as an equestrian myself, I always seem to find my out-of-the-saddle struggles also reflected with my horse. Our trainers are well trained in equine behavior through rigorous PATH certification, and we can also coordinate with mental health professionals where what happened in the arena can be discussed and understood."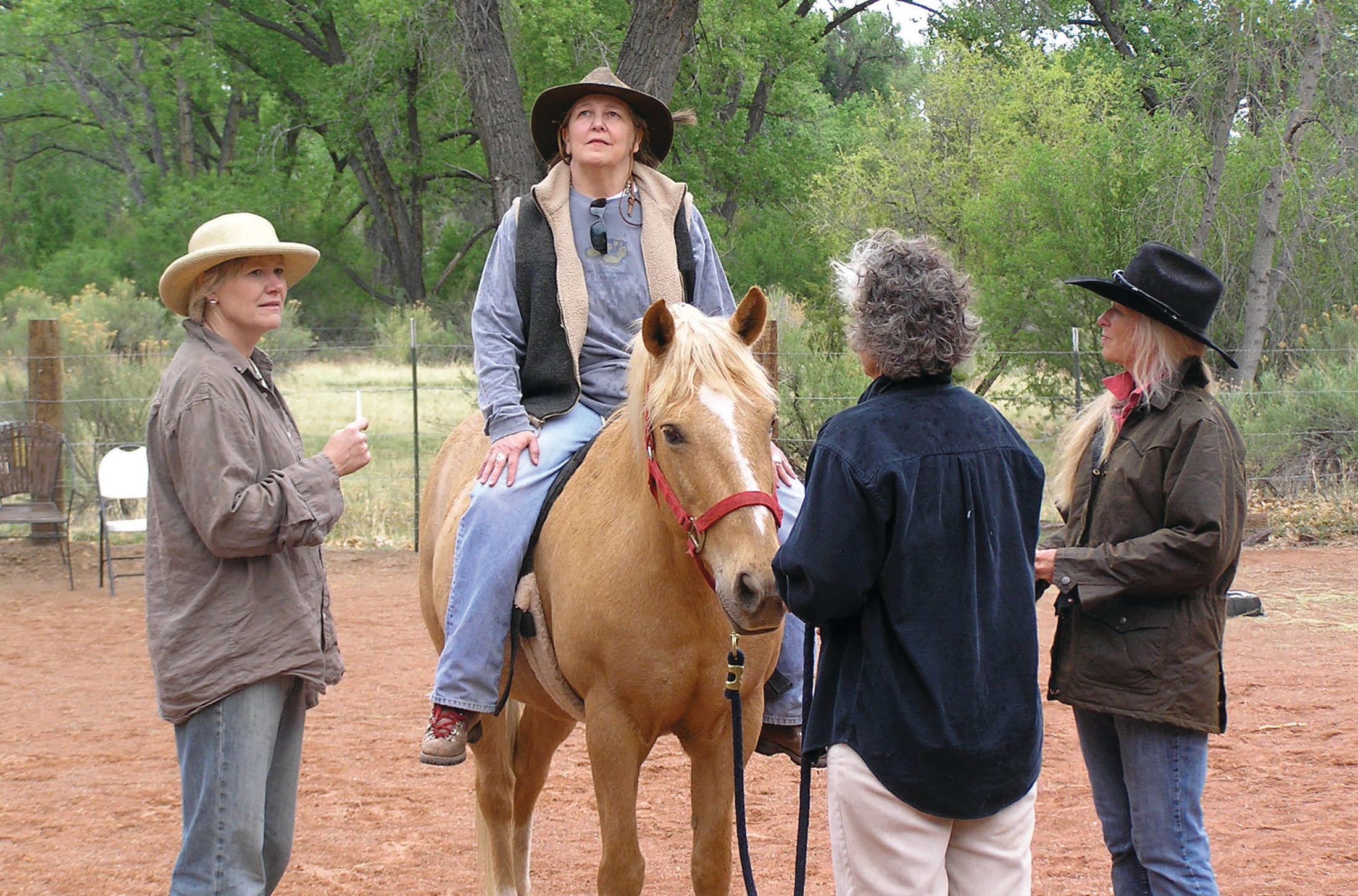 Trauma and PTSO basics
The term "trauma" comes from the Greek word for "wound." The American Psychological Association defines trauma as "an emotional response to a terrible event like an accident, rape or natural disaster." Healing takes time, but a few months after experiencing or witnessing a traumatic event, most people can resume their normal activities and functioning.
However, some people develop a condition known as post-traumatic stress disorder. The term was first used in 1980 in the third edition of the Diagnostic and Statistical Manual of Mental Disorders published by the American Psychiatric Association. PTSD is commonly associated with the Vietnam War and its veterans who returned home. Earlier terms for the same phenomenon include "shell shock," "soldier's heart" and "battle fatigue."
We now know PTSD is an anxiety disorder that affects people of all ages, genders and backgrounds. The onset of symptoms can happen months or years after a traumatic event. Research shows it is unlikely the symptoms of PTSD will resolve on their own without treatment.
The good news is that there is help. According to the National Center for PTSD, run by the U.S. Department of Veterans Affairs, effective treatments include trauma-focused psychotherapy and medication. Numerous studies show another effective PTSD treatment is animal-assisted therapy in which a trained therapist or animal handler works alongside a dog, horse or other animal to provide support for a person.
Raab with Southern Reins says that in serving veterans, the most significant breakthrough that is consistently demonstrated is developing emotional connections and trust.
"For so many of our veterans with a PTSD diagnosis, they are often guarded and emotionally disconnected," Raab says. "Their body language is the primary way they communicate with horses, so when they are distant, guarded or tense, the horse senses it. Because horses are self-reflective of their surroundings, they may begin to mirror that same behavior. We teach our veteran participants that for the horse to trust the person, the person must first trust the horse. Working with horses helps veterans create a bond, develop trust and improve their awareness of body language to communicate effectively to gain the desired outcomes, which can also be translated to everyday interactions with people. In a short amount of time, we have seen tremendous progress by our veteran participants with PTSD to improve their communication and emotional connection to humans through their work with horses."
Ganines to the rescue
Across the country, another woman has been immersed in the healing power of dogs. For 25 years, Marni Bellavia has worked with the Humane Society of Broward County in Florida. Her current title is manager of animal assisted therapy, and she trains volunteers and their companion animals to provide comfort to those in need of extra support. The program serves three counties and helps people in hospitals, hospice settings, senior retirement homes, mental health care facilities, children's facilities, foster homes, group homes, libraries and schools.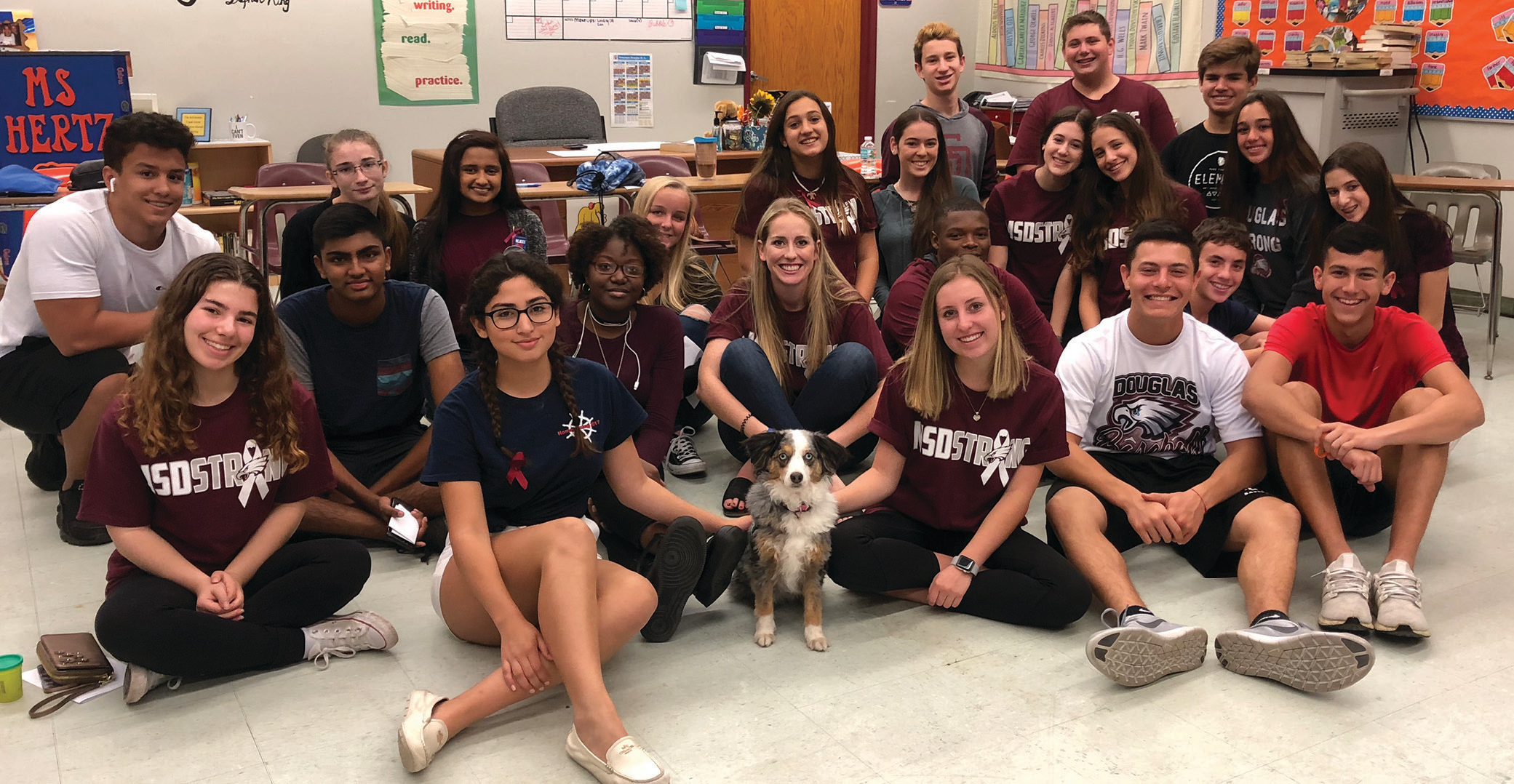 On Valentine's Day 2018, Bellavia heard the news of the shooting at Marjory Stoneman Douglas High School that took place in Parkland, only 30 minutes away. She sprang into action. The very next day, she had dog-and-person teams deployed to the high school as well as nearby schools where they could offer support for students, faculty and families. Throughout the year, 20 teams attended community vigils, visited people at their homes, came to school and continued to be a resource for those affected by the shooting.
There was a profound loss of hope, says Bellavia.
"Most of the kids, honestly, didn't want to talk to anybody. I mean, it was horrific," Bellavia emphasizes.
Working with the counselors and psychologists at the school, Bellavia and her teams took the dogs to therapy sessions. With the animals present, students were able to cry and talk to the animals about what had happened and how they felt. The dogs worked with students individually and sometimes with groups.
"The animals were providing comfort and that unconditional love and nonjudgment that you don't normally get from people," Bellavia says.
Though Bellavia responded to the school shooting by making her dog-and-person teams available to others, she was working in new territory. It made her realize there was not yet an animal-based trauma-response effort that could serve her community. She knew that needed to change.
On a sleepless night about two weeks after the shooting, Bellavia came up with the idea for the Canine Community Resilience program. The new program provides canine support to 911 dispatchers, first responders and those affected by traumatic events such as a fatal car accident or domestic violence situation. Bellavia partnered with fire stations and police departments and the Broward County Sheriff's Office to develop the program. Together, they trained dogs and their handlers to be able to participate in traumatic situations. The dogs learned how to tolerate, adapt and cope with the physical and emotional stress that comes with a crisis.
The Canine Community Resilience Program was born out of the horror of the Parkland shooting, and a dog named Karma played a part in it. Karma is Bellavia's own companion dog and has worked next to her for years, providing love and healing to others. Bellavia says watching Karma and her other dogs comfort people in need has been profound.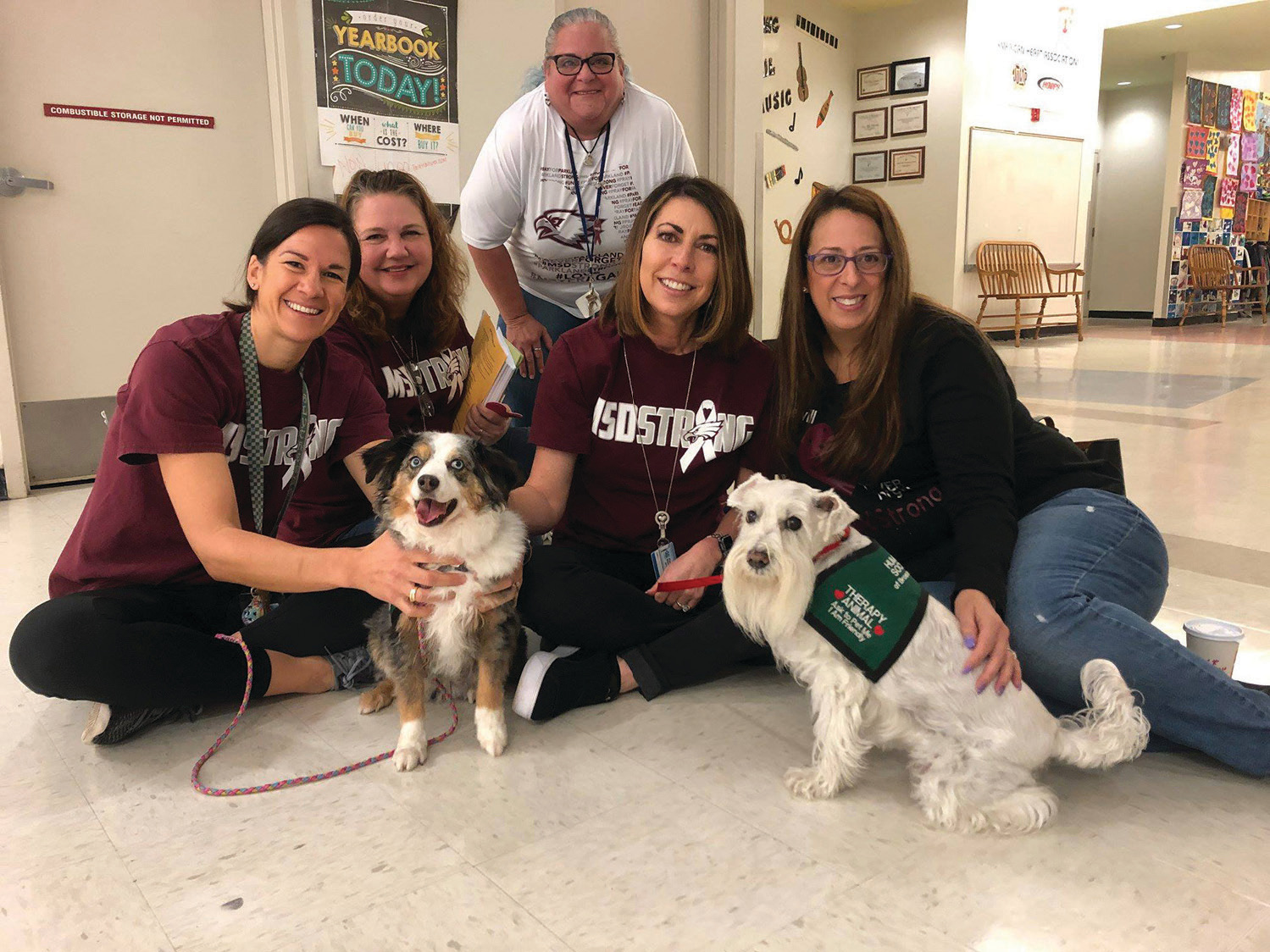 "It means everything to me," she stresses. "It's the reason I continue to do this work 25 years later. It's the reason I dedicated my life to animals that can help people. It takes a special animal to be able to intuitively be that for other people. What I saw my dog doing at the high school has completely revamped everything I've thought about animals, and I've been doing this, literally, my whole life."
Bellavia says Karma had an innate ability to seek out people who needed her support. "She felt it," says Bellavia. "She went to them. It was just an amazing, beautiful thing."
Therapy dogs can be used in lots of ways, including comforting those who are anxious or ill. West Tennessee Therapy Dogs currently utilizes 55 teams of dogs of various breeds, including a lot of golden retrievers and goldendoodles.
"They make exceptional therapy dogs because of their good natures and happy-to-meet-you attitudes," says Anne Weiss, director of the program. "We are in schools and local libraries, assisted living and hospice facilities, many private schools, the airport, juvenile court, all hospitals and St. Jude in Memphis. We were the first group allowed in St. Jude 17 years ago."
Though the group, which serves Memphis and northern Mississippi, hasn't specifically worked with those suffering from PTSD, Weiss says that during a trip to a Veterans Affairs hospital several years ago, it was possible the dogs and handlers encountered some veterans suffering from PTSD. They just weren't pointed out to them.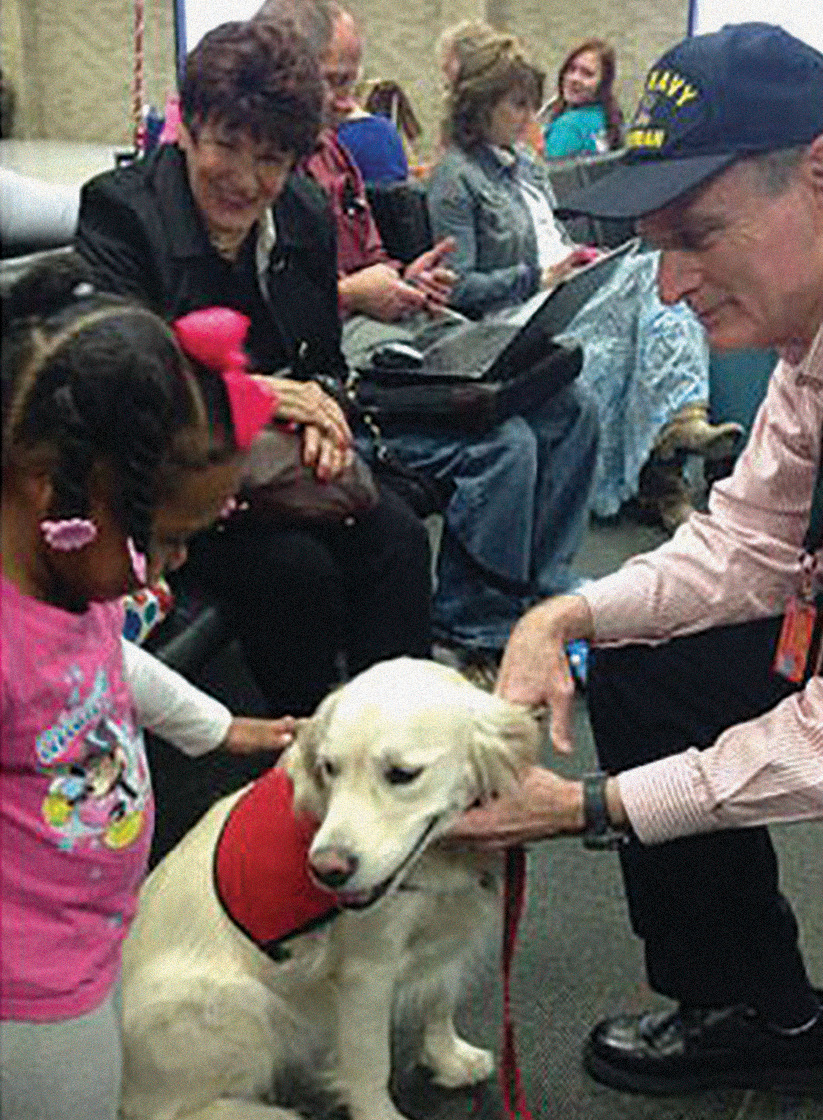 "Probably one of the most difficult situations for our teams is when we are in a facility where the patients do not have complete control of their limbs," Weiss says. "Only certain dogs can go through that as it is unpredictable."
Animal therapy programs vary according to service areas, size (and thus how many people for whom they're able to provide aid), types of therapy provided and the conditions with which the animals are trained to help. They might assist veterans with PTSD, children with serious illnesses such as cancer and those with developmental or physical disabilities. If you do an online search for a group or facility, consider making your search as narrow as possible such as "Equine therapy for PTSD in Middle Tennessee." Hopefully, this will provide you with the best results.
---
Animal-assisted therapy resources
Animal-assisted therapy is a field of medicine that helps people with cancer, heart disease, dementia, autism and mental health issues. Animals and their human handlers work together to provide comfort and companionship to people in need, helping to alleviate suffering and increase well-being. Many hospitals and mental health facilities now have animal-assisted therapy programs.
HABRI (Human Animal Bond Research Institute) has researched the effects of animal-assisted intervention (AAI) on those with post-traumatic stress disorder. The research indicates that AAI reduces depression, anxiety and the severity of PTSD symptoms and leads to increased well-being. For more information, visit habri.org/research/ptsd.
Are you interested in being trained in animal-assisted therapy? There are national certification programs through which dogs and their handlers can learn to assist others. These include:
In addition, the Mayo Clinic reports that children ages 6 and younger might have an increase in frightening dreams where the dreams may or may not relate to the traumatic event. Young children could also act out elements of the traumatic event during their normal play activities. The National Institute for Mental Health adds bedwetting, not talking and unusual clinginess toward a parent or other adult as symptoms of PTSD in young children.
Doctors who work with people affected by PTSD have noticed there is often an additional set of symptoms that affect people who have experienced ongoing trauma over a sustained period of time such as with domestic violence or child abuse. Some of the additional symptoms for complex-PTSD (CPTSD) include a lack of ability to regulate emotions, disassociation, guilt and shame, relationship difficulties and loss of faith in previously held religious or other deeply held beliefs about the world.
---
What is trauma? What is post-traumatic stress disorder (PTSD)?
The term "trauma" comes from the Greek word for "wound." According to Merriam-Webster's Dictionary, the Greeks used "trauma" to mean a physical injury. Today, we also use it to mean a deeply distressing emotional wound.
The American Psychological Association (APA) defines trauma as "an emotional response to a terrible event like an accident, rape or natural disaster." Some other causes of trauma include war, abuse or harassment, the accidental or violent death or injury of a loved one, and childbirth. A traumatic event can be something that happens to you directly, but it also can be an experience you saw happen to someone else. Witnessing a terrorist attack or a devastating car accident is also a traumatic event.
The APA identifies some common responses to a traumatic event:
Intense or unpredictable feelings — e.g., anxiety, nervousness, irritability and moodiness, feeling overwhelmed or grief-stricken.
Changes to thoughts and behavior patterns — e.g., repeated and vivid memories of the event leading to physical responses like rapid heartbeat or sweating, difficulty concentrating or making decisions, disrupted sleep or eating.
Sensitivity to environmental factors — e.g., sirens, loud noises, burning smells or other sensations may become "triggers" that stimulate memories and create anxiety.
Strained interpersonal relationships — e.g., increased conflict, frequent disagreements at home or work, social isolation and disengagement.
Stress-related physical symptoms — e.g., headaches, nausea, chest pain and pre-existing medical conditions.
These are normal responses to an extremely stressful event. A few months after experiencing a traumatic event, most people return to a state of normalcy. But some people develop a condition known as post-traumatic stress disorder (PTSD).
---
For more information:
Animal-assisted therapy programs exist across the U.S. and around the world. The Animals and Society Institute maintains a list of these and other resources at animalsandsociety.org/human-animal-studies/animal-assisted-therapy-programs.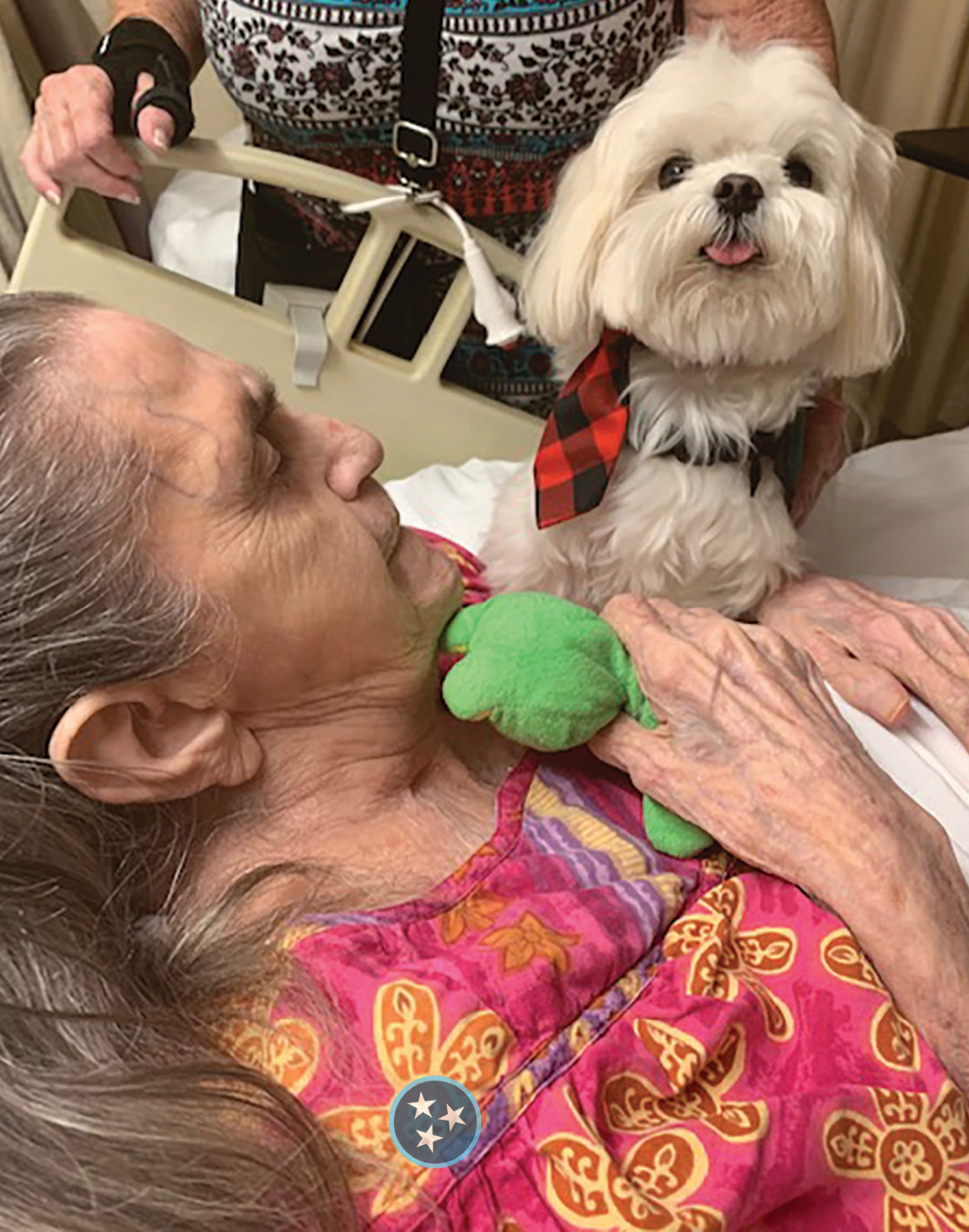 Ariana Kramer is a freelance writer and poet who lives in Taos, New Mexico. She holds a bachelor's degree in biology from Reed College and a master's in education with a concentration in leadership for ecology, culture and learning from Portland State University. Visit her website at www.arianakramer.com for more information. Additional Tennessee reporting provided by Trish Milburn.