Tennessee has always been a patriotic state. Therefore, it stands to reason that there are many places in Tennessee named for American presidents.
Right?
Not true, actually. I was surprised to find that there aren't nearly as many counties and towns in Tennessee named for presidents as I thought.
Let's start at the top of the list:
1. George Washington
In 1775, before the colonies declared independence, people living in present-day northeast Tennessee organized themselves into what became known as the Washington District. This may have been the first place in America named for George Washington, and it showed how much the settlers crossing the mountains supported the revolutionary cause.
The name "Washington" would remain attached to this area through the Revolutionary War, the Lost State of Franklin era, the Southwest Territory and into statehood. Today, Washington County retains the name.
Tennessee also had a town named Washington in Rhea County along the Tennessee River. Washington served as the seat of Rhea County from its founding in 1812 until the courthouse moved to Dayton in 1890. However, the former site of Washington is a ghost town.
2. John Adams and 6. John Quincy Adams
Neither President Adams was popular in Tennessee. In fact, to the best of my knowledge, there has never been a county or town in Tennessee named for either John Adams or John Quincy Adams. (The Robertson County community of Adams was named for a resident of that area.)
3. Thomas Jefferson
Jefferson County was organized in 1792 when Tennessee was part of the Southwest Territory and Thomas Jefferson was U.S. secretary of state.
The original county seat of Rutherford County was also named for the third president. The town of Jefferson was located where Stones River splits into tributaries and where stagecoaches could cross the river without needing a bridge. The Rutherford County seat was moved to Murfreesboro around 1818.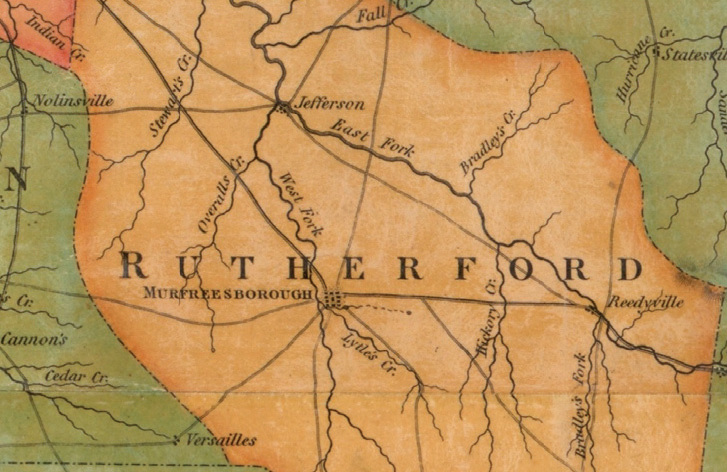 Jefferson remained a populated community until Stones River was flooded in the 1950s. At that time, the U.S. Army Corps of Engineers ordered everyone to abandon Jefferson since it was assumed that the area would be flooded by the body of water that later became known as Percy Priest Lake. The Corps turned out to be wrong about that; the land formerly occupied by the Rutherford County community of Jefferson is still dry.
And what about Jefferson City in Jefferson County? In 1901, a majority of the voters in the Jefferson County town of Mossy Creek signed a petition to change the name of their community. They got what they wanted, which is why Mossy Creek changed its name to Jefferson City.
4. James Madison
West Tennessee was acquired from the Chickasaw tribe in 1818. Three years later, the Tennessee General Assembly named one of the new counties of West Tennessee after the former President Madison, who had left office only a few years earlier.
There were also at least two failed attempts to name towns for Madison.
In 1807, while he was secretary of state, the original county seat of Bledsoe County was named for Madison. After that community went by the wayside, real estate developers tried to organize a town along the Cumberland River in Sumner County called Madisonville. That effort also failed, and for a while it looked like Tennessee might not have a town named for President Madison.
However, in 1830, Monroe County decided to rename its county seat. Originally called Tillico (or Tellico), the Monroe County seat became known as Madisonville.
5. James Monroe
In 1819, the Cherokee Nation signed a treaty relinquishing claims of land from the Little Tennessee River to the Hiwassee River. Since James Monroe was president at the time, one of the counties created in this area was named for him.
Also, the original seat of Overton County was named for James Monroe. Later, the town of Monroe lost its status as the county seat of Overton County, and Monroe is now unincorporated.
7. Andrew Jackson
Jackson County and the city of Jackson are both named for Andrew Jackson. However, here are two interesting things about the Tennessee places named for the seventh president:
First of all, both were named for him before he became president. Jackson County was created in 1801 when Andrew Jackson was mainly known as a former member of Congress from Tennessee. The West Tennessee town of Alexandria was renamed Jackson in 1821 — six years before Andrew Jackson became president.
Meanwhile, I was intrigued to find that the name "Jackson" was nearly given to a completely different community. Back in 1818, the Nashville Whig ran an item advertising the creation of a new town of Jackson to be located on the Duck River and near the boundary of Bedford and Maury counties. I have no idea what happened to this venture.
8. Martin Van Buren
Martin Van Buren was president in 1840 when the Tennessee county named for him was created out of parts of White, Warren and Bledsoe counties. There also used to be a small town in Hardeman County called Van Buren, but it is no longer incorporated.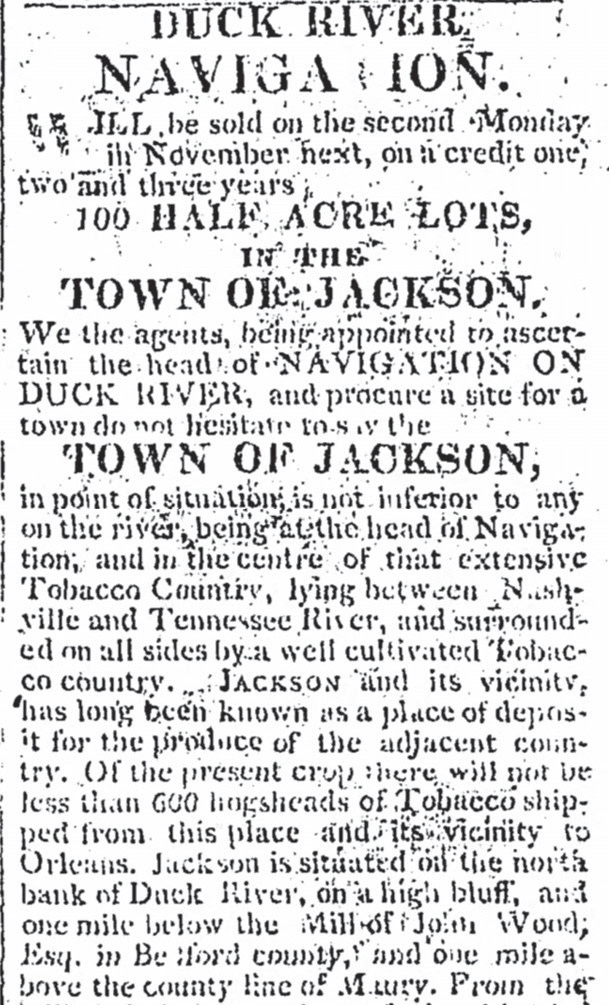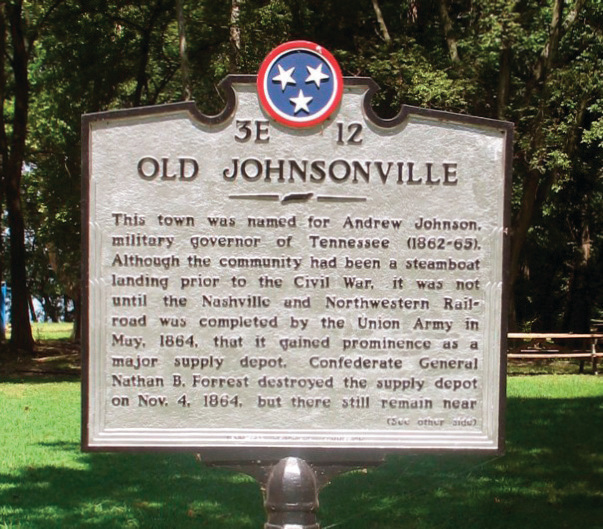 9. William Henry Harrison
The original county seat of Hamilton County was called Dallas, but it later moved to a place named for President William Henry Harrison. Hamilton County's courthouse remained in Harrison through the Civil War but was moved to Chattanooga in 1870. The former location of Harrison is today under the waters of Chickamauga Lake.
The fate of Hamilton County's Harrison community raises an interesting point. There were four doomed Tennessee county seats named for presidents: Washington (Rhea County), Jefferson (Rutherford County), Madison (Bledsoe County) and Harrison (Hamilton County).
10–15. John Tyler, Zachary Taylor, Millard Fillmore, Franklin Pierce, James Buchanan
To the best of my knowledge, no counties or towns in Tennessee are named for these presidents. There are places in Middle Tennessee called Buchanan, but they were named for a prominent family in early Nashville history whose Davidson County fort was at the center of a fierce battle against Chickamaugans in 1792.
16. Abraham Lincoln
Lincoln was wildly unpopular in Tennessee during his lifetime. He wasn't even on the presidential ballot in Tennessee in 1860, and his decision to raise an army after the attack on Fort Sumter resulted in Tennessee seceding from the Union.
Therefore, there are no counties or towns in Tennessee named for the 16th president. (Lincoln County was named for Revolutionary War General Benjamin Lincoln.)
17. Andrew Johnson
Neither Johnson County nor Johnson City is named for President Andrew Johnson, who was not well liked in most parts of Tennessee.
However, the Union Army built a train station and Tennessee River port in Humphreys County during the Civil War and named it Johnsonville after Tennessee military governor Andrew Johnson. The community was flooded by Kentucky Lake during World War II and became known as New Johnsonville.
To conclude, seven of the first nine U.S. presidents have been immortalized in the names of counties or communities in Tennessee; only one president since then has been.
18. James K. Polk
Bill Carey's December column about places in Tennessee named for presidents had an omission. When it was organized in 1839 from parts of Bradley and McMinn Counties, Polk County was named for Tennessee Governor James K. Polk. Polk became the eleventh president of the United States two years later.