Dear Connie Sue,

Would you please tell me about this little table? It is about 18 inches square and has a woven metal top with a gold finish. It's quite heavy for its size. I have no idea how old it is.

— Sara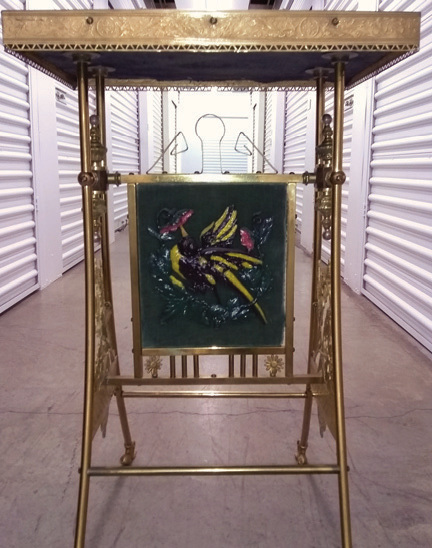 Dear Sara,
Your bright, shiny and whimsical table was made during the Aesthetic Movement from 1860 to 1890. The style was produced in reaction to the heavy and dark Victorian furniture of the day. If you can find a maker's mark hidden on a flat surface somewhere, the value of your table might exceed $2,000. Brass lamp maker Bradley and Hubbard made brass tables, as did the Charles Parker Company.
Without attribution, I still wouldn't take less than $500 for the table. Further hands-on research is needed to make a decisive value assumption.
Dear Connie Sue,

My mother acquired this lock from a jeweler. It appears to be something Mason to us because of the eye on one side. We have yet to find out any information on it or even date it. Can you help?

— Jodie N.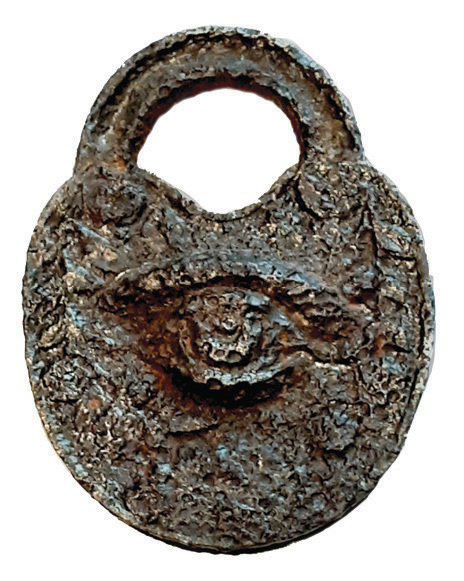 Dear Jodie,
The greatly corroded image on your padlock is the Victorian evil eye or seeing eye. It was made around 1900. A similar lock with a maker's mark and key and in working condition can sell for as much $500 if dueling bidders are in the game. As a novelty item with a distracting patina, your lock might bring $20.
Most Masonic eyes are in a triangle with rays extending outward.
Dear Connie Sue,

I am sending you pictures of two Indian heads we found when we had the honor to help clean out the attic of a beautiful old home just outside of Columbus, Ohio. We thought they may have been used as molds. They have a stamp on the bottom with a date and a number. Any information about their history would be wonderful.

— Ellen
Dear Ellen,
The two Native American head plaques are chalkware. Made from plaster of Paris with colorful, thick paint, it offered an inexpensive alternative to porcelain. I'd date the heads to the Depression era between the World Wars. After World War II, chalkware plaques were more whimsical. Many of us grew up amid happy fish on the bathroom wall and fruit plaques in the kitchen.
Your two heads would sell for $50 to $75.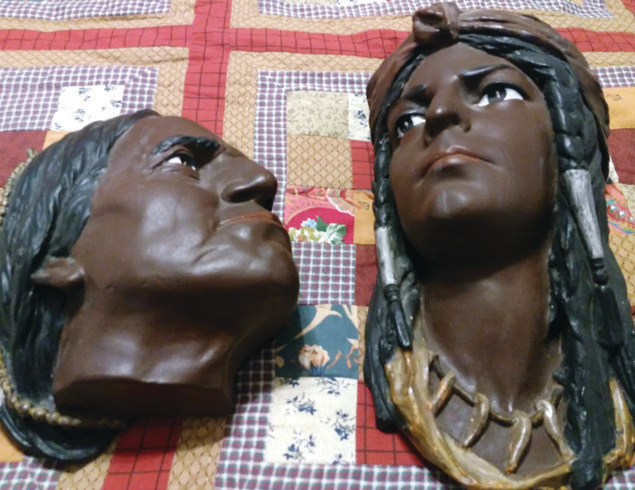 Dear Connie Sue,

This glass fish is about 13 inches tall. It was in my grandparents' home in the 1950s. Thanks for any info you might have.

— Craig
Dear Craig,
Your grandparents' fish was made in Italy and is referred to as Murano glass. Similar fish sell briskly for $18 to $45. Bold designs, whimsical motifs and blasts of color make the animals come alive.
Dear Connie Sue,

I have this plate that says on the back "Made in Germany" with a crest or something. It has a number 18 and, engraved below, the number 553L. Can you tell me anything about it and any value? It measures 16 inches around.

— Bonnie K.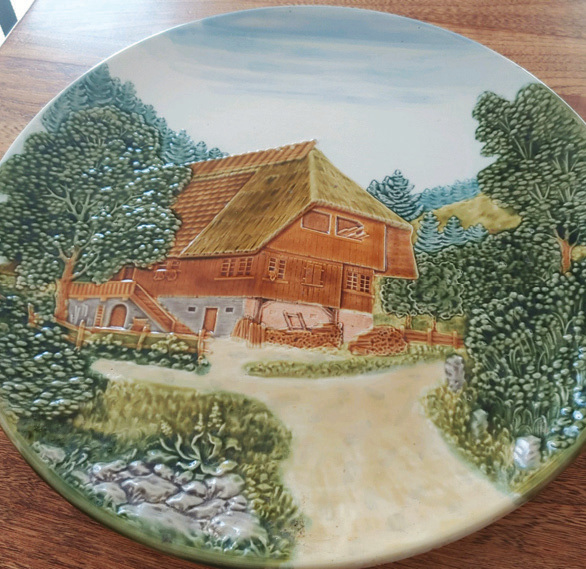 Dear Bonnie,
Your plate was made in the early 1900s. German decorator plates like this with raised Alps motifs sell for $5 to $20 each. They were popular with a generation that served in the military and then traveled in Germany.