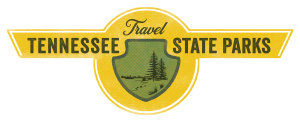 One of the most diverse landscapes in Tennessee is located where you might least expect it. Situated not far from where Tennessee shares a state line with Mississippi in McNairy County, Big Hill Pond State Park is well worth the trip to this rural part of the state.
"The diverse landscape is what makes Big Hill Pond so unique and tranquil," says Park Manager Justin King. "On a day hike one can start in the low-lying cypress swamps at Big Hill Pond, which looks like a smaller version of Reelfoot Lake, pass through the Dismal Swamp on a half-mile elevated boardwalk and then ascend to some of the highest points in McNairy County, passing through numerous rock outcroppings that would remind you of the mountains in East Tennessee, where you can climb a 70-foot tall observation tower that overlooks the area as well as some of north Mississippi. There are little bits and pieces of the park reflected across the entire state."
The mixture of swamps, forests and bottomland makes Big Hill Pond a rich environment for visitors to enjoy the outdoors as well as being home to many different species.
The pond
The park's name is based on, to no one's surprise, a large pond. In fact, it's a 35-acre pond. Need help visualizing how big that is? Think of an American football field, something that sits near a large percentage of high schools in Tennessee and across the nation. An acre equals roughly 90 percent of a football field, not including the end zones. Have that image in your mind? Now multiply it by 35.
Yeah, it's a really big pond.
It was created in 1853, eight years before the Civil War started, when soil was scooped away to build levees across the Tuscumbia River and Cypress Creek bottomland for the Memphis and Charleston Railroad. More than 100 years later, the pond became the centerpiece of a new state park established in 1977.
The cypress trees that have grown in and around the pond during the many decades since that soil was removed and the hole filled with water is what gives this part of the park its Reelfoot Lake feel. While doing research for park management plans, King has read that Big Hill Pond is the largest pond in the state, though he's not 100% sure that's true.
So why is it a pond and not a lake? Though there can be some disagreement, the differentiation between the two bodies of water comes down to size and depth. Lakes are usually larger and deeper.
Fishing and paddling
As you might expect of a park named for a body of water, fishing is popular here. Between the pond and the 165-acre, spring-fed Travis McNatt Lake, the park is an angler's paradise. In fact, the lake is designated a Bill Dance Signature Lake by the famous fisherman. Bass, bream, catfish and more might find their way to the end of your fishing line.
Access to Big Hill Pond is by boat only because of the swamp that surrounds it, and a four-wheel-drive vehicle is needed to access the steep boat ramp. Boats can only be propelled via electric motors and paddles.
If canoeing and kayaking are more to your liking, you can't go wrong with doing either here. Between Memorial Day and Labor Day, you can even rent kayaks and canoes in the park on a first-come, first-served basis.
Hiking, biking and riding
If you like having good, solid earth beneath your feet rather than water, there are plenty of ways to enjoy the more than 4,100 acres that make up the park property. A walk in the woods can be restorative and peaceful as well as good exercise. The park has 10 trails to choose from, varying in length from the 0.3-mile Big Hill Pond Access Trail that is rated easy to the 6-mile Horse Trail, which also accommodates mountain bikes.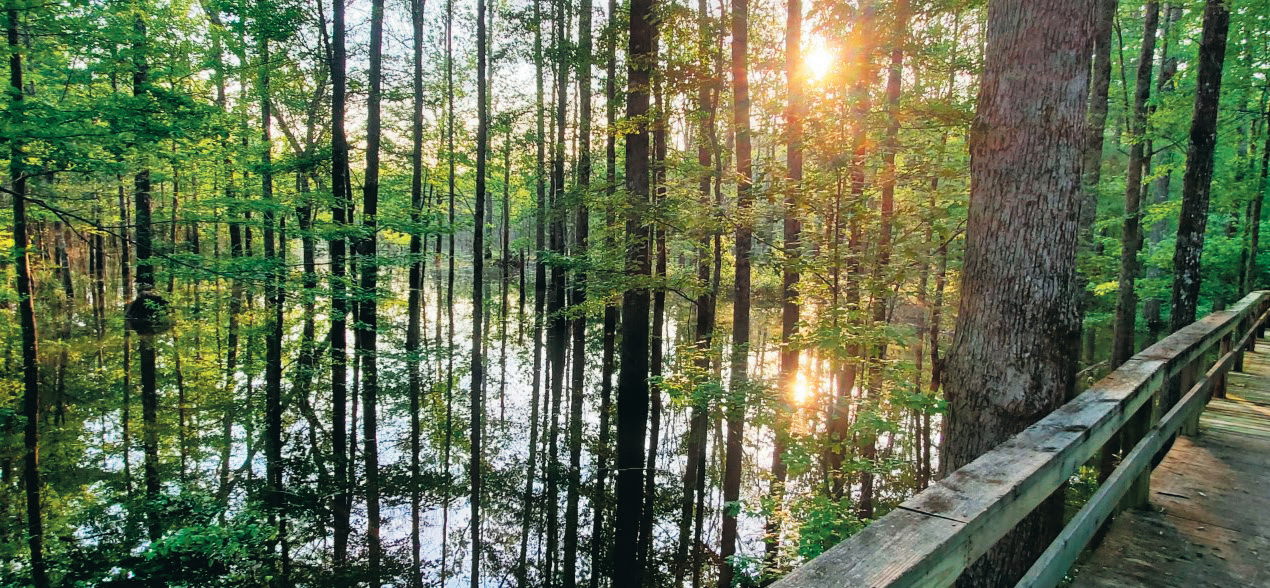 Birding
With such a varied array of habitats within the park, it's a great place to observe many types of birds. You'll want to bring your binoculars and camera in case you spy woodland birds such as the Carolina chickadee or tree swallow, water birds such as the blue-winged teal and double-crested cormorant, and birds of prey like bald eagles and osprey.
Camping
While the park does not have a lodge, there are 28 primitive campsites. These gravel sites can accommodate trailers up to 20 feet, but note that there is no dump station or hook-ups — though that will be changing in the future. There is a central bathhouse, and each campsite has a grill and picnic table.
Also available to rent are three primitive group camps and four hike-in shelters, three of which are remote. No backcountry camping is allowed.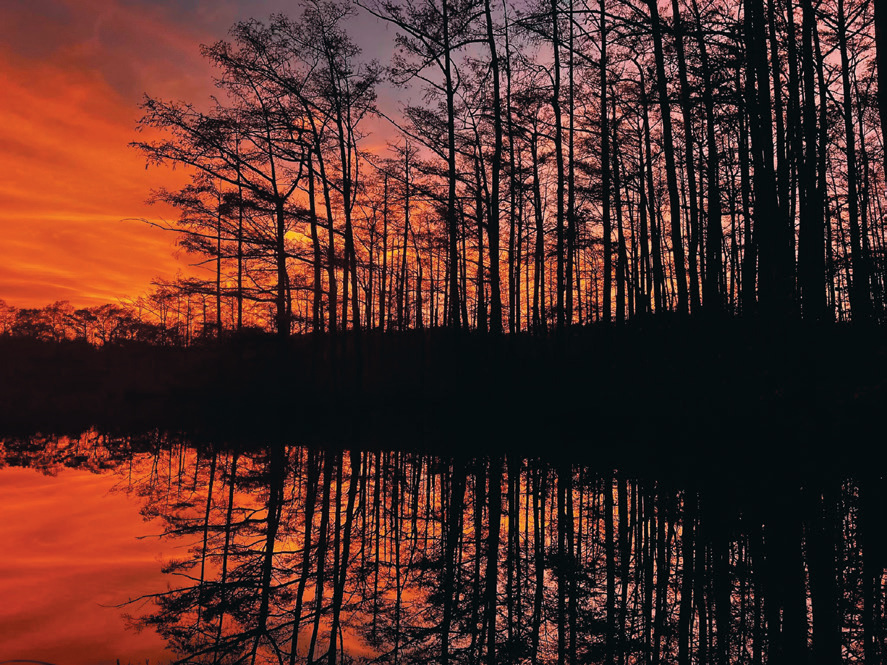 Gathering spots
The focal point of the park's unique, rustic spot to hold an outdoor wedding or other type of gathering is a sandstone chimney dating to the 1800s. There's a modest rental fee, and reservations can be made by calling the park office.
Two picnic shelters are also available for rental up to a year in advance. Equipped with tables, grills and restroom access, these pavilions can seat 48 to 96 people, depending on the shelter.
Run, run, run
One of the memorable things to happen during King's tenure at Big Hill Pond is how something he initially laughed at ended up becoming a big draw for the park.
In the spring of 2017, the McNairy County Chamber of Commerce held a 10K race at the park to help raise money to purchase canoes. A group of guys approached King after the race wanting to do a 50K foot race at the park.
"I laughed and said, 'Yeah, right. Put a plan together and present it, and we will see.' A few months later there was a plan with a course and potential sponsors. I saw then I needed to take these guys seriously, and we set a date for Oct. 20, 2018, and the Walking Tall 50/25K race was formed and some great friendships made with Brian Williams, Sean Hilsdon and Tod Pitts. We are on our sixth year and have had over 30 states represented at the park and one runner from Great Britain."
Silver lining
Not much positive can be said of the pandemic years we've all endured, but there has been a bit of a silver lining for Big Hill Pond. Like other parks across the state, Big Hill Pond became a refuge in those dark days and was discovered by a lot of people.
"We met new visitors daily coming out to enjoy the park's hiking trails and Travis McNatt Lake," King says. "Our visitation doubled during this time. It was stressful managing so many people in the park at one time with a very small staff, but it was great to see so many people taking advantage of this hidden gem in West Tennessee."
The increase in visitation did cause some concerns, including first-time hikers who were not aware of their physical limits.
"Big Hill Pond has huge elevation changes on every trail, making most trails moderate hiking. The weekend before parks closed, we had 97 parked cars in one parking area where we usually see 15 to 20 on an average weekend day."
King says the park has been able to retain a lot of those higher visitation numbers, which has allowed staff to make improvements to the park that keep people coming back.
"Over the past two years, we have installed an 18-hole disc golf course; improved an observation area on Travis McNatt Lake; remodeled our boat house, adding a gift shop; opened a camp store; remodeled the park office and gift shop; installed a new basketball court and a pickleball court; and revamped our park aviary where we house five birds of prey. The greatest achievement was that we received funding for the remodel of the campground and the Dismal Swamp boardwalk. We are very excited about these two projects as the campground is getting hook-ups, and the boardwalk will be 100% replaced."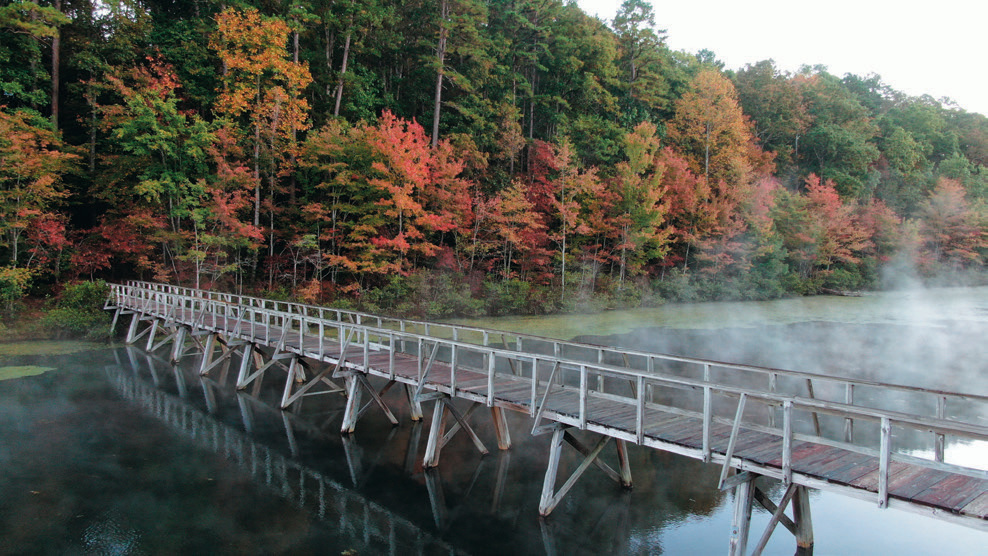 Meant to be
For King, being park manager at Big Hill Pond is a dream come true. His ties to Big Hill Pond are strong and deep. A native of McNairy County, his first job at Big Hill Pond came about as a result of helping fight a fire in the park while he was home from college on winter break.
"There was a fire page that went out over my grandfather's fire department radio that there was a fire at Big Hill Pond," he says. "We were the first ones on scene where previous Park Manager Jim Harrison had a boat to carry us to a fire on the far side of Travis McNatt Lake. He gave me a backpack blower and asked if I could get around the fire to make a fire line. I ended up putting it out rather quickly, and he then asked if I had a job for the summer."
Thus began a series of positions at Big Hill Pond — seasonal laborer, maintenance department, interim park manager and eventually park manager beginning in 2019. In the midst of that was some time at Chickasaw State Park in Henderson. King says his time in the maintenance department at Big Hill Pond is when he truly found his passion for serving people.
"I had a great mentor in Wilford Holmes, who taught me how to care for the park and our visitors."
Some people have to leave home and go far away to chase their dreams, but King had a much shorter journey.
"I grew up less than 2 miles from the park, so I spent a lot of time here as a kid," he says. "This played a huge role in me wanting to work at Big Hill Pond. Now that I am park manager, I am trying to create and improve things that I saw and wanted as a kid. It's like living my childhood dream every day as we are meeting a lot of our goals."