Dear Jim: I do projects in my garage, which also has a bedroom above it. The garage door is an old metal one with no insulation, so I think I should replace it. What type of garage door is best? — Stephen K.
Dear Stephen: It sounds like you definitely need to make some efficiency improvements to the garage door, for both your comfort while working and for the energy losses from the bedroom floor above it. If the builder installed an inexpensive, inefficient garage door, it's likely the bedroom floor above the garage isn't well insulated either.
When evaluating energy-efficiency projects, keep in mind that hot air goes up, but heat energy moves in all directions, including down. If your garage doesn't have a furnace duct going to it but it stays reasonably warm, it's getting heat from somewhere — probably from an adjacent house wall and down from the bedroom floor above it.
Before you invest in a new, efficient garage door, inspect your existing door. If it's in relatively good condition and there are no significant drafts coming from the joints between the panels, consider installing a garage door insulation kit. Some kits provide an insulation value as high as R-8, but they won't seal air leaks through the joints between the door panels. Owens-Corning makes an easy-to-install garage door insulation kit.
Several other advantages of installing an insulation kit are reduced outdoor noise and lower lighting costs. Because the exposed white vinyl backing reflects light, you need fewer lights on in the garage.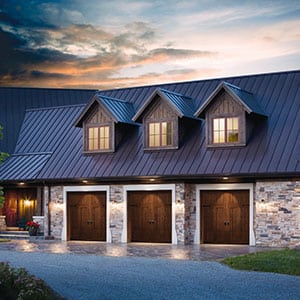 If you decide you need a completely new door, there are several options. The most common garage door materials are wood, insulated steel, insulated fiberglass and aluminum/glass. Of these, the insulated steel or fiberglass offers the best efficiency because of the insulation value and the rigidity of the door to remain airtight over its life.
Many insulated steel doors are "wind-rated" for severe weather. Even if your area doesn't have frequent high-wind storms, install the horizontal galvanized steel supports across the inner surface of the door if they were included with it. As the door rolls up to open, the edges are not interlocked to support each other. Without the supports, the panels may flex and begin to form cracks over time.
If you prefer the appearance of wood but want higher efficiency, select a clad-insulated steel garage door. Clopay developed a method to apply a 0.5-inch-thick polymer coating on the exterior steel skin. It has authentic wood grain molded into the surface so it looks identical to real stained wood. Another option is an embossed simulated wood finish that's painted on.
An insulated steel door is probably the least-expensive design to meet your efficiency and comfort needs. Some foam insulated steel doors such as the Clopay Gallery Collection double-wide door that I installed at my home have insulation values as high as R-19. The foam inside the door can be either glued-in rigid polystyrene or blown-in urethane foam. Urethane foam has a higher insulation level, but either should be satisfactory.
When choosing a steel door, look for one with a thermal break separating the outdoor and indoor metal skins to reduce heat loss. This is not a factor on a fiberglass door. If you have children, look for pinch-resistant panels. These are designed to push a finger out of the panel joints as the door closes. If you want glass in the door, make sure it's at least double-pane, insulated glass or low-E for better efficiency.
The following companies offer efficient garage doors: Amarr Garage Doors, 800-503-3667, www.amarr.com; Clopay, 800-225-6729, www.clopaydoor.com; Overhead Door, 800-929-3667, www.overheaddoor.com; Raynor Garage Doors, 800-472-9667, www.raynor.com; and Wayne-Dalton, 800-827-3667, www.wayne-dalton.com. A garage door insulation kit is available from Owens-Corning, 800-438-7465, www.owenscorning.com.