When Tennessee's Washington Youth Tour group makes it to the nation's capital, they hit the ground running. Moving as efficiently and effectively as 179 students, teachers and co-op chaperones can, this year's swarm quickly boarded and unloaded buses at Washington's famed tourist stops to see everything they could during their weeklong stay. The Smithsonian Institution, memorials to presidents and veterans, the White House and U.S. Capitol, a Kennedy Center play and many more stops fill the Tennessee group's itinerary every year for the annual Washington Youth Tour.
The 132 students punched their tickets to the 2013 once-in-a-lifetime, expense-paid, whirlwind tour by winning a short story contest in which they creatively explained how electric cooperatives expand their attention beyond the power lines, taking active roles in strengthening the communities they serve.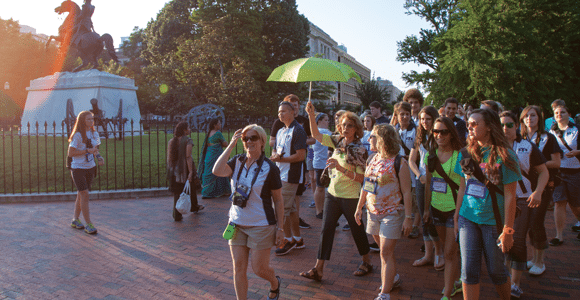 Besides the trip, Tennessee's electric cooperatives also awarded scholarships to the state's best writers. One story judged the best from each co-op's service area was entered in a statewide competition, and the top three overall winners were announced during the tour.
Elle Johnson, a member of Se-quachee Valley Electric Cooperative's delegation, won the first-place $3,000 scholarship this year. Newby Parton, Caney Fork Electric Cooperative, was unable to go on the Youth Tour but still won a $2,000 scholarship for his second-place short story. And Meriwether Lewis Electric Cooperative's Blake Nolen took third place and a $1,000 scholarship.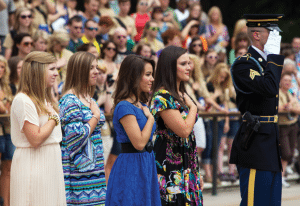 "I never realized what made my local co-op special until I wrote my essay," says Johnson. "I learned so much about electric cooperatives and the ways they assist our communities. I went into the process of writing knowing only the basics of electricity, but I learned that cooperatives are member-owned and that their main focus is not profit but rather overall benefit of their communities."
In writing their creative short stories, students discover the benefits of living in an electric cooperative service area. And while on the Washington Youth Tour, the contest winners learn more about their country and government, strengthen their leadership skills and make new friends.
"The Washington Youth Tour gave me a deeper understanding of what it means to be an American citizen," says Nolen in reflecting on this year's trip, which he calls "an experience of a lifetime."
Another leadership-building component of the Youth Tour is the contest to join the Youth Leadership Council. One student representative from each co-op service area participates in a public-speaking competition to represent Tennessee on the council. This year's representative is Courtney Biggs from Forked Deer Electric Cooperative's area. She returned to Washington, D.C., in July for a leadership conference and will attend the annual meetings of the Tennessee Electric Cooperative Association and National Rural Electric Cooperative Association.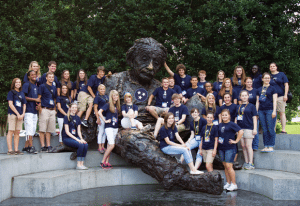 "This trip forever changed my life," Biggs says. "Thank you to everyone who made it possible."
"I can't give enough thanks for giving me this amazing opportunity," an equally grateful Johnson says. "It has changed my life for the better in so many ways.
"I want to encourage every junior to try and be the next Youth Tour delegate! This trip is a truly amazing experience. All it takes to win is determination and a little bit of research. You never know; you could be the next scholarship winner!"