Embracing Old Man Winter
Colder months offer snowy, festive destinations for travel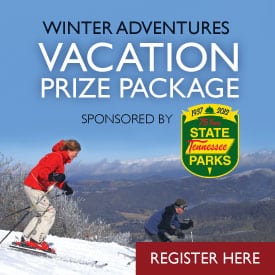 Snow, snow everywhere. That could have been the title of many a photograph taken in the Appalachians in the aftermath of Hurricane Sandy in late October. While we all wish that snow hadn't come at the cost of the severe storm's devastation, the fact remains that ski areas in places such as East Tennessee and North Carolina's High Country received a lot of snow much earlier than usual. It's quite a contrast to last year's warm winter when snow was a rare commodity.
For many people, winter is a time when they cocoon themselves in their homes with mugs of hot chocolate, Christmas movies, fleece blankets and dreams of springtime. But the onset of winter doesn't have to mean an end to fun travel. And with all the snow — both natural and man-made — in the higher elevations, why not head to the mountains for a bit of skiing, snowboarding, snow-tubing and other frosty-fun activities?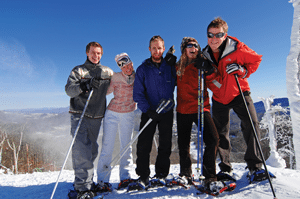 Several ski resorts offer slopes for beginning to advanced skiers, snowboarders and tubers. To put a little excitement in those cold winter days, embrace Old Man Winter by planning a vacation to one or more of these destinations.
Beech Mountain Resort
For a complete alpine winter destination, you can't go wrong with Beech Mountain Resort in Beech Mountain, N.C. The ski area has the distinction of being the highest in the eastern United States at 5,506 feet above sea level. That height affords fantastic panoramic views and some exciting slopes. There are 15 trails varying in difficulty and seven lifts, including the state's only high-speed quad lift. Lift tickets range from $20 to $63 depending on age, how long you intend to ski and when you're visiting the resort.
Snowboarders have two terrain parks to choose from, and ice-skaters can enjoy the 7,000-square-foot outdoor rink. Have a winter birthday? Beech Mountain offers ice-skating parties, which include pizza and drinks.
Don't know how to ski or snowboard? No worries. Beech Mountain offers group and private lessons. And for those who have kids who might not be ready for the slopes, the resort also offers a nursery for those youngsters ages 6 months to 3 years.
For people with disabilities, Beech Mountain hosts an annual Adaptive Ski Week. Instructors from some of the best adaptive ski programs in the South come to this event to give individuals with disabilities a week full of outdoor winter fun.
Beyond the slopes, Alpine Village offers a variety of eateries and shopping opportunities.
To learn more: www.beechmountainresort.com.
Sugar Mountain Resort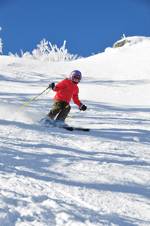 Located in Sugar Mountain, N.C., Sugar Mountain Resort opened this year on Halloween, the earliest opening in its history.
"We got 9 inches of snow," says Kim Jochl, director of marketing and merchandising for Sugar Mountain. "Additionally, the resort made snow around the clock for four consecutive days."
Jochl said the combination of natural and man-made snow is important: "Snow encourages people to participate in winter sports. Natural snow gets people thinking about planning a trip to the mountains to ski. We can't sustain the operation without snowmaking, but natural snow is the most effective marketing tool."
The resort offers more than 115 skiable acres with 20 slopes and trails sporting fun names such as Magic Carpet and Whoopdedoo. By difficulty, the slopes break down to 40 percent novice, 40 percent intermediate and 20 percent expert.
If you've ever been to Sugar Mountain in the summer for some golfing, the course looks a lot different in the winter. Covered in snow, its fairways become 700-foot-long tubing lanes.
Ice-skating more your speed? How about spending part of your visit to Sugar Mountain gliding along the surface of the resort's 10,000-square-foot rink?
You can bring your own winter sport equipment or rent at Sugar Mountain. And like most resorts, Sugar Mountain offers a ski and snowboard school for beginners wanting to give the slopes a try. Sugar Bear Ski School is a special instruction program for skiers ages 5-10. Special group rates are available.
All that physical activity on the slopes will likely generate some hunger. The resort's cafeteria is open daily 8 a.m.-10 p.m., serving grilled hamburgers on the deck when the weather permits. The Last Run Lodge has sandwiches, hors d'oeuvres and adult beverages on its menu. Or if you're just having a sugar craving, check out the appropriately named Candy Shop.
You might want to mark your calendars for Dec. 7-9, which is when the annual SugarFest will offer visitors a ski clinic with celebrity coach Diann Roffe, 1994 Olympic gold and silver medalist; fireworks; and a skating demonstration and ice-skating clinic by 1992 Olympic silver medalist Paul Wylie. That doesn't even include SugarFeast, a delight for your taste buds with the Soup Safari filled with made-from-scratch gourmet soups, barbecue and sweet tea combo and a hot chocolate and whipped cream bar.
To learn more: www.skisugar.com.
Appalachian Ski Mountain
Appalachian Ski Mountain in Blowing Rock, N.C., is celebrating its 50th anniversary this year. If you visit, you'll have your choice of 12 ski and snowboard slopes with the longest run being the half-mile-long Orchard Run; a 6,000-square-foot ice arena; and three terrain parks with more than 60 features. All of the slopes are lighted for night skiing and snowboarding.
As with the other ski areas, equipment rental, a ski shop and a nursery are available. The French Swiss Ski College has the aim of helping new skiers and snowboarders learn to enjoy skiing and snowboarding so that they come back to the sports beyond their first outings.
For those who have RVs, Appalachian Ski Mountain has an RV park with 10 hookups that accommodate any size camper. You can't beat the view of the surrounding Blue Ridge Mountains.
For more information: www.appskimtn.com.
Hawksnest Resort
Would you like to get out and play in the snow, but skiing just isn't for you? Then a trip to Hawksnest Resort in Seven Devils, N.C., might be up your alley. Hawksnest is home to the largest snow tubing park on the East Coast with 20 lanes that range from 400 to 1,000 feet long. Snow tubing sessions range from $25 to $30, and $3 military discounts are available.
The resort doesn't just have the largest tubing park. It also boasts the longest zipline tour as well with 19 lines that add up to four miles. You can wave to the snow-tubers below as you speed along the lines at treetop level, occasionally spotting some of the local wildlife such as turkeys, deer and perhaps even a bear. Winter zipline tours are available as weather permits.
For more information: www.hawksnest-resort.com.
Roan Mountain State Park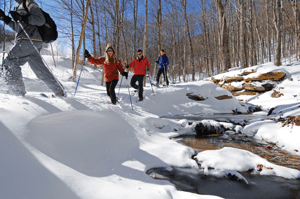 While the majority of the skiing opportunities in the area are on the North Carolina side of the state line, don't overlook the beautiful cross-country skiing opportunities at Roan Mountain State Park in Roan Mountain, Tenn. It has 12 miles of trails for skiing with some amazing mountain views.
For more information: www.skisoutheast.com/cross-country-skiing-tennessee.php.
If you visit the area in the winter, one of the people you might see downhill-skiing is Joe Thacker, general manager of Mountain Electric Cooperative, which serves both Beech Mountain and Sugar Mountain ski areas as well as Roan Mountain State Park.
"We get a lot of skiers and snowboarders in the winter," Thacker says. "We have lots of seasonal customers, and the winter economy is based on the ski resorts — all the lodging, restaurants and ski equipment rental shops."
Because of the elevations, Mountain EC's service area is popular in both the winter for skiing and other winter sports and the summer for those retreating to the mountains to beat the heat.
Even if skiing and snowboarding aren't in your future, there are still plenty of things to do in the winter besides play like a bear and hibernate. Here are a few examples:
Christmas lights galore!
Popular any time of the year, the communities around the Great Smoky Mountains know how to light up the night for Christmas. Gatlinburg has Gatlinburg Winter Magic, a citywide light display that uses only LED lights, a more environmentally friendly option than incandescent bulbs.
While you're in Gatlinburg, check out Ober Gatlinburg for some skiing, snowboarding and ice-skating.
Nearby Pigeon Forge is celebrating the 23rd Annual Winterfest and its accompanying trolley tours to see the 5 million sparkly lights spread around town. It's bound to put you in a festive mood.
For more information: www.gatlinburg.com and www.mypigeonforge.com.
Tennessee Overhill
Weather in the South sometimes can't make up its mind. So while we often think of cold temperatures, dreary skies and even snow during the winter months, that's not always the case. We often get warm spells that make resisting the outdoors almost impossible. That's a great time to hit mountain-biking or hiking trails — when they aren't crowded and you don't have to worry about the creepy-crawlies.
The Tennessee Overhill area in southeast Tennessee has some of the most beautiful mountain scenery around, even in the more stark winter months when the leaves are long gone. If you see a warm-up in the forecast, set your eye on the Cherokee National Forest or one of the area's heritage trails. If the air is still too crisp for your liking, take one of the scenic drives along the Cherohala Skyway or the Hiwassee, Ocoee or Tellico rivers. And whatever you do, don't forget your camera.
For more information: www.tennesseeoverhill.com/default.asp.
No matter where you are in Tennessee, there is likely some sort of winter fun not that far away. Whether it's outdoor winter sports, light displays, concerts or winter carnivals, get out and about to beat the winter blues. Be sure to consult the Tennessee Almanac on page 14 of this issue for events in your area.
Vacation Adventures Prize Package
You can register for our Vacation Adventures Prize Package here.