Whether it's just for fun or serious competition, practice makes perfect
Many of us have recollections of casual games of horseshoes in the backyard after a family cookout. But for the more than 100 members of the Tennessee Horseshoe Pitchers Association (THPA), this game is some serious fun. In 2014 alone, more than 50 horseshoe pitching tourneys are on the association's schedule, allowing dedicated pitchers, even beginners, the opportunity compete nearly every weekend. In June, Clarksville will host a professional horseshoe pitchers tour stop.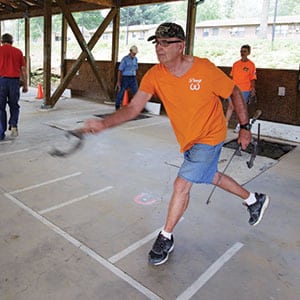 One of the pitchers will be Tennessee's own Joan Elmore whose competitive stare is on par with Pat Summitt's intensity. Though Elmore didn't grow up as an athlete, she and her husband, James, spent many days supporting their daughter, Christa, as she competed as a fast-pitch softball player. "We traveled so much with softball," says Elmore. "I just knew we would have to find something to do after Christa stopped playing."
Elmore, a Middle Tennessee Electric Membership Corporation member, went to her first horseshoe tournament in 1996 in Joelton. "We watched them all day and then signed up for a league right after that," she says.
Since 1998, Elmore has won six women's world championships and 15 state titles. With a ringer percentage that averages about 82 percent, she has thrown six perfect games without missing a ringer. In fact, in 2013, she became the only woman to ever pitch a perfect game in the world championship.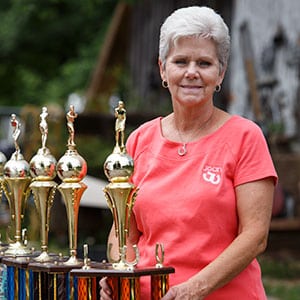 Competitions kicked off in January with the appropriately named Snowbird Open and Brr Open and continue throughout the year with events such as the Great Pumpkin Open in October and the Almost Christmas Open in December. Along the way, the state doubles and singles tournaments are held, and many members take part in the world championship. Unlike other sports, horseshoe pitching doesn't require a playoff system where you "make it to state" or have to win a state competition in order to compete in the world tournament. Whether it's a local, state or world tourney, you can simply sign up to compete. If you've never competed but would like to give it a try, just show up at a tourney and see the director of the event. They'll have you pitch a few horseshoes to determine your ringer percentage and the class in which you'll compete. You'll be placed in competition with people of the same or similar skill level.
JoAnn Stanford of Celina, the association's secretary-treasurer, says the hope is that people will come to watch and decide they want to join the THPA and compete themselves.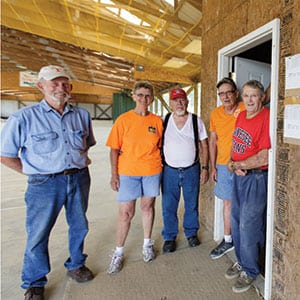 "The more the merrier," she says of people coming to observe. "All we ask is that they don't disturb the pitchers or make a lot of noise."
Stanford happened into horseshoe pitching after retiring, when she was looking at possibly competing in the Senior Olympics. Now she loves it so much that she's pitching nearly every weekend.
"I love the camaraderie, the people and the travel," says the Tri-County Electric Membership Corporation member. "I wouldn't miss the world tournament unless I was sick."
Pitching is a sport that appeals to all ages, something that can be started at a young a
ge and done well into a person's senior years. Stanford says the THPA has members up into their 80s, and there are age brackets for competition that range from Junior Cadets (up to age 9) all the way to Elders (ages 70 and older).
Horseshoe pitching events — like the Tennessee Horseshoe Pitching Pro Tour and Clarksville State Doubles tournaments — will be held across the state in the coming months (see box above). In doubles competition, the maximum combined ringer percentage of both team members cannot exceed 115 percent.
If you're interested in learning more about the THPA or horseshoe pitching competitions, contact Stanford or any other association officer. Phone and email contact information is located on the organization's website, tnhorseshoepitching.com. Stanford says that while they welcome new members of all ages, they particularly encourage younger competitors to join and start enjoying the sport of horseshoe pitching.

A Shoe In
To find local horseshoe throwing chapters and events in Tennessee, check out the website of the National Horseshoe Pitchers Association: horseshoepitching.com
If you're curious about how a horseshoe pitching competition works, plan to attend one of the tourneys to see for yourself. Scheduled events are posted on the website.
Horseshoe Pitching Events
June 7 • Joan Elmore Open, 837 Industrial Blvd., Crossville.
June 7 • Freeman Gaw Open, 125 Fourth Ave., Algood.
June 14 • Melvin Cooper Open, 150 Depot St., Soddy Daisy.
June 14 • James Fink Open, 1729 Rock Springs Road, Rock Springs.
June 21 • Clarksville State Doubles, 650 Bellamy Lane, Clarksville.
June 28-29 • Tennessee Horseshoe Pitching Pro Tour, Montgomery County Civitan Park, Clarksville.
July 14-26 • National Horseshoe Pitchers Assoc. World Tournament, Hamburg Fairgrounds, Buffalo, N.Y.
Sept. 27 • State Singles Tournament, 1729 Rock Springs Road, Rock Springs.