This amazing food is more popular than ever and more versatile than you think
Avocados: They're not just for guacamole anymore! You already know that avocados are filling, nutritious and — this time of the year — economical. Although they have their own outstanding flavor, they can become practically invisible when combined with some ingredients, allowing other items to star.
Avocado Fries with Cilantro Dipping Sauce
Yield: 4-6 servings
Ingredients:
½ cup all-purpose flour
4 avocados, pits removed and cut into slices
3 eggs
1 tablespoon water
1¼ cups panko breadcrumbs
2 teaspoons garlic powder, divided
1 teaspoon chili powder, divided
1 teaspoon onion salt
⅓ cup mayonnaise
⅓ cup sour cream or plain Greek yogurt
1 lime, juiced
2 tablespoons cilantro, chopped
Instructions:
Preheat the oven to 450 degrees and coat a baking sheet with cooking spray. Place the flour in a zip-top bag and add the avocado slices. Seal and shake to coat. In a small bowl, whisk together eggs and water. In a shallow bowl, stir together the breadcrumbs, half of the garlic powder, chili powder and salt.
Dip the avocado slices into the egg wash and toss them into the crumb mixture, being sure to coat well.
Place the avocados in a single layer on the prepared baking sheet and spray generously with cooking spray. Bake for 10-14 minutes until crispy and browned. Meanwhile, whisk together the remaining garlic powder, mayonnaise or Greek yogurt, sour cream, lime juice and cilantro. Serve warm with dipping sauce.
Grilled Avocado Halves
Yield: 4 servings
Ingredients:
2 ripe avocados
2 tablespoons lime juice, divided
1 tablespoon avocado or olive oil
½ teaspoon garlic salt
Instructions:
Preheat the grill to medium-high. Cut the avocados in half and remove the seeds. Brush the cut edges with half of the lime juice, then brush with oil. Gently place the cut side down and grill for 3 minutes. Remove and immediately sprinkle with the salt. Let stand 5 minutes and brush with the remaining lime juice before serving.
Grilled Chicken with Avocado Citrus Cream
Yield: 6 servings
Ingredients:
6 boneless skinless chicken breast halves
1 teaspoon garlic salt, divided
½ teaspoon black pepper, divided
3 tablespoons unsalted butter, divided
3 garlic cloves, peeled and minced
1 cup heavy whipping cream, room temperature
3 tablespoons lime juice, divided
1 teaspoon lime zest
1 avocado, peeled, seeded and mashed
Lime slices
Instructions:
Preheat the grill to medium-high. Sprinkle the chicken with ½ teaspoon salt and ¼ teaspoon pepper. Set aside.
Place a tablespoon of the butter in a small saucepan over medium heat. Add the garlic and saute until soft, about 2 minutes. Reduce the heat to low and slowly stir in the cream. Add the lime juice and zest. Whisk in the avocado until smooth. Season with the remaining salt and pepper. Cover and remove from the heat.
Melt the remaining butter and brush the chicken breasts on both sides. Grill, turning once, for 8 minutes on each side or until no pink remains. Serve warm with the avocado cream sauce for dipping.
Avocado Salad
Yield: 2 servings
Ingredients:
1 large bunch arugula, trimmed
1 avocado, pitted, peeled and cut in pieces
2 tablespoons avocado oil
2 tablespoons cider vinegar
1 tablespoon chopped fresh chives
½ teaspoon salt
¼ teaspoon black pepper
Instructions:
Place the arugula in two individual salad bowls and evenly top with the avocado slices. Drizzle each with half of the oil, vinegar, chives, salt and pepper. Serve immediately.
Avocado Ice Cream
Yield: 6 servings
Ingredients:
1 (14.5-ounce) can coconut milk
3 ripe avocados, pitted and peeled
¼ cup liquid stevia
1 tablespoon coconut oil
½ teaspoon pure mint extract
¼ cup mini chocolate chips
Instructions:
Place the unopened can of coconut milk in the refrigerator for at least 6 hours or overnight. Remove from the refrigerator, immediately turn the can upside down and open. Pour off as much of the liquid as possible. You will get around ¾ cup of liquid that can be saved (refrigerated) for other cooking uses or in smoothies. Transfer the solid portion that is left to the blender.
Add the avocados, stevia, oil and extract and puree until smooth. Stir in the chocolate chips and transfer to an electric ice cream freezer. Follow the manufacturer's directions for freezing. Store in the freezer until ready to serve.
Avocado Soup
Yield: 4 servings
Ingredients:
4 cups low-sodium chicken stock, divided
1 small onion, peeled and chopped
4 green onions, sliced
2 garlic cloves, peeled and minced
½ teaspoon garlic salt
¼ teaspoon black pepper
Pinch of ground nutmeg
2 zucchini, trimmed and thinly sliced
2 avocados, seeded, peeled and chopped
Instructions:
Place 1 cup of the stock in a large pot and place over medium-high heat. When steaming, add the onions, green onions, garlic, salt, pepper and nutmeg. Bring to a boil, cover and reduce heat to low. Cook 15 minutes. Add the remaining stock and zucchini and increase heat to medium-high. Bring to a boil, stirring occasionally. Cover and reduce heat to low. Cook 20 minutes and stir in the avocados. With an immersion blender, puree until smooth. Serve warm or at room temperature.
---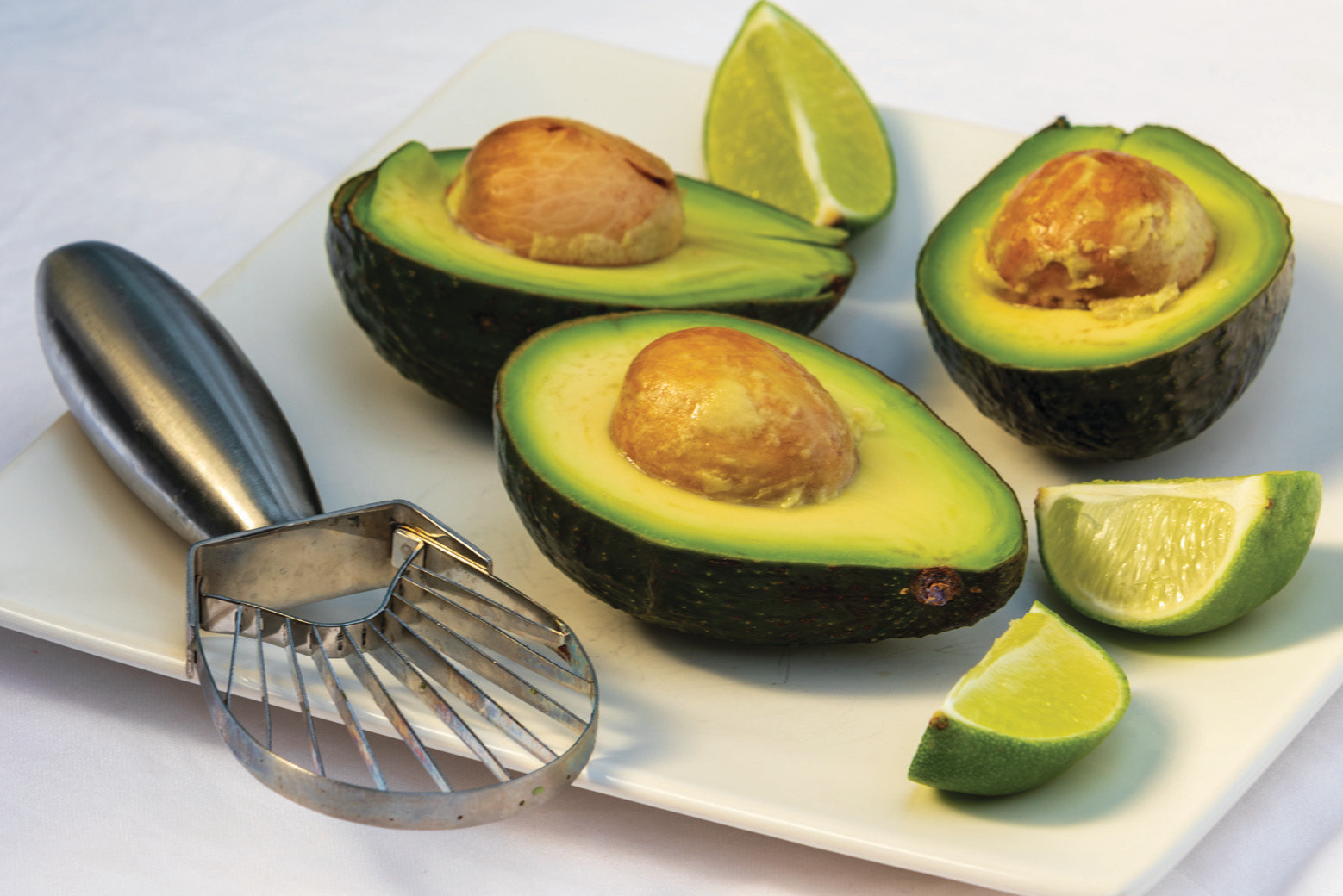 Avocados 101
Avocados belong to the genus Persea, a member of the laurel family and a distant relative to camphor, sassafras and cinnamon.
Botanically, avocados are fruits, but we use them as vegetables.
Blooms of avocado plants are unusual because they open twice.
Store avocados at room temperature away from direct sunlight.
The avocado is ready to use when it feels slightly soft when held in your hand.
To speed the ripening process, place in a closed paper bag.
Soft, ripe avocados can be stored in the refrigerator until ready to use.
To keep the bright color of cut avocados, sprinkle or brush them with lemon or lime juice.
Shedding the pit
With a sharp chef's knife, carefully slice around the pit and through both ends.
Twist the halves in opposite directions and pull apart.
Tap the knife into the center of the pit to grab it.

Lisa Franks would like to know about the "artisanal cheese" she frequently sees on the market:
"At first, I thought they were unique varieties, but they are frequently labeled as common types such as Cheddar."
Lisa, artisanal cheese is made from local milk and can be from cows, sheep or goats. It varies in flavor depending on the time of year and on what the animal was fed. These cheeses are often made in small batches, providing you with unique flavor characteristics. So while you may see it on common cheeses such as Cheddar, the flavor will be more pronounced than those that are mass-produced.
Dear Tammy,

What is the temperature difference between the hard-ball and hard-crack stage in candy-making.

Thanks,
Liza Robertson
Liza,
On a thermometer, the hard-ball stage is between 250 and 265 degrees. When the syrup solution is dropped in cold water, it forms a rigid but still pliable ball. The hard-crack stage is between 300 and 310 degrees. This creates separate hard, brittle threads when dropped in cold water.
Tammy Algood develops for The Tennessee Magazine recipes that feature farm-fresh Tennessee food. Those fresh, local ingredients will always add cleaner, more flavorful foods to your table. We recommend visiting local farms and farmers markets to find the freshest seasonal produce.