Dear Connie Sue,
I enjoy reading your articles. These items were a gift from a friend who was nearly 100 when she passed. I've tried to research without success. This is a Capri blue fruit bowl, 1.25 inches tall, and a pair of candlesticks, 2 inches tall.
Lori, Covington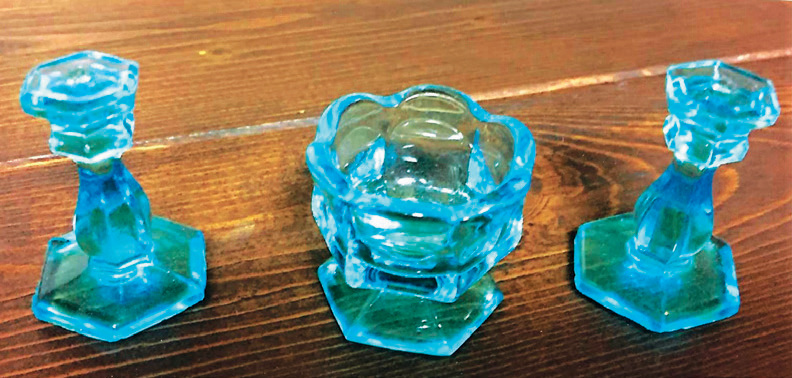 Dear Lori,
Capri blue was used in various patterns by Hazel Atlas Glass Company but not in the pattern of your set. It was made by an American glass company as a child's hostess set, but I couldn't find a match.
The diminutive size is precious. At a shop frequented by grandparents, it could be priced around $45.
---
Dear Connie Sue,
This possum belly cabinet belonged to my great-grandmother. She was born in 1870. I believe everything is original except the handles on bottom drawers.
Family legend has this cabinet being shipped to Palmyra by train from West Tennessee as a gift to my great-grandmother, repaying her for a kindness.
I would appreciate any information you have concerning the age, value and history of this piece.
Larry, Palmyra
Dear Larry,
Great-grandmother's cabinet was likely purchased through the Sears, Roebuck & Co. Catalog and sent by rail. The West Tennessee rail hookups were Memphis and Jackson. Someone paid cash-on-delivery to the station master.
The 1897 catalog describes the cabinet like this: "The convenient and practical arrangement of this splendid Kitchen Cabinet will be readily recognized." Price: $13.25. Shipping would have been $4 to $9.
The Sears catalog did not mention possums. Current auctions describe the cabinets as possum belly though. Today, similar cabinets sell for around $350.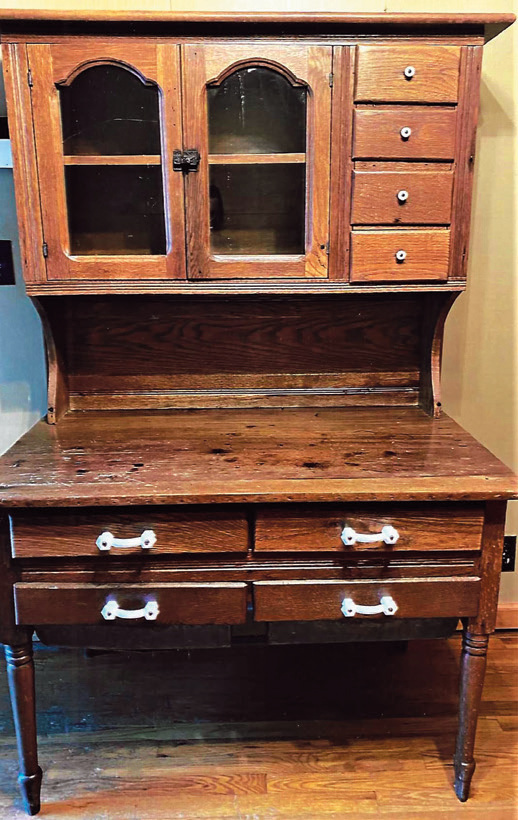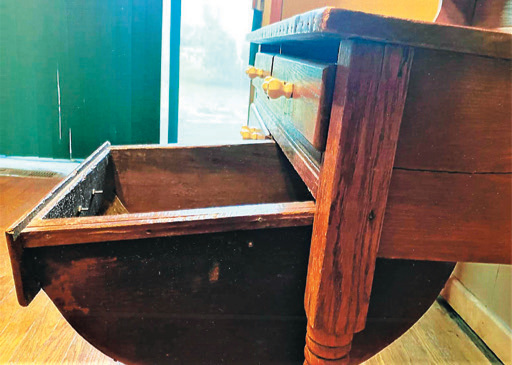 ---
Dear Connie Sue,
First, I enjoy your articles about antiques. Continue it.
This butter mold was my grandmother's who died in 1943 a poor woman. Her mother died in 1984 when my grandmother was 10. I tend to think the mold was given to her by grandparents or aunts in memory of her mother. They lived outside of Smyrna. Or it could have been handed down from her grandmother. The three lived about 2 miles from each other.
Could you give me a time period for when the mold was made and where?
I think the image is of a pineapple. Is that correct?
How common are these? Was it homemade? The wood seems to be poplar and possibly another wood for the image.
Tom, Fayetteville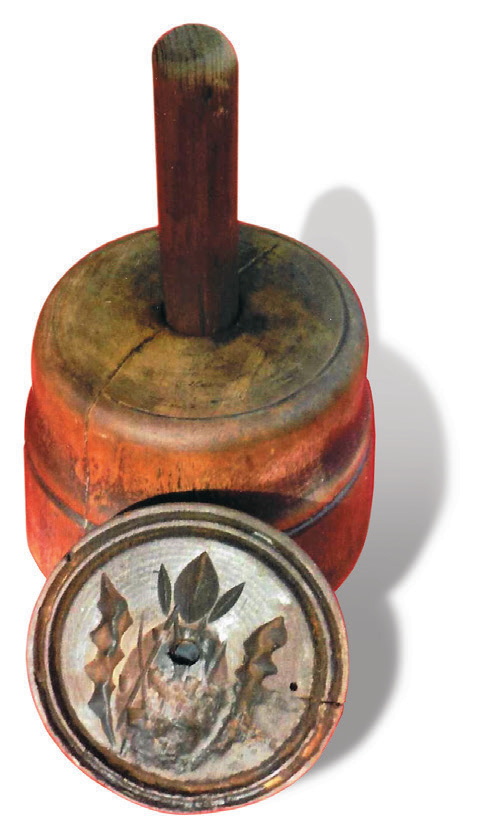 Dear Tom,
Your butter mold was handmade circa 1890 (circa means 10 years before or after). While looking through my reprinted 1897 Sears and Roebuck catalog for Larry's possum belly cabinet, I saw similar butter molds for sale at 10 cents to 26 cents or a dozen for $1 to $3. The available designs were of a cow in either a square or round mold. Production butter molds had a knob at the top to prevent separating the two pieces.
I see the pineapple portion of your mold has loosened from the handle. As wood ages, it shrinks, causing separation and cracks. These are confirming, charming conditions I enjoy seeing. It is made of maple.
The pineapple was a popular motif celebrating hospitality. Such butter molds sell for $20 to $55. As memories of family members making and pressing butter recedes, the value may decrease.