Dear reader,
Over the past 16 years, I've written 192 "It's Just Stuff" columns. This will be the last one.
I started in the antiques business in 1974 with a small shop in Madison. I had a solid foundation in fine furniture, glassware, silver and other collectibles by working alongside my mother, Betty Jones. We went on many buying trips into Ohio and neighboring states. She loved the business, especially the interactions with buyers and sellers alike. At the time, the Nashville Flea Market at the fairgrounds was the highlight of her month. I also bought and sold there.
In 1988, I began taking appraisal classes with the International Society of Appraisers. I quickly realized how much more to the business there was than simply pulling a figure out of the air. I learned how to properly prepare appraisal reports that would stand up under legal scrutiny and IRS requirements.
On a more personal level, I was able to empathize with many folks who needed me at a time in their lives when personal and family issues had struck them a devastating blow. I laughed and sometimes cried sitting in the living rooms of hundreds of clients, evaluating the possessions that filled their lives.
This monthly space in The Tennessee Magazine allowed me to connect with many thousands of people. Each month, I averaged about 100 inquiries about people's "stuff." Choosing only five each month was challenging. Answering all the letters became impossible.
Major thanks go to editor Robin Conover, who recently retired her position. She gave an inexperienced writer the chance to try out a risky idea in the magazine that turned out to be a success. And love and kisses to my husband of 45 years, Mel, for his support and proofreading skills.
In addition to ending my monthly feature here in the magazine, I'm also winding down my appraisal business. I might continue doing occasional appearances before groups that bring items to an event for a quick look and chat.
But my biggest thanks go out to all of you for reading and responding to my efforts over so many years. You've made it a pleasure to be in this business.
— Connie Sue Davenport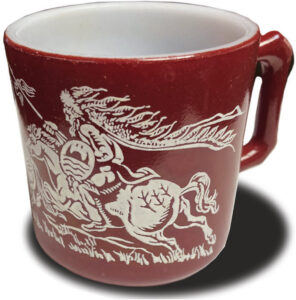 ---
And now, one for the road:
Hello, Connie Sue,
I received this small red cup from my mother. I believe it might be Carnival glassware as her extended family members were carnival operators in the 1940s and 1950s, and my mother worked with them during the summers.
There are no maker markings on the bottom of the cup, so I'm at a loss. Any thoughts or help you can extend would be greatly appreciated.
Michael
Michael,
Your cowboy mug was made by Hazel Atlas in the 1950s. There were four different Western motif milk glass mugs in burgundy, each with a white stencil of cowboys and Native Americans as portrayed by movies of the era. They currently sell online for $9 to $20 each.
It isn't Carnival glass but might have been a prize at a carnival game.