Dear Connie Sue,
I was wondering if you have ever seen a lamp such as this? It was originally oil. I inherited the piece around 30 years ago from a lady who lived in Cheyenne, Wyoming.
— Sheila
Dear Sheila,
For decades, I appraised these lamps proudly positioned in my clients' front windows. Most of the lamps were decorated with floral ball shades and bases. Animal motif lamps are less plentiful, more intriguing and can still sell for $500 to $750 at a good auction.
Today we refer to these as "Gone with the Wind lamps." The name and popularity were inspired by the movie.
Dear Connie Sue,
I have enclosed pictures of an antique sideboard my husband inherited from his Aunt Edie.
The value would be nice to know, but he is most interested in the age, where it came from and if we are calling it by the correct name.
We know there was a mirror in it at one point, but it was damaged.
We appreciate any information you can give us. We were unable to find out anything from the markings.
— David and Melinda, Holston Electric Cooperative members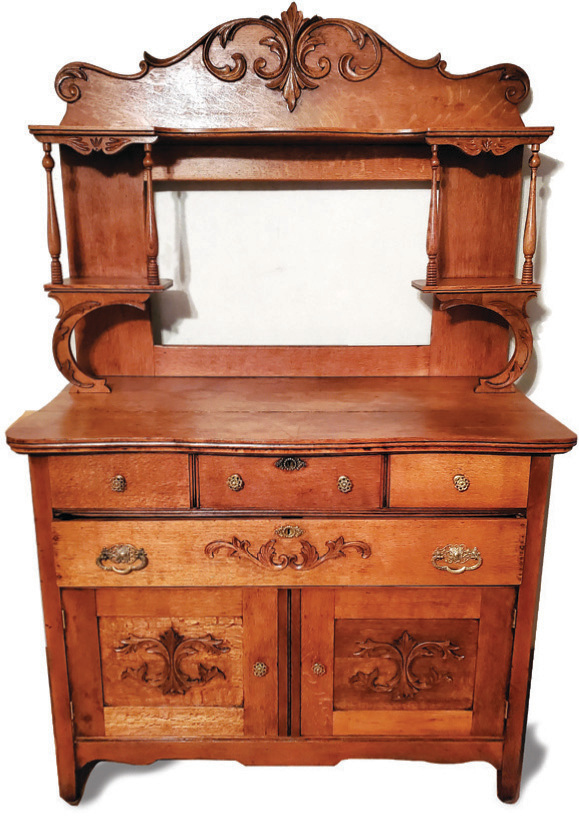 Dear David and Melinda,
Yes, this is a gold oak sideboard. Similar pieces were offered in the 1908 Sears and Roebuck catalog for $11.95. A few decades ago, golden oak anything was sought after. It reminded us of our aunts and grandmothers.
Today, however, large and heavy oak furniture is selling for less than the cost of its lumber. At its highest, this sideboard could have brought more than $750. Now, though, the same piece would struggle to bring $200.
Dear Connie Sue,
I have a sugar bowl that has been passed down to the oldest daughter of each family for the last 300 years. Enclosed are some photos. What can you tell me about it?
— Candy, Murfreesboro
Dear Candy,
The Clews brothers, makers of your sugar bowl, bought a stoneware company in England around 1817. They produced transferware pottery in a couple of locations in England near Stoke and exported their products to the United States from 1818 to 1834. Their pottery was inexpensive and appealed to the growing middle class market.
James Clews tried to bring the products closer to buyers by setting up production in Troy, Indiana. It was a big leap over the water!
He brought craftsmen from England. Even still, the enterprise floundered.
Your family's sugar bowl was made in England. It is the Basket and Brick pattern. Values vary widely — from $50 to more than $150.
Dear Connie Sue,
This belonged to my husband's dad. We were wondering if you knew its value. You came to my house once several years ago. There were obviously a few more things we came across that I didn't ask you about.
— Deidre
Dear Deidre,
C.G. Morehead offered prints of his watercolor painting of the Grand Ole Opry in 1973. It's a popular piece. One recently sold for $61 on eBay. Others are offered for more than $100.
I've visited so many houses and so many people in my 45 years of appraising.