Dear Connie Sue,
I received this harmonica from my 83-year-old grandmother recently. She says she has had it for as long as she can remember. "M. HOHNER auto valve harp key C Made in Germany" and the years 1873, 1871, 1881 and 1876 are listed on the harmonica. I'm a teenager who would like to know the value of what she has passed down to me. It has lots of sentimental value.
Tucker, Hillsboro

Dear Tucker,
Grandmother's harmonica is a 10-hole Chromonica model with a wood reed. The six-point, star-shaped fasteners on each end confirms a date before 1937, a year before your grandmother was born.
After a swipe and shine of surface dirt, your harmonica might sell for around $50. With the original box and in pristine condition, the value would double. Thank you for reminding us of sentimental value.
---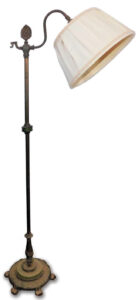 Dear Connie Sue,
I have an item I'd like appraised. This floor lamp belonged to my grandmother. Family lore is she received it as a wedding gift, June 6, 1908. It measures 56 inches at the top of the goose neck. This seems very short for a reading lamp based on today's furniture. The shade is not original and had to be handmade as the style of harp is no longer available.
Russell
Dear Russell,
Electricity was available in many near-town homes by 1910, so your grandmother as a bride may have stepped into a lighted house. It's called a bridge lamp and has a nice solid base of green stone for stability. Similar lamps sell for $45 to $75. A full restoration would more than double the price.
---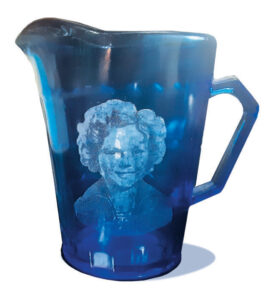 Dear Connie Sue,
The attached picture shows a Shirley Temple cream pitcher that belonged to my mother. She passed away recently at the age of 96. I believe she said it came in a cereal box. I think she also had a bowl or cup that matched. I'd like to know its current value.
Jean, Clarksville
Dear Jean,
Even as an adult, Shirley Temple was happy and hopeful. Her attitude helped our mothers cope with some difficult decades.
Yes, there were various cereal-related items made by Hazel Atlas Glass in its Ritz blue glass color. I see the pitcher most often. Today it sells for $9 to $15. In my antique shop in the 1970s, customers paid $45 or more for this pitcher.
The cereal sets were reproduced in the 1970s and 1980s. The blue is deeper, and the imprint is raised a bit. Your pitcher was made in the 1930s.
---

Dear Connie Sue,
My wife went to an estate sale in Franklin after the last day, and there were giveaways that didn't sell. This item peaked her interest, so she brought it home. It has a 3-foot-long wooden shaft with a wood handle and a metal cone at the bottom with a serrated inset cone. At first, it looked like a plunger, but the length and the metal cone made me think not. The cone is imprinted "COP-R-LOY RAPID WASHER made by C.T. Childers, Galesburg, IL." Was this used to wash clothes? And what is its value?
Larry
Dear Larry,
Yes, the Rapid Washer was used to plunge clothes through water. It was patented in 1894. I've seen them used to stack toilet paper, but I tend to look away from such novelties. They sell for $9 to $25.