Hi Connie,
This piece of furniture belonged to my grandmother. We have always just called it "The Little Thing." However, I would love to know what it really is, what it is worth and if I should try to restore it.
— Charlotte, Columbia
Charlotte,
"That little thing" is a man's shaving stand with a swivel mirror to adjust for height. Supplies were stored in the tiny drawers. A shaving mug was stashed behind the door. A small pitcher and bowl for clean/dirty water was stored on the shelf below.
It was used in the early 1900s. Similar stands sell for $25 to $100. I'd wax and polish a bit, but trying to restore it is worrisome.
Dear Connie Sue,
This treasure came to my husband from his grandmother's house. She was born around 1910 and lived all of her life in the Nashville area. To our knowledge, they never traveled outside the U.S. There are no markings. Any insight to its origin or value is much appreciated.
— Paula, Henderson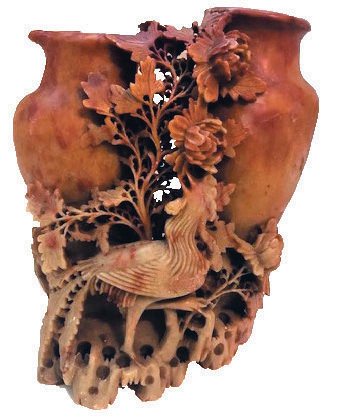 Paula,
This carved double vase is made of a soft stone called soapstone. It was imported from China in the early 1900s. The colors vary from almost white to variegated browns and corals. Your carved stone is relief carved to form a natural setting with a bird in the forefront. Similar pieces sell for $50 to $175. Poultry is always good.
Dear Connie Sue,
Attached are pictures of an art deco-type peacock lamp. My understanding is that it may have been made in Czechoslovakia. I'm very interested in finding out more about it.
— Nora
Dear Nora,
Another Bohemian lamp exactly like yours with a figural bronze base and glistening glass feathers recently sold at auction for $750. Yes, it is Czechoslovakian, circa 1920. One of your pictures showed the plug and frayed cord. Please rewire before it lights the whole house.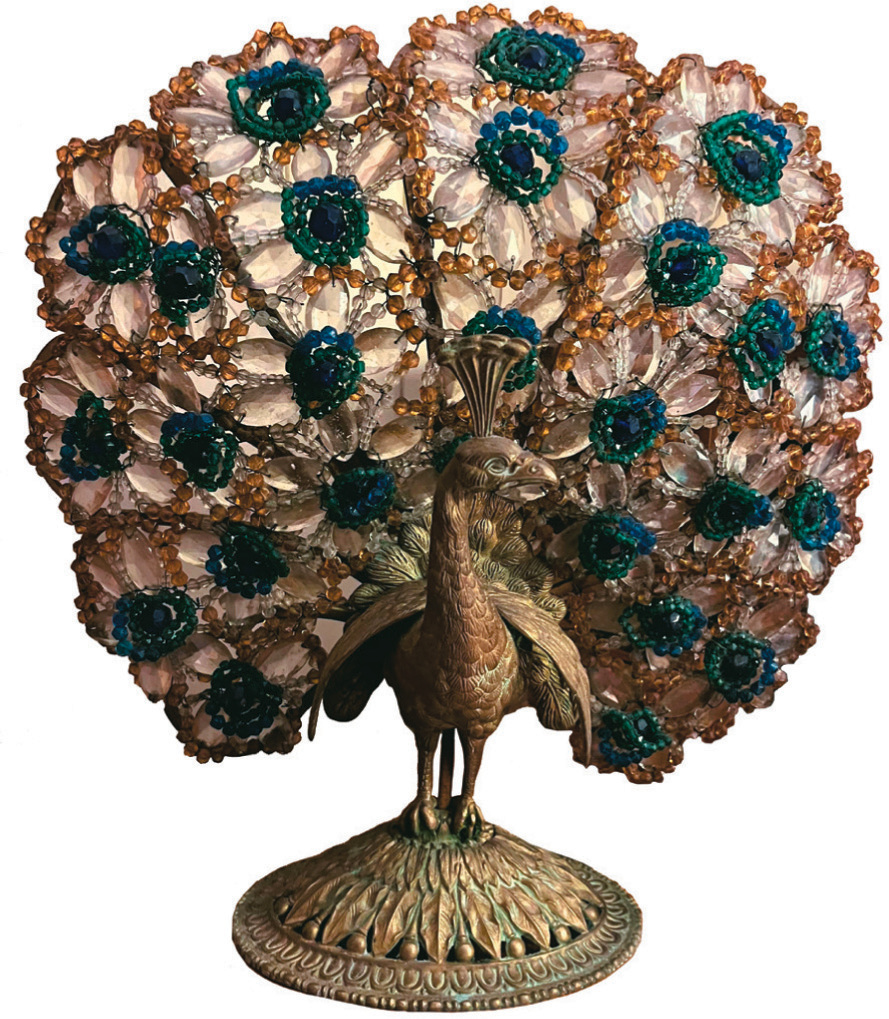 Dear Connie Sue,
This doll was given to me by my great-aunts, probably sometime in the early '80s. They were retired nuns in a convent on Long Island, so I'm not sure how it came into their possession. Any info you can give me would be greatly appreciated. Thank you for your time.
— Claire
Dear Claire,
Started in 1869, German doll head maker Simon Halbig became the second-largest producer of bisque doll heads at the turn of the century. The market for fancy bisque head dolls was huge. Pretty faces and fancy clothes intrigued parents. The dolls were dressed like upper-class children of the day.
The mark Simon Halbig with the star of David between K(ramer) & R(einhart) indicates she was made between 1905 and 1916. She has sleep eyes and open mouth with teeth. Many bisque doll heads included the shoulder. Your doll has a socket head.
Values for this doll currently fall within the $50 to $150 range. The clothes are not original.