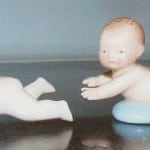 Dear Connie,
These salt-and-pepper shakers have been in my husband's family for years. We'd like to know something about them and their value.
Melissa, Stantonville
Dear Melissa,
The happy, crawling baby salt-and-pepper shakers were made in Germany around 1920. The puffy-faced porcelain babies were inspired by the baby dolls designed by Grace Putnam. I expect to see her name and mark on genuine pieces. All sellers, however, attribute these baby shakers to her. Hand-painted porcelain baby salt-and-pepper shakers like yours sell for $65 to $225 each.
---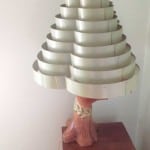 Hi, Connie,
My Grandma has in her house this lamp that my great-aunt brought with her when she moved in with them. She has since passed on, and we know nothing about it or how old it could be. The lamp shade is metal, and it collapses. It doesn't seem to have a stamp on the bottom. It's been a great conversation piece with our visitors. I thought I'd take a shot and send it on to you to see if you know anything about this item.
Michelle
Dear Michelle,
The silver shade of your grandmother's table lamp is called a Venetian blind shade. The same metal strips were used to diffuse light in 1950s windows. I don't think the base and shade came together, though. The base was probably not as huggable as a tree trunk. Typically, they were a bit edgier — a black cat or horse, a geometric design or an Eastern figure. Shades alone sell for around $40. An all-original lamp can bring closer to $100.
---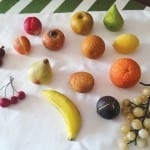 Dear Connie,
My great-grandmother gave me these stone fruits before she passed away. She was known to travel the world. They might have come from Italy. Thank you so much. I read your articles every month in The Tennessee Magazine.
Jill
Dear Jill,
Yes, they are Italian marble fruits made in the 1940s. Although stone fruit is still made overseas and in Mexico, it is often shiny and without the warm and realistic patina of the midcentury pieces. Proud great-granddaughters are creating renewed appreciation for the fruit. A grouping like yours could sell for $150 to near $500.
---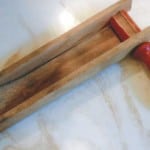 Dear Connie,
We took this picture of a toy and are curious how old it is. On the back is stamped a circle with tabs. In the circle is written, "The Toy Tinker's — Evanston, IL — Noisy Tinker — Patent Pending."
By holding the handle and spinning the long wooden part, the thinner center part catches in the notches of the wooden handle and makes a resounding "clackety-clackety" noise. We are interested in its era and value.
Mary, Sparta
Dear Mary,
Your wooden noise-maker was made around 1920 by the Toy Tinkers of Evanston, Ill., also known as the Tinker Toy Company. After the huge success in 1915 of creator Charles Pajeau's Tinker Toys, the company produced a few other toys, including your Noisy Tinker. They sell for $10 to $25.I