Dresser

Betty sent an email with a picture of a dresser that was in her dad's antique shop in the 1930s. She remembered it as Queen Anne.
Dear Betty,
Your dad's dresser is Renaissance Victorian, made around 1875. Similar dressers are priced from $800 to just over $2,000. However, large Victorian dressers are selling very slowly due to our current downsizing drama.
Lamp

Dear Connie Sue,

This lamp is signed "Prof. Libero Gremigni" at the bottom of the base.

It is sitting on about a 3-foot marble base, but the lamp itself is close to 30 inches. It may be made of marble and alabaster. Can you give any info about it?

I appreciate your time and feedback.

Steve, Rockvale
Dear Steve,
Your family lamp was made around 1900 in Italy. As you thought, it is carved from alabaster and marble. Various shapes and combinations of figures, shades and pedestals were available. Often, the figure had an allegorical theme. Exotic women seem to have been a favored component.
Figural lamps of this quality with one figure sell from $300 at tag sales to more than $2,000 at auction. Having all three sections — the lamp base, pedestal and especially the shade — is impressive. Condition greatly affects value. If there were gilded enhancements, the value could double.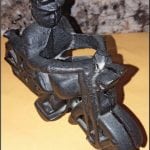 Dorothy sent two pictures of a cast-iron cyclist.
Dear Dorothy,
Your cast-iron motorcyclist is a modern giftware item. Old toys used flat-head screws, not Phillips head, and the halves fit together without a gap. I'd feel bad asking $10 for him.
Letter

Dear Connie Sue,

First of all, I always love your column in The Tennessee Magazine and appreciate your talents! What I've attached is a copy of a letter that my husband found in a box of CDs purchased at a flea market in Kentucky four or five years ago.

We are curious!

Linda
Dear Linda,
This 1977 letter signed by Elvis Presley is charming and convincing. The sincerity is reinforced by a misspelled word and what my typing teacher called a "flying letter." The "D" hits above the line every time.
However, in the lower left corner, I can see the words "Printed in China." This attribution was rarely seen in 1977. I don't think Elvis ever touched this piece of paper.
Table

Dear Connie Sue,

These are photos of a table I purchased at a low price from an elderly man in Memphis back in the '60s. It's a teardrop table, and I think it is all original. Could you tell me about it and the value? I love your column and turn to it first.

Thanks for any information.

Jan
Dear Jan,
Made a century ago, your marble lamp table has a festive look with its scalloped ring of inverted finials. The stylish "S"-curved legs add interest while supporting the marble top. Small, distinctive Victorian tables are selling briskly for $65 to $165. There's a whole lot of painting going on, and I could see this table painted black to bring out the dark striations of that gorgeous Italian marble.