Hi, Connie,

I look forward every month to seeing the treasures you post, but I believe I have one that will be difficult to search. A boyfriend gave this to me more than 40 years ago. It has eight rubies in the horseshoe and a gold horse head, and on the back, it reads, "H. Friedrick. ok, sterling." This covers a Ronson lighter made in Newark, New Jersey. The lighter has a patent number on it.

Online submission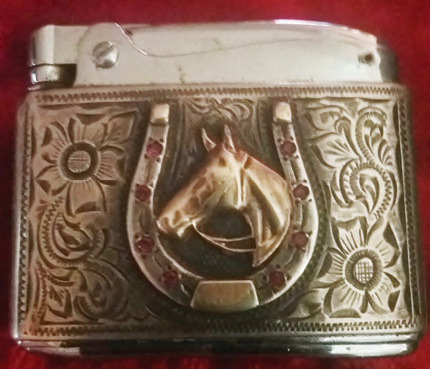 Dear Reader,
Early in his life, Herman Freidrick had a love for horses and worked as a trick rider and horse trainer. However, his skills of creating hand-tooled sterling silver belt buckles for fellow cowboys soon edged into his horse-riding time. By the late 1940s, he opened a Western-themed store near Madison Square Garden in New York City. He continued to create and sell his sterling items but also sold saddles, clothing, belts and Western accoutrements. His fame and the store's location provided easy access to movie stars playing cowboy games and touring rodeos.
I hope you still have the lighter and haven't sold it for a few hundred dollars. Although I did not find an H. Freidrick lighter for sale, I found two belt buckles sold in 2018. They were made for famous rodeo champions, so some value is attributed to cowboy fame. One sold for $3,500 and the other for $4,750. Your lighter's value is well into the four-figures category.

Dear Connie Sue,

Can you give me any info on this vase?

Online submission

Dear Reader,
Yes. Your midcentury modern, orange-swirled vase was made by combining layers of yellow and gold glass. The swirled line of ribbon on the outside was added while the glass was still malleable. The glassmaker finished the top by clipping molten glass to form the jagged edge. I have a similarly made vase on a base. They are American-made.
At an in-home tag sale, you may snag an orange vase like yours for less than $18. At a trendy shop, the price might be more than $50. Values for my butterscotch-colored vase are about the same.
Dear Connie Sue,

I have attached pictures of antique chairs my grandparents received as a wedding present. They were from Bohemia and married in Chicago in 1903. I would appreciate any help you can offer as I have been unable to find out anything else about them. One chair had the seat fabric come up, which I am sure can be fixed.

Mimi
Dear Mimi,
Your grandparents' parlor chairs are examples of Colonial Revival furniture made in the United States around the turn of the 20th century. They are a gleeful combination of past furniture styles. Steam power and industrialization allowed furniture manufacturers to more easily add to chairs floral and ribbon inlays, flame mahogany crowns and curly, swirly arms.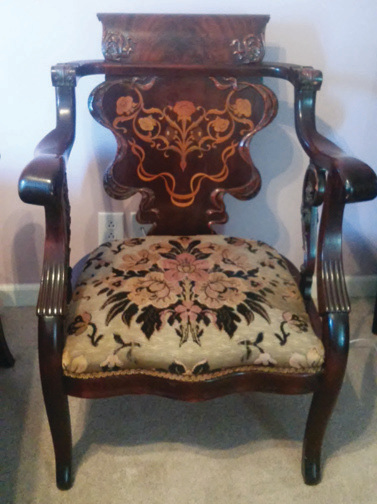 Similar chairs bring $125 to $175 each at auction. If they were mine, I'd make a pillow of the current upholstery in memory of your grandparents and redo the seats in a dark color to allow the stunning inlay and functional form to shine.
Dear Connie Sue,

My father brought back these opera glasses with case after World War II.

Online submission
Dear Reader,
Indeed, they are late 19th-century, floral-decorated, blue enamel opera glasses for viewing performers, musicians and fellow attendees at live shows. They may have a maker's name or country of origin stamped into the metal. Similar glasses with a carrying case sell for $45 to $135, depending on location of the sale.