Dear Connie Sue,

I found this little cowboy at an old homeplace. Can you tell me anything about it and its value?

Doyle
Dear Doyle,
The mark "Made in Occupied Japan" dates production of your cowboy to between 1945 and 1952. During that time, U.S. forces were in place to establish reforms for the future of Japan, one of which was the recovery of porcelain production.

In the 1970s, "Occupied Japan" figurines seemed scarce and sold in the $25 to $50 range. Today, however, figurines are out of style and selling slowly. Your cowboy might bring $4 to $10.
Dear Connie Sue,

I bought this cat plate at Goodwill. I can't seem to find any information about this specific model of "ABC" plate. It has the alphabet in gold around the edge. The middle contains a kitten with blue eyes and a blue ribbon. The back of the plate reads "HOTEL."

Annie
Dear Annie,
Burford Brothers Pottery (1879–1904) of East Liverpool, Ohio, used this simple "HOTEL" back stamp. Your ironstone ABC plate with a cat's head in the center might sell for $10 to $25 in a shop. Plates with multiple animals sell higher.
Dear Connie Sue,

Could you please tell me if these dishes, which came as a premium in oatmeal, are collectible? I have seen them priced in various places from less than a dollar up to $35 each. I have several of them and enjoy using them regularly.

Elaine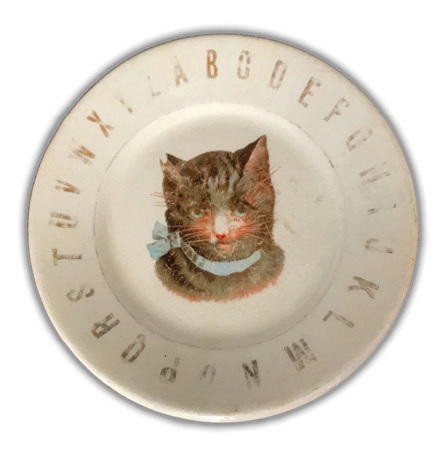 Dear Elaine,
Yes, these little dishes are collectible because they are inexpensive and readily available. Anchor Hocking Glass Corporation produced a pattern called Early American Prescut from 1960 to 1999. Seven pieces of that pattern were small enough to fit into oatmeal boxes. They've come to be known as Anchor Hocking Oatmeal pattern. These small, star-only pieces typically sell for a dollar or less each.
Dear Connie Sue,

This grinding wheel with seat was in my grandfather's shop in West Virginia. He acquired his first farm in 1913 and the second that actually had the blacksmith's shop in 1933.

One of the pedals is missing. I would like to know an estimated value, any information about the manufacturer with the distinctively bold "R-W" on the seat, when they produced this item and how it was sold — direct or through retailers.

I enjoy reading your "It's Just Stuff" in The Tennessee Magazine. If this is not an item you would want to publish, what would the fee be for the above information?

Richard
Dear Richard,
Sears, Roebuck and Co. sold grinding wheels from its catalog in 1908 for $3.08. One sold for $1,000 a year ago. Pedal grinding wheels are typically offered at retail for $500 to $650 but seem to be selling at around $200 at tag sales.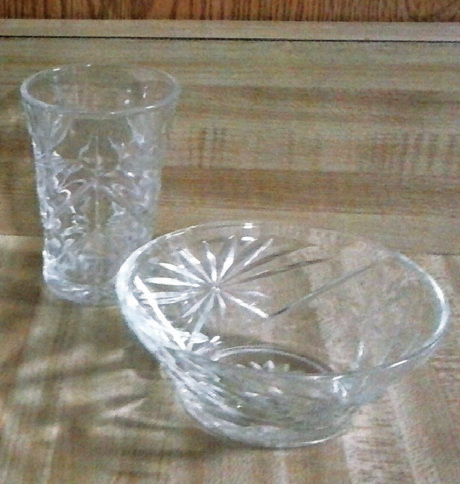 According to the Cast Iron Seat Collectors group on Facebook, your seat is most likely pressed steel. Sears, Roebuck and Co. had a knack for taking orders and contracting manufacturers to fill the need.
About 15 years ago, I realized I couldn't make a living appraising one item at a time. The Tennessee Magazine gave me this opportunity to share your stuff and my knowledge for free. To pay the bills, I must appraise houses full of things.