Dear Connie Sue,

I have been collecting pieces of this sunflowers-and-corn pattern for my granddaughter. I have given her a sugar bowl and creamer, a large serving bowl and now have located a cake plate. Do these have much value, or are they just old and pretty?

Nancy, Cross Bridges
Dear Nancy,
This all-over, intricate pattern is lovely. If you can find pieces at a good price and enjoy the hunt, this seems a nice way to bond with your granddaughter. Be attentive to her appreciation of "old and pretty" before you get in too deeply, though.
Pattern glass cake stands sell for $20 to $125. They serve as a lift to feature pretty pastry or daily-use items on a counter or sideboard. They are often featured in a stack, which seems ill-advised to me.
Dear Connie Sue,

I think this is a letter opener. My cousin gave it to me when her mom passed away. The date looks like 1882. I would love to know more about it.

When The Tennessee Magazine comes to my house, the first page I turn to is yours!

Donna, Shelbyville
Dear Donna,
I'm so glad you like the column, and thanks for sharing the letter opener. It is pewter with a brass wash on the blade. It was made by the Designs by Metzke in Tallahassee, Florida, between 1963 and 1997. I think the blurred stamp is 1982, although the design looks 1882.
From the factory in Florida, this family-owned business made and distributed pewter giftware to Dillard's, Neiman Marcus and Disney parks.
Similar letter openers sell for $8 to $20.
Dear Connie Sue,

My table has one drawer, but I do not see any visible markings. I saw an identical table on TV during a tour of the White House. I would appreciate any help you can give me in identification and value.

Helen, Rutledge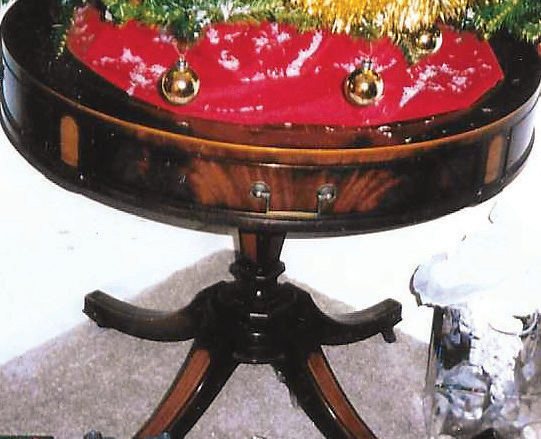 Dear Helen,
I would expect to see a mahogany drum-shaped table with pedestal base in the White House. This round, central-base table style was introduced prior to 1800. The originals had showy wood grain and hand-carved inlay along the frieze (the panel beneath the top), pedestal and legs. The underside of an original will show evidence of handwork and the absence of slotted screws or pristinely cut wood edges. One would expect to pay well more than $1,000 for a period table, so take the time to check for the details.
This form and style was produced again, however, in the late 1900s during our Colonial Revival period. Steam power had been captured and made everything easier.
Round single-drawer tables remained popular until the 1960s. Tables made in the 1900s sell today for $75 to $300.
Dear Connie Sue,

Can you tell me the value of this tapestry and any other additional information? Stapled to the back of the tapestry is a piece of red-and-white paper that defines the cloth as rayon and cotton and is marked, "Made in Italy, RN 21873."

Shirley, Harrogate
Dear Shirley,
This framed velvet tapestry is an homage to President John F. Kennedy (1917–1963), social activist Rev. Martin Luther King, Jr. (1929–1968) and politician and lawyer Robert Kennedy (1925–1968). These three men were killed by assassins in the 1960s over the causes for which they advocated. The world mourned their deaths.
Although a couple of tapestries are offered online for $250 and $99, they are selling for $20 to $45.