Dear Connie Sue,

My husband had an aunt who left us this piece, and we have no idea of its value or anything about it. At a garage sale 15 years ago, a man offered us $300 for it. We figured it must be valuable for somebody to offer that kind of money, so we've hung on to it.

Gail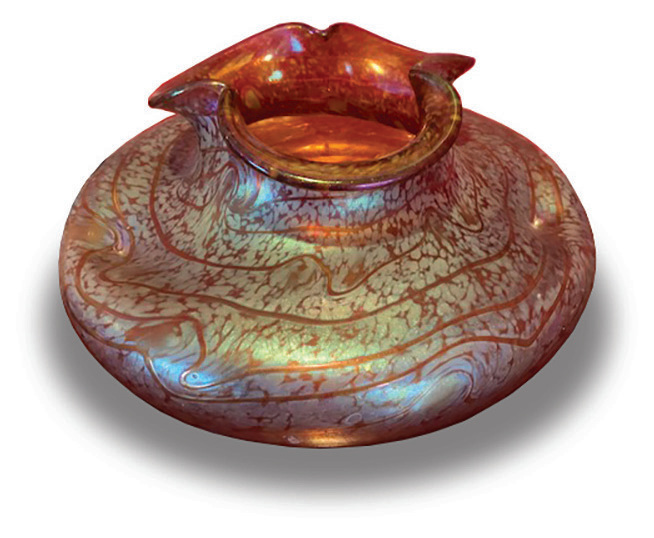 Dear Gail,
"Hanging on" to this bowl was the right thing to do. It is an art glass centerpiece bowl in iridescent gold with a three-lobe, flared rim. The pattern or design is often described as oil-glazed with string decoration. Similar bowls sell for $400 to $1,000.
Although this bowl is often thought to be Loetz, research indicates it was made by the Fritz Heckert Factory, Petersdorf, Silesia, in the Changeant design by Otto Thamm, circa 1900.
Flashy, squat-shaped bowls like this often had a figural metal stand. If you find one in your inheritance and it fits the bowl, you've doubled the value!
Dear Connie Sue,

I have two silver pieces that I inherited and have no idea what they are. Do you know?

Lillian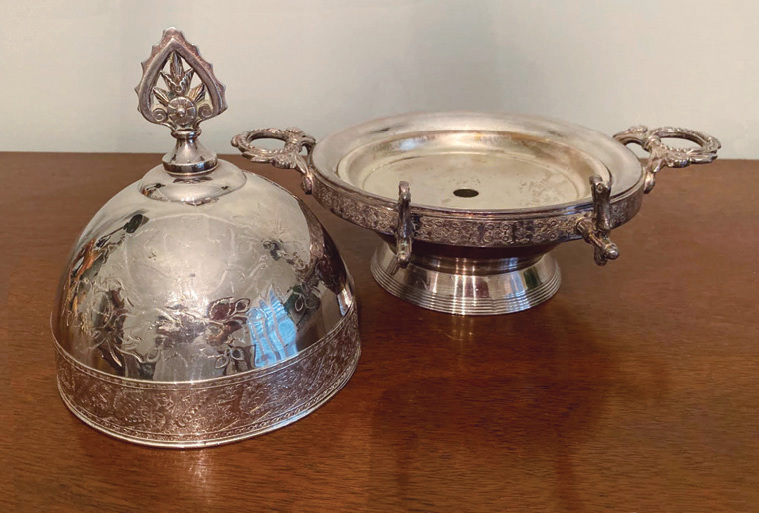 Dear Lillian,
Both items are plated silver, not sterling. The flower petal bowl (bottom right on this page) is for floral arrangements. The central plate with holes is called a frog (I don't know why) and holds the cut flowers in place. These sell for $10 to $25.
The stand with a dome-shaped lid is for butter. Cold water or ice was placed beneath the round tray with a hole in the center. Butter was placed on top of the tray in hopes of staying cool. It appears to have been resilvered (plated). The brackets on the side held the butter knife. Fancy, fancy! These sell for $10 to $22.
Dear Connie Sue,

Saw your column in The Tennessee Magazine. Can you tell me what this is and also a price?

Lynn
Dear Lynn,
It's a corner curio shelf and appears to be homemade. These were sometimes made in woodworking classes. As it is — dry and dusty — it might sell for $12. Cleaned, tightened and decorated in a flashy color, it might bring $35.
Dear Connie Sue,

I've often wondered about my Charlie McArthur doll. Dad gave it to Mother in 1939. Could you please let me know the value?

Lana, Fayetteville

Dear Lana,
Your Charlie McCarthy chalk doll is a character created by Edgar Bergen for his radio show, which aired from 1936 to 1955.
It is made of chalk and may have been won at a carnival. Similar dolls sell for less than $20, although asking prices are still around $70. We continue to equate older with higher value. Your memories, however, are priceless.
Correction: Harriett from White House recognized the yellow clay used in the Van Briggle Pottery vase in my December 2019 column as that of Dry-den Potteries of Hot Springs, Arkansas. She has fond memories of working for this family business in the 1980s. Oftentimes small pottery shops had more orders than they could fill. Rather than turn down work, they shared jobs with other shops. Thanks, Harriett!