Dear Connie Sue,

I received this salt and pepper shaker set about 10 years ago from my aunt and uncle's estate. The shakers rock back and forth.

Debbie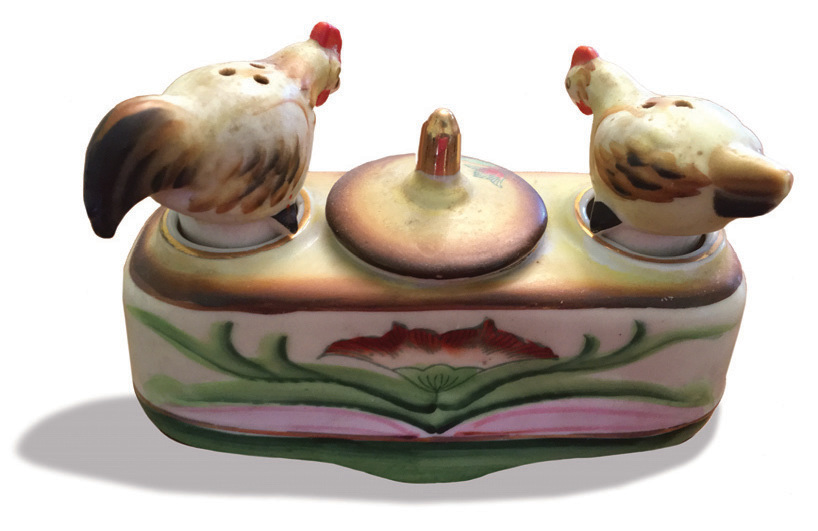 Debbie,
Made during the 11 years of American occupation of Japan after World War II, your little condiment set today sells for $15 to $30. If you still had the tiny mustard pot spoon, it might bring $5 more.
A same-form salt and pepper set with brown fish was also made. The fish set sells for more than $60. Poultry sets are more common.
---
Dear Connie Sue,

My husband's great-aunt and great-uncle owned a grocery store in Chicago during the early/mid-1900s. This Wanzer clock hung in their store. The clock still works as does the light behind the name. The clock is approximately 2 feet wide and 18 inches tall. I'd like to know more about the dairy and the clock. Much thanks!

Noreen
Dear Noreen,
Wanzer and Sons Creamery of Chicago bottled and delivered milk from 1857 to the 1970s when the company was sold to Borden's Milk. One of the advertising slogans was, "Wanzer on milk is like sterling on silver."
With the light and time still working, your clock might sell in the $300-$485 range.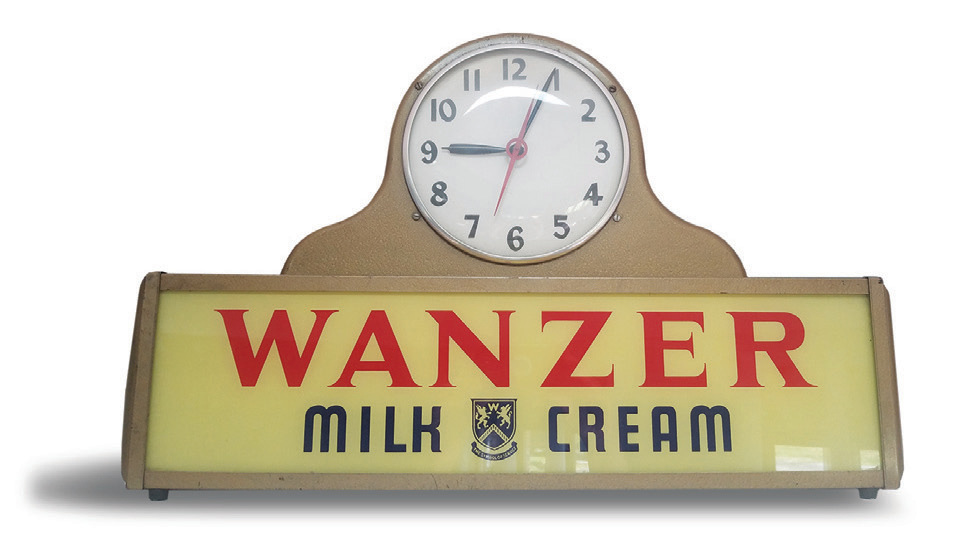 ---
Dear Connie Sue,

I love all things Napoleon and recently obtained this 8-inch plate. On the back is a bee, the letter "N" with a crown over it and "Napoleon a Josephine." The front displays a beautiful crest. I'm not sure if this is a reproduction or its age, country of origin or value. Any information would be helpful.

Gary, Franklin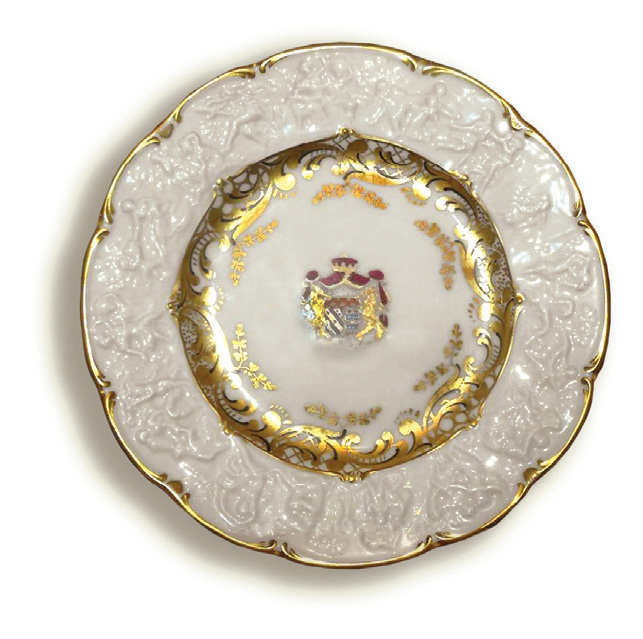 Dear Gary,
The blue crown over the letter "N" once represented fine, 18th century, Italian porcelain. However, your plate may have been produced by any number of European porcelain producers during the last quarter of the 20th century.
The plate is part of a tea set that includes cups and saucers. Various pieces and partial sets are offered online. Ten pieces of the set sold in 2017 for $525. One plate is currently offered at $75. This includes shipping. Six dinner plates are offered online for $750. For three years, however, nothing has sold publicly.
A touring Napoleon exhibit made the rounds in 1993. I saw it in Memphis. Often, decorative arts like the Napoleon and Josephine armorial tea sets are offered exclusively from the hosting venues or high-end retailers. I think this may have been the source of your plate.
---
Dear Connie Sue,

I would love to have any information you may find on this item. I've had it for 40 years. Any idea what it was used for? The writing on the bottom is difficult to make out.

Julie, Mt. Juliet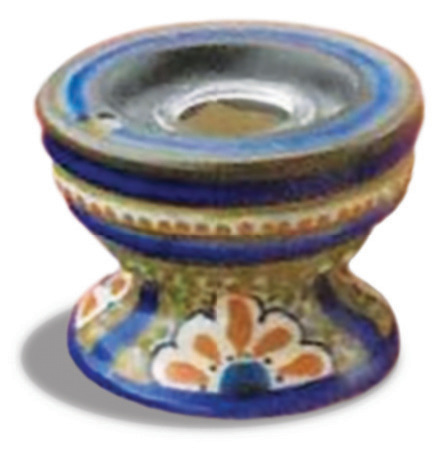 Dear Julie,
This is an inkwell made by Gouda pottery in Holland. It probably had a top. Gouda pottery has a distinctive matte finish over dark colors. Deep blue is dominant. The marks on the base indicate the piece was made after 1914. The line drawn "X" with two dots suggests 1926. I think the pattern or maker is Gladys.
Your little ink well might sell for $25 to $50. Nicks and chips are considered OK as most Gouda pottery was made for daily use.