Dear Connie Sue,

This statue has always been in my family, and I've now inherited it. This goes back to at least the '40s. It stands 12 inches high, 7⅞ inches wide and 7 inches deep. It has no markings of any kind. If you could give me any information, I would appreciate it.

— Frankie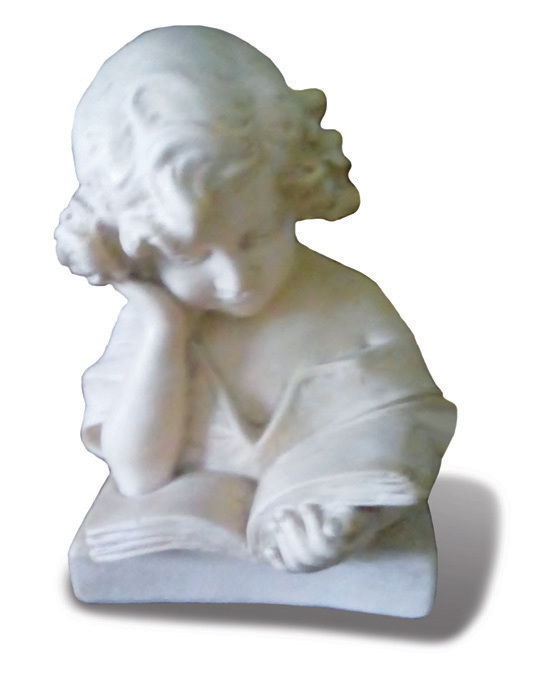 Dear Frankie,
This little girl with curly hair and a V-neck blouse is often offered in carved chalk. Some of these busts are rubbed with shellac to give the piece an aged patina. These pieces sell for around $50.
If she is alabaster or marble, she would sell in the $150 to $300 range. Both of these natural materials are cool to touch and heavy. Chalk scrapes easily; marble and alabaster don't. Scrape only on the underneath flat surface.
Dear Connie Sue,

This bowl was gifted to my grandmother as a wedding gift in the 1920s. I treasure it for sentimental reasons.

— Celia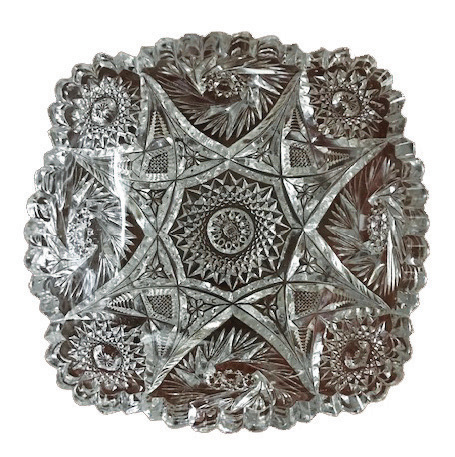 Dear Celia,
Made by the Imperial Glass Company, your serving bowl was made after 1914. The mark on the base is "NUCUT." It was last used by the company in 1932.
In the early 1900s, pressed glass was marketed as beautiful, well-made and less expensive than cut glass. The Imperial Glass Company plant was in Bellaire, Ohio, and began production in 1901. The company bought other, smaller glass makers and was then bought by larger companies until 1981 when the original factory and property in Ohio were sold.
One of the glass companies Imperial bought was Heisey. At the auction, Imperial and Heisey glass societies bought most of the factory's molds.
Your bowl in pattern No. 555 might be priced between $10 and $22 in a shop. Sentiment is difficult to value.
Dear Connie Sue,

This teapot was a gift to my mother from a client she was a caregiver for.

— Joan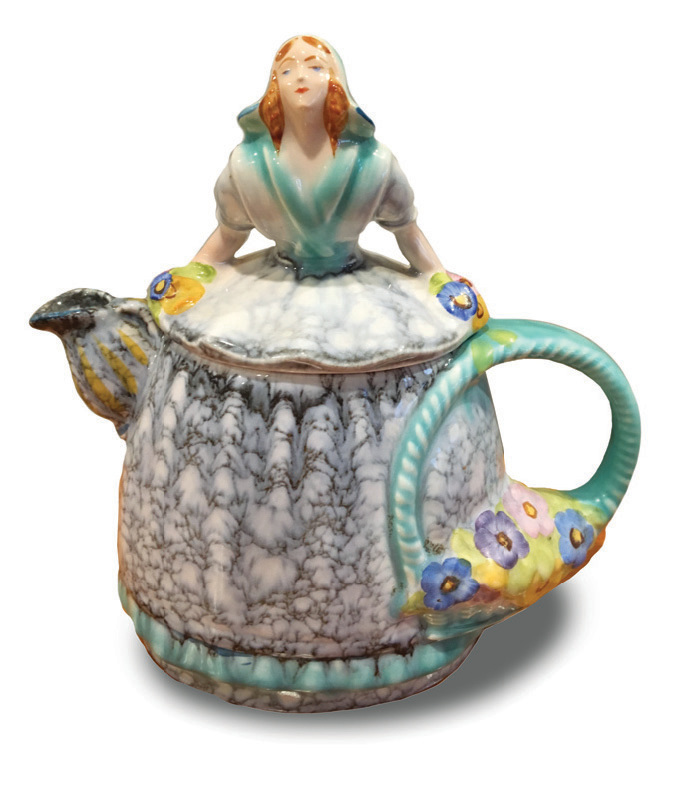 Dear Joan,
Your mother's figural teapot marked in red — Registered Royal Crown Germany — dates it to before 1914 and after 1891. The lady's top half forms the lid with the base in the shape of her hoop skirt. The back and front carry out the form with a big bow on the back and a lavish floral decorated handle.
I saw that exact teapot for sale at $98. Variously marked later teapots were offered for less than $30.
Dear Connie Sue,

I have this bowl, 8 inches square, 4½ inches tall, that I think is Fenton but cannot identify since it has no mark. I took it to a show at the Nashville fairgrounds last summer, but no one could say it was a Fenton or another brand. I have gone through several Fenton books but cannot find anything like it. I just love your article each month in The Tennessee Magazine.

— Joyce
Dear Joyce,
After searching bowls made by Webb Glass, Hobbs Glass, Jefferson Glass, Burmese Glass and a few more, I've returned to Fenton Glass.
These companies used the tightly crimped edge on their Victorian bride baskets and called it lace candy or Christmas candy. The cased or layered look of your bowl's colors brought me back to Fenton.
I think it is Fenton's peach blow color with a tightly crimped, delightful edge. Fenton used this edge on other pieces and also produced the square bowl with softly notched corners. Without confirmation, it's a leap, I admit. I'm not willing to leap toward a value statement, though. I could not find a similar bowl publicly sold or currently offered by Fenton.
Fenton collectors and glass experts may want to help. If so, contact me by email only. I love that Nashville fairgrounds summer glass show you mentioned. Sometimes I have to remind myself to breathe.