Dear Connie Sue,

I am sending a few pictures of some mini goblets with spoons we found at my dad's home. They are silver. We are wondering if they are valuable and to whom. I appreciate your column and hope you find our treasures worthy.

— Chris, Portland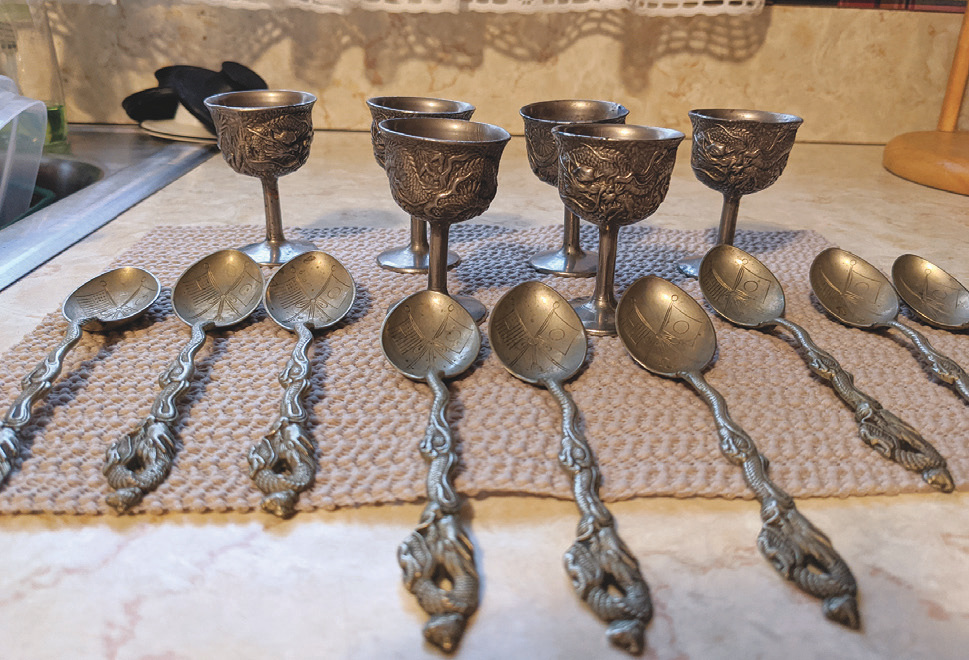 Dear Chris,
Your dad's snake and rat figural goblets and spoons were made around 1900. There is disagreement as to the maker and country of origin. One account indicates the Japanese made the pieces and Russia marketed them to Europeans. Some say the maker is Chinese. And then there are the crossed flags of Japan and USA in the spoon's bowl. To me, this indicates they were made for the U.S. market by Japanese craftspeople.
Your set of six goblets and nine spoons may have been gift-packaged in a hinged lid box with a fitted silk lining. I can detect concentric lines on the goblet's base, and I think I can see a seam on the bowls. Even with some machine production, the details and charm are the work of a craftsperson. Similar spoons or goblets sell for $5 to $12 each. They are made with a portion of silver but less than sterling silver.
Dear Connie Sue,

I have this small bag that was given to me by my great-grandmother. She gave me a lot of things when I was younger that she wanted me to have, and this bag was in my parents' safe deposit box for over 30 years. My mother gave it back to me recently as she was moving. I remember her giving me this bag, but I don't know any-thing about it. I would love to know more about it!

— Julia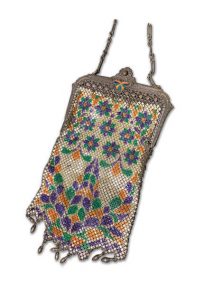 Dear Julia,
Mesh purses were made by hand-linking tiny chain until 1902, when a machine was invented to produce metal mesh much faster. The ability to adhere enamel paint along with mass-produced bags was well received by Edwardian ladies as well as stylish young flappers of the 1920s.
Purses have always been collected for use and display. Purses similar to your great-grandmother's sold for $55 in the late 1970s. They have increased five-fold. "Downton Abbey" parties caused a run on mesh bags because everyone and their sisters were attending themed dress-up parties.
Dear Connie Sue,

I purchased this metal head and foot board back in 1970. It's very interesting and has a crest on both pieces. Could you please tell me whatever you can about the bed?

— Skip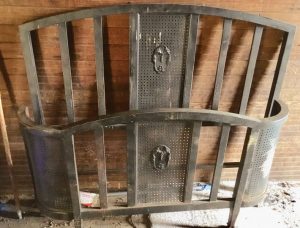 Dear Skip,
This all-metal bed was made after World War I when mass production began and the need for furniture quickly increased. It is rather high end for manufactured beds with its square tubing, panels of pressed metal caning and, especially, the curved footboard. The missing side rails were most likely cast iron.
As is, your headboard and footboard might sell today for around $200. With the rails, the value could double. If the bed were complete and restored to the original shiny black, it should sell for $850 or more from a hot shop in a hip location.