Dear Connie Sue,

I was curious if you could tell me anything about this odd vase. I inherited it from my late aunt. She used to travel all over the world. I have tried looking it up and can't find anything that resembles it.

— Cari
Dear Cari,
Your aunt's serpent handle pitcher was made in Rugolstadt, Germany, by the Volkstedt Company. The raised mark indicates it was made between 1895 and 1924. If it were simply a pitcher, the value would be well under $50, but the serpent adds at least $125 to the value.
Dear Connie Sue,

When we bought our house, the previous owner didn't want to move this buffet and sold it to us. We haven't found any markings on it but think it might be from RJ Horner. Any ideas?

— Paul, Lone Mountain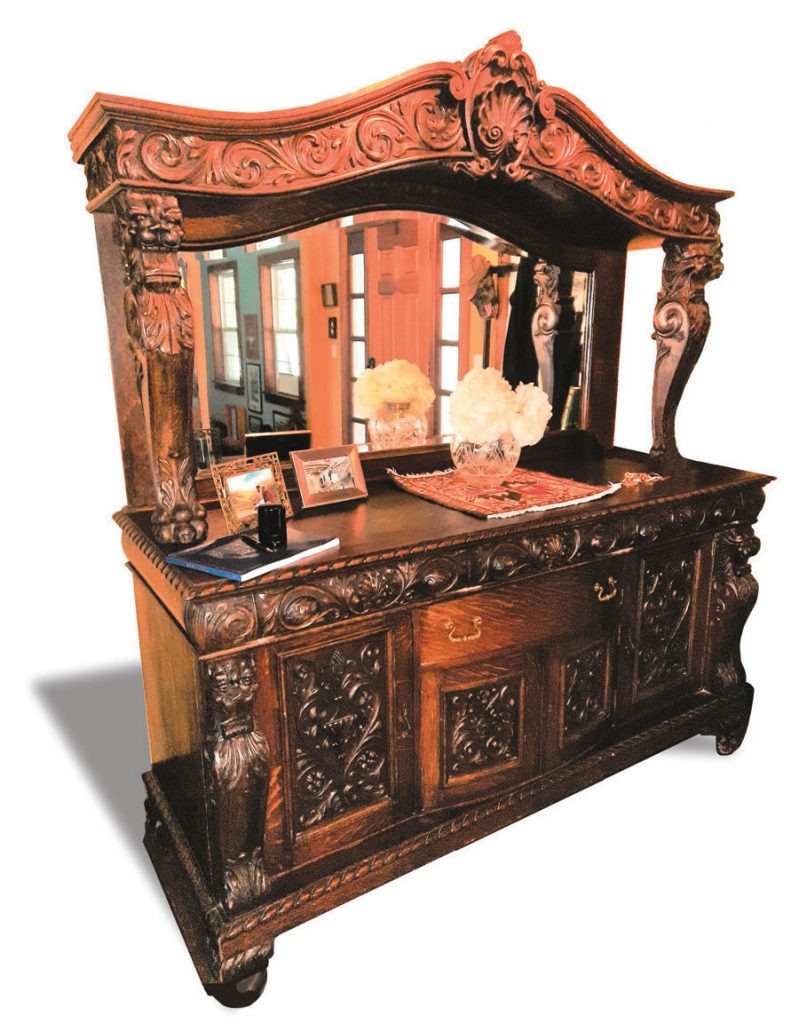 Dear Paul,
I agree with you and "think it might be from RJ Horner." The carved figural lions flanking the beveled mirror were used by RJ Horner's furniture makers. And the bases of drawers and doors closely resemble their work.
However, without the label or original papers, I'm hesitant to give credit to the RJ Horner furniture makers. In the last three years, auction values for similar pieces have fallen between $800 and $2,000.
If you can wrestle the piece from the wall, search for a rectangular paper label with notched corners — or the shadow of such. Look carefully, as the label will raise value by a couple thousand.
As we negotiate the vulgarities of aging, downsizing and moving, I find the value of large, heavy furniture gets lower as moving day approaches.
Dear Connie Sue,

I am attaching two pictures of a washstand, opened and closed. My mother-in-law (who is 88) is very excited to hear about this washstand as it sits in her barn covered up. Recently, she was planning on giving it away, and I asked her to let me take the pictures and send to you. It has been passed down in our family for decades.

Again, thank you for your thoughtful consideration of this piece. I look forward to reading and sharing with my mother-in-law.

— Kristie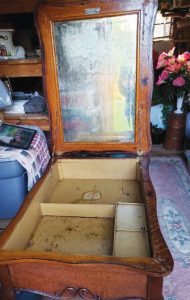 Dear Kristie,
Your family's washstand-dressing table was made in 1888. It cost $16 at that time. Today, it might bring as much as $300. In 1888, L.P. Ross was at the helm of the Forest City Furniture Company, thus these tricky tables were referred to as Ross tables.
Initially, it appears to be an oak table with a shaped top. But the top is hinged and when raised reveals compartments for toiletries and small items associated with dressing.
Specialty furniture was popular in the Victorian era. Mass production and new ideas allowed people the luxury of privacy while dressing. The Forest City Furniture Company also made tables with hidden bowls with drains so bathing could be gentrified and concealed.