Dear Connie Sue,

This item is made with human hair. As you can see by the writing on the back, it's from 1848. This belongs to my neighbor, Michael. He would like to know how much it is worth.

Rose
Dear Rose,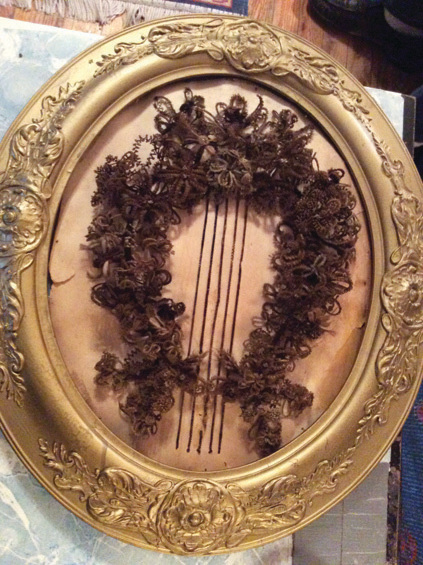 Please tell Michael that Victorian hair art like his piece sells for between $90 and $200. Although human hair is quite resilient, the brittle paper backing on his framed arrangement will hurt value.
Hair art was popular in Victorian times as a tribute to deceased loved ones. A period of mourning was often signified by wearing a small piece of hair in a locket or carried in a tiny frame. More elaborate arrangements were made for display at home.
---
Dear Connie Sue,

I bought this relish dish at a thrift store in Tazewell. I believe it's copper and also that the blue glass on the inner dish is a limited edition to the product. All I've found out is that it appears to be part of the collection called Vintage Holland Ware Sheffield on Copper. Hopefully, you'll be able to find some history on the dish and share it with us.

The Helton Family
Dear Helton Family,
Sheffield on copper indicates a layer of silver was applied to a base of copper. EP, or electroplated, on copper involves dipping a copper vessel into an electrified bath of silver. Both methods provide shiny silver surfaces, but Sheffield is an older method. Your piece is electroplated.
I'd date your Dutch hostess item to the early to mid-1900s. An electroplated piece with a pink glass insert is currently offered online for $70. I think it will sell for less than $40, as would your blue relish dish and plated silver basket.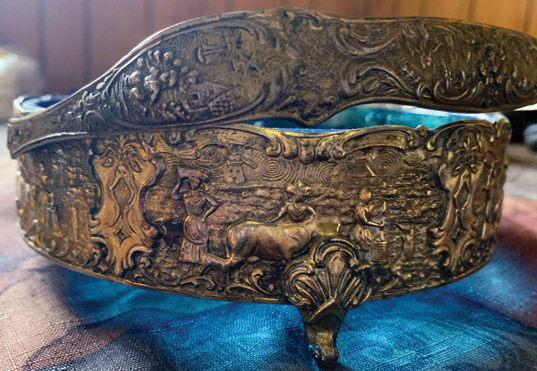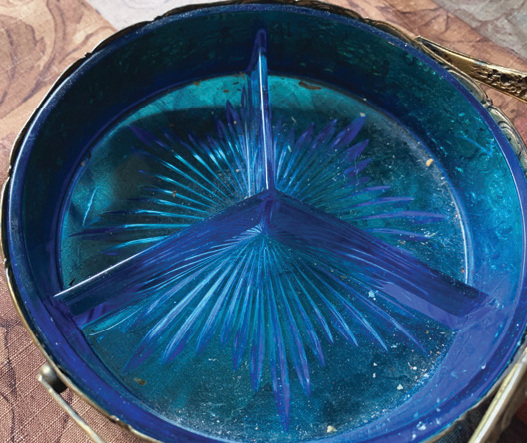 ---
Dear Connie Sue,

I found these Little Debbie Barbies at a yard sale a few years ago and am curious about their value. They are still in the original box in very good condition.

JG
Dear JG,
Mint-in-box Little Debbie Barbies like your 1998 set are priced at $10. They sell for $5 to $9. Sets from 1993 and 1996 bring similar prices.
Dear Connie Sue,

My husband found this bottle in a home he was restoring and loves it. We have had it for at least 30 years, but since it says it's an "Anniversary issue 1931," I'm assuming that is the year it was made. Can you tell me anything about it?

Harriet, Florida
Dear Harriet,
Your husband has good taste. The bottle was created in the late 1920s by Rene Lalique for Lucien Lelong, a French couture designer. Lelong was introducing a line of perfume and asked Lalique to make something that would appeal to his high-end followers in New York City. The result was your art deco tribute to New York's skyscrapers.
The mold-blown glass bottle with silver enamel overlay and matching glass stopper has a shaped black-and-silver chrome box. A bottle with box sold in 2017 for $12,000 at a perfume bottle auction. At a general goods auction in 2016, a bottle and box sold for $700. I think I'd insure yours for $8,000.