­Dear Connie Sue,
This piece was bought for my mother from an elderly lady in Gamaliel, Ky. It had been built for her grandparents in 1854 as a wedding gift. The lady sold it as there was no one to pass it on to. My father gave it to me as a remembrance of my mother, who passed when I was young. I'm not interested in selling it but was just curious about its worth.

Thanks,
Carmen, Cedar Hill
Dear Carmen,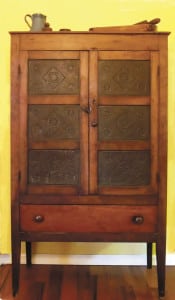 In the mid-19th century, cooked food was stored in ventilated cupboards like your mother's to keep bugs and mice from helping themselves. Tin panels were decoratively punched to allow air to circulate. The panels on your cupboard were made with a stencil. Earlier pie safes have individually punched metal panels. After 1900, manufactured screen was used.
A handmade pie safe with square, tapered legs and drawer below with stencil-punched panels sells in the $450 to $850 range. Hand-planing, a finely dovetailed drawer, doweled construction or artistically punched tin could each add $350. If the furniture maker and/or the family's history were remarkable, the value can exceed $3,000.
Dear Connie Sue,

This ceramic pitcher was my mother's. I've always cherished it. I am now 52 years old. Can you tell me anything more about it? The bottom has "Shawnee USA" on it and the number 21.

Thank you very much,
Amy
Dear Amy,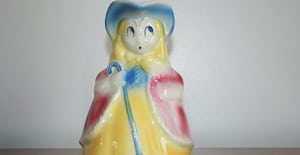 Shawnee made colorful and functional pottery in Zanesville, Ohio, from 1937 to 1961. Its pieces were sold through five-and-dime stores and Sears. The stores communicated with the potters, making suggestions for lines that might sell well. It worked because tens of thousands of pieces were produced daily! After production ceased, all of the patterns and lines, especially the cookie jars and Corn-Queen Ware, were passionately collected for decades.
Although sellers still offer Little Bo Peep pitchers for $75 to $175, in reality they are actually changing hands for less than $40. Smiling over something that made your mother smile is very comforting.
Dear Connie Sue,

I have a pump organ that I acquired from my step-great-grandmother quite a few years ago. The organ still works, though not the best as I am sure it needs some "fine-tuning." I would like to know its value. The only information I have is that it was made in Lebanon, Pa., and has "Miller Organ" on it. I found these numbers on the panel above the foot pedals: 42806. Any information you could give me would be wonderful.

Thanks so much,
Lori, Sparta
Dear Lori,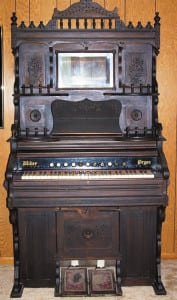 Fancy-decorated organs like yours with or without the shelves and mirror are called parlor organs. They became popular for homes and small churches in the late 1800s. Craftsman Abraham H. Miller's first known organs were made in 1873. A fair selling price might be around $500. Fully restored, similar parlor organs can sell for $2,500. Demand for these pieces, however, is low.