Young Journalist
I just had to write and tell you that my daughter, Gracie (above, 9 years old), LOVES your magazine. She looks forward to it coming in the mail every month. Her favorite thing is finding the flag. When she's at home playing, she sets up a desk area and a computer and pretends she runs the magazine, making up stories and doing artwork, etc. I love watching her be so imaginative. May be something that turns into a career some day. Thank you for being such a great inspiration to my daughter and for showing us all the greatness that our beautiful Tennessee has to offer.
Sincerely,
Nicole Morgan
---
Story Ideas
I would like to submit an article to be considered for publication in the magazine. What is the process to submit an article?
Story Idea:
"Personal Finance Management"
College Student-Focused Article Helpful to Parents and/or Students
Sincerely,
Dr. Virginia McMath, LaVergne,
Middle Tennessee EMC
Editor's note: Thank you for your suggestion. Some of our best story ideas come from readers. We wish we could cover them all but don't always have the space. Anyone can submit story ideas. Please send them to [email protected] or enter them here.
---
Readers Respond
I really enjoy your magazine, reading it from cover to cover the day it arrives. Thank you for your relevant, well-written product. Keep up the great work.
Sincerely,
Gail Spragins, Linden,
Meriwether Lewis EC
---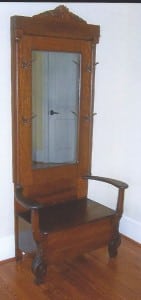 Antiqueing
Dear Mrs. Davenport,
Just a note to thank you very much for your writeup in the March issue of The Tennessee Magazine on the hall tree I asked you about (at left). Your comments will be placed with the hall tree and become part of its heritage.
I continue to enjoy your articles very much.
Sincerely,
Charles Gill, Mint Hill, North Carolina
---
Subscriptions
I'm just wondering why I haven't been receiving The Tennessee Magazine here lately. I have always gotten the magazine on time in the past. I'm not sure why I haven't been receiving it.
Sincerely,
Leroy Easterly, Dunlap,
Sequachee Valley EC
Editor's note: If you are a member of a local electric cooperative that subscribes to the magazine, you should be receiving it. Please contact your local office to alert a worker of your missing magazines. If you are not a member of an electric cooperative and wish to subscribe to The Tennessee Magazine, rates are $15 per year or $30 for three years.
---
Travel Drawing Winners
In April we ran our semiannual travel contest. These winners were randomly chosen from approximately 400 entries:
Smoky Mountain getaway winners
Pamela Brickey, Murfreesboro
Sandra Stanford, Fulton, Mississippi
"Barns of Tennessee" winners
Andy Cole, Nolensville
Scotty Wallace, Mountain City
Jeff Watson, Tracy City
Benjamin Wiggs, Cookeville
Ashley Metcalfe, Dyer
Online $50 winner
Michelle Olson, Brentwood