Served at a backyard cookout or with white tablecloths, ribs are versatile and delicious
You know summer is over when the grass doesn't need cutting twice a week, weeds don't outgrow the plants you actually want and it's a just lot more pleasant to be outside. It's time to slow down — even at the grill! Try a terrific rib recipe instead of summer's quick-cooking fare. Ribs require time and tending, so settle in with a favorite beverage and rest a spell, right along with your next meal!
Know your ribs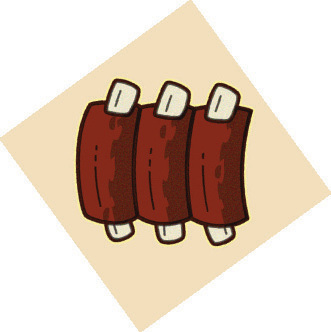 Types:
Baby back ribs are from the blade and center of the loin, making them small but meaty. Country-style ribs are from the sirloin and ribs and are the meatiest. Spareribs are from the lower ribs and breastbone.
Tips:
Always remove the silver skin from the underside of the ribs because it is tough and doesn't break down when cooked. It can be a bit slippery, so hold with a paper towel and use a dull knife to slide under the skin to loosen. When you can get your fingers underneath, slowly pull it off. Or you can ask the butcher at the supermarket to remove it for you.
If marinating, do so in the refrigerator and never at room temperature.
When grilling, make sure you have large tongs rather than a meat fork for flipping the ribs.
Don't neglect the rest period, which should be at least 10 to 15 minutes before serving.
---

Email your cooking questions to Tammy Algood: [email protected].
Jonas asks, "How do I thicken a warm sauce that is obviously too thin?"
Jonas, there are several options. If the sauce is milk based, you can add flour or tapioca. The ratio is 3–4 tablespoons per cup of sauce. If the sauce is translucent, reach for cornstarch, and you don't need to use as much — only a tablespoon per 2 cups of sauce. You can also use arrowroot, which is only 1½ teaspoons per 2 cups of sauce. In every case, dissolve the thickener in the same amount of cold water, then add to the hot sauce in order to prevent lumps.
Kathy would like to know a solution for keeping dried fruits from sinking to the bottom of cakes.
Kathy, the easiest remedy is to very lightly coat them with flour before mixing into the batter mixture.