Ancient Greeks learned their constellations by associating their patterns with animals and gods. One constellation formed enough of the outline of a dog to be named Canis Major — "big dog." That dog's "nose" was the star named Sirius … hence Sirius is known as the "Dog Star." The "dog days of summer" simply refer to the star's position in the heavens when Sirius seemed to rise in the sky just before sunup.
Every dog has its day— and we all know that whether that dog is Sirius or just that sweet pooch next to you on the couch, all dogs are heavenly! Because August is National Dog Month, let's celebrate our canine companions with treats. These recipes include clean, natural ingredients that will be just as tasty and wholesome for you and any of the good dogs you know.

Recipes for stuffing fillable hard-rubber treat holders
---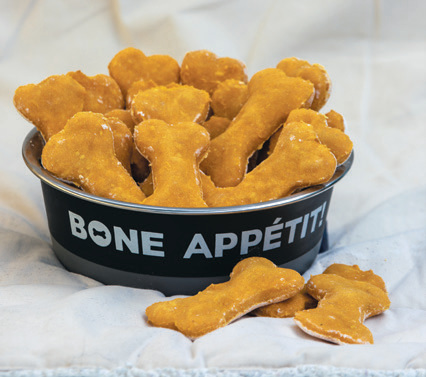 Tips for Treats
These are truly hot summer days, so make sure and keep plenty of clean water available for your furry friends, both outside and in.
These treats are all made with ingredients that are acceptable for cats, dogs and their humans.
Placing the excess baked goodies in the freezer prolongs their shelf life to six months.
If your pet likes crunchy treats, bake the goodies a bit longer — but watch them closely.
Filled treat holders that are frozen not only help pets cool off but keep them occupied longer than room-temperature ones.
---

Ask Chef Tammy
Email your cooking questions to Tammy Algood: [email protected].
Rachel asks, "How do I prevent homemade pudding from curdling?"
Rachel,
Pudding must be cooked low and slow to prevent curdling, so don't get in a rush and cook it at too high a temperature. If you notice it starting to curdle, remove it from the heat immediately and set the pan in icy cold water. This stops the cooking process so it doesn't curdle any further. Then use a whisk to beat it until smooth.
"I love making custard from scratch but have a problem with skin forming on the top. Can you help me solve this issue, please?" asks Jeremy.

Jeremy,
I always place a piece of plastic wrap directly on the surface to prevent this from happening. It must be touching the custard for this to work, rather than covering the top of the bowl. Press it onto the surface and keep it there until ready to serve after chilling. Also, a sprinkling of sugar on the top will help retard the formation of that pesky film.