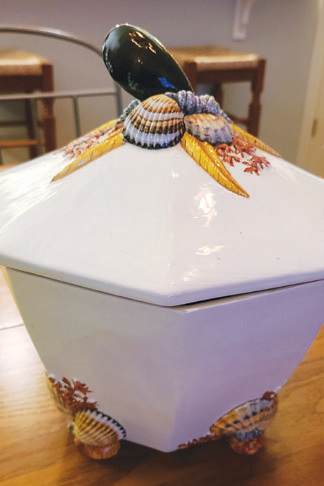 Dear Connie Sue,
I purchased this piece at a local consignment shop in Banner Elk.
Could you tell me a little more about it and the value?
— Lesa
Dear Lesa,
On the secondary market, an Italian ceramic tureen with cover is typically priced from $55 to $175. Many are decorated to indicate the soup to be served from the vessel. I see fish soup in your future.
I admire the applied clay shells and coral. More than to serve soup, I find that quirky, food-themed tureens provide colorful centerpieces. I've come to realize many tureens are used to store keys and matches.
---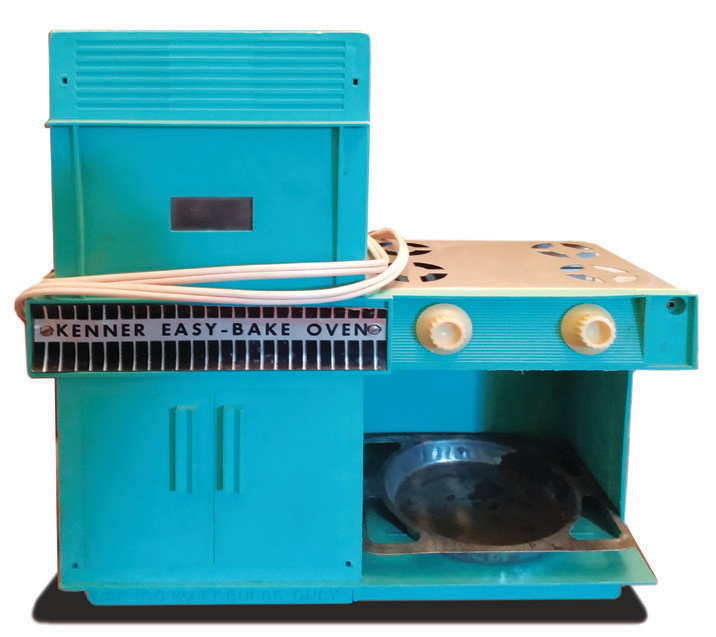 Here's an Easy Bake Oven sent by C.P. from somewhere out there.
Dear C.P.,
This turquoise Kenner Easy Bake Oven was made in the 1960s. With the single pan and if the oven lights and heats, it would sell for $25 to $45. A mint-in-box Easy Bake with all accessories would more than triple the value.
---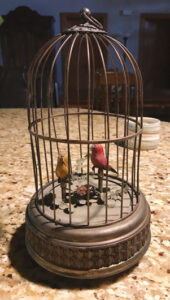 Dear Connie Sue,
My mother-in-law bought these chirping birds at an estate sale 45 years ago. The piece is in excellent condition, and both birds chirp. The bottom markings say "Made in West Germany." I would appreciate any information you can provide.
— Jan
Dear Jan,
If the birds move as they chirp, the piece is described as an automaton. At auction and online, similar chirping-bird automatons sell in the $300 to $350 range. The mark "Made in West Germany" was used from 1949 to 1990. Judging by the patina of the cage, base and birds, I'd place yours nearer the early years.
---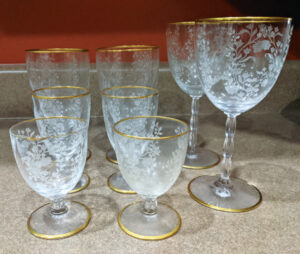 Dear Connie Sue:
I am curious if you can tell me anything about this stemware. I have a set of 29 pieces that belonged to my grandmother. I don't see any identifying marks anywhere. Thank you for any information you can provide.
— Deborah
Dear Deborah,
Your grandmother's midcentury stemware set, all 29 of the pieces, would sell for $50 to $70. If you offered a pair of stems at a time, you might get more. Because so many grandmothers had large sets of stems, the market is flooded. I'm glad you've kept yours in the family.
It is a buyer's market. If anyone has dreamed of owning a fine set of stems, now is the time.
---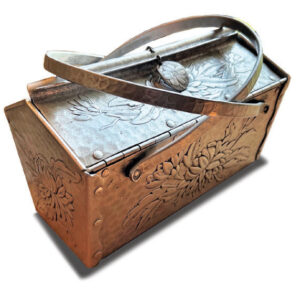 Dear Connie Sue,
I got this from my great-grandmother. It's a metal (aluminum?) purse that looks similar to a birdhouse. The top opens up, and there are no markings on it.
— Jessica
Dear Jessica,
It is hammered aluminum in the Chrysanthemum pattern produced by Continental Silver. This pattern is the company's best-known and was paired with applied leaves as a handle or to decorate corners. A chrysanthemum bud is the pull that opens your purse.
Your purse is listed in Everett Grist's "2002 Collectible Aluminum Identification and Value Guide" with a value of $250. He confirms the lack of a mark. Hammered aluminum producers made clever hostess items that cost far less than silver.
The chrysanthemum purse is rare and sells for $125 to $350. If one had been locally available before 2004, my mother would have included it in her collection of hammered aluminum. She also collected hard-side, midcentury purses. So that's two collections in one!