Dear Connie Sue,
My dad received this platter from his grandpa in 1972. It belonged to my great-great-grandmother. I would never part with it but am curious about it. The only markings on the back are "MADE IN ITALI." Any info would appease my curiosity.
Tracy
Dear Tracy,
The bright colors and whimsical turkeys of your family's platter are typical of Italian ceramics. The raised images give the colors even more impact. I know you must enjoy displaying and using the piece.
It is unusual to have three turkeys on one platter. Of course, there's the large central turkey and two smaller, surprise turkeys hiding among the mushrooms.
Your plethora of poultry platter was made mid-1900s. Similar platters sell for $25 to $60.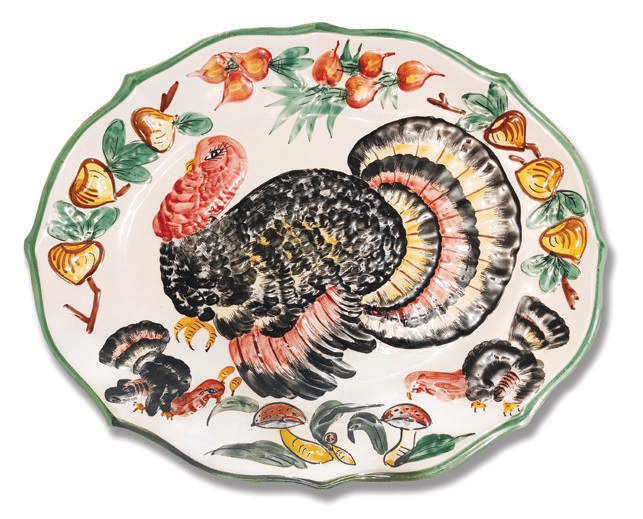 ---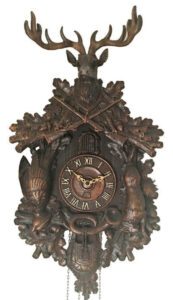 Dear Connie Sue,
I inherited this Lux cuckoo clock from my grandmother. As a child, I was always fascinated with it. She told me that she got it as a housewarming gift when she bought her house in 1938, and it hung on her wall until she passed in 1980. I have had it hanging on the wall of my house since then, so I have had it nearly as long as she did!
It has stood the test of time. The cuckoo still comes out and sounds on the hour and half hour, and it keeps perfect time.
I'd like to know a little more about the history of it and its value.
Michael, Murfreesboro
Dear Michael,
A working Lux cuckoo clock with the stag crown, crossed shotguns and Roman numerals surrounded by a huntsman's motif currently sells for $40 to $95. Yours was made between 1920 and 1948 in Waterbury, Connecticut.
The clock's case is a romantic depiction of living off the land — with a tiny cuckoo bird reminding us that time is passing.
---
Dear Connie Sue,
Can't wait to read your articles every month. I have these three books and know they are very old. The pages are delicate. I ran across them in my basement with lots of other stuff and am curious about their value.
Mark, Hohenwald
Dear Mark,
The three books you've discovered were mass produced using paper never intended to last this long. Each book might sell for a dollar or two. I know they are early 1900s, but, once again, older is not better.
Because of the convenience of buying and reading books online, the walls of books we once treasured are no longer required for research or for the pleasure of reading.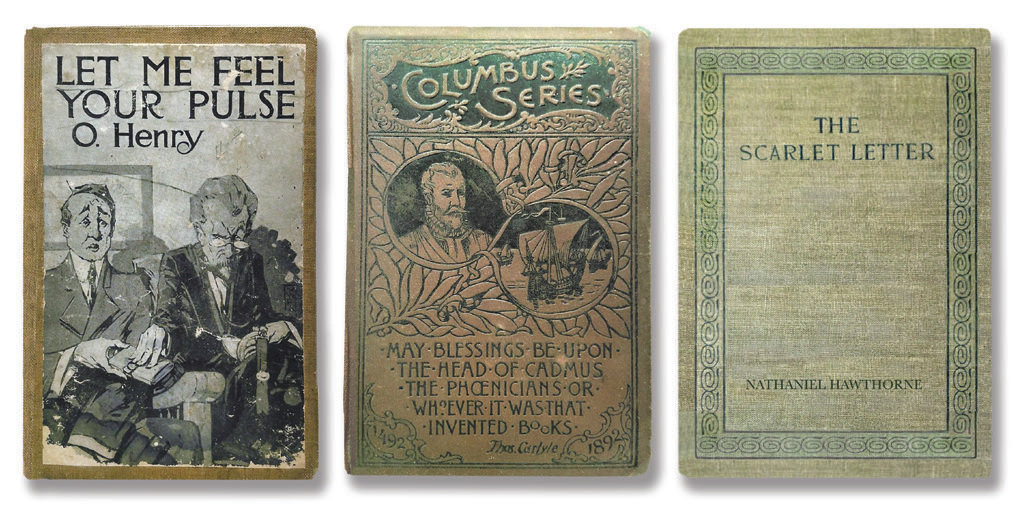 ---
Dear Connie Sue,
I read your column in The Tennessee Magazine and really enjoy it. I was given this music box as a child and wondered what information you might be able to provide. Thank you!
Rachel
Dear Rachel,
Your novelty hi-fi tiny turntable with an AM/FM radio was made in the 1970s by the Musica Company in Japan. Behind the speaker panels are tiny drawers. It came with one record, and the titles varied. This tabletop toy is offered online and in shops at around $100. I did not find any recently sold.