Globe

Hey Connie

Could you give me some information about how old this globe is? It has been at my school for as long as I can remember. I was thinking somewhere around 1910-1960.

Xandra
Xandra,
Your Cram's No. 3, 12-inch, tabletop globe dates before 1948 when Israel was created and replaced Palestine on maps. A simple, metal-base globe sells for $15 to $40.
Vase

Dear Mrs. Davenport,

I am in a quandary about this vase. My grandmother got it from a lady who was born around the time of the Civil War. I am curious if it could be a piece of Loetz or possibly Kralik glass?

There are no markings on the bottom. It has what I believe to be "stuck decoration" around the base. It does not have a fire-polished rim or a ground pontil on the base. I would appreciate your expertise in helping me to identify which company may have made it.

Page, Dixon Springs
Dear Page,
I love a good "quandary," and identifying the maker of your vase seemed possible — until I began the research.
I'm sure the vase is art nouveau made between 1880 and 1920. Without a signature but with this level of creativity, Bohemian is the closest attribution I am willing to assign. In addition to art glass producers Loetz and Kralik, the house of Rhindskopf is also a possibility.
Loetz originated the oil-spot iridescent green finish, but others quickly followed suit. The pattern of this uranium green iridescent blown-glass vase is known as martele (French for hammered).
The decision to polish the base or not seems to fall on the artist, not the companies. You have a stunning vase from European glass-makers made during a time of intense creativity and production. Although you didn't ask, others will want to know that the vase might sell at auction for around $200. The quandary continues, I'm afraid.
Bulldog

Hi, Connie Sue,

My grandfather left me some interesting items that he collected through the early 20th century while living in New York. One of these items is a bulldog paperweight. The bulldog with post and chain appears to be bronze and is 6 inches long, 33⁄8 inches tall and 21⁄2 inches wide. The post is stamped with "TIFFANY&CO" on the right side.

Would you please provide any history or information about it as well as value?

Steve
Steve,
Your feisty bulldog straining against the chain and post that hold him is a reproduction. The seams on the dog's legs aren't something you'd see on a Tiffany-made bronze figure. I think there may be a silver-colored metal called spelter beneath the gold wash. Also, Tiffany's metalwork figurines always had a number near the Tiffany mark, and most were marked "Tiffany Studios."
These reproductions are not plentiful and sell for $65 to a few hundred dollars. I don't know how much information the buyers possessed when purchasing or if it even matters. I'm rooting for the dog's escape.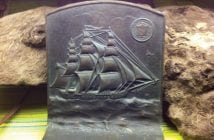 And finally, with no verbal description or name, this bronze bookend depicting the United States frigate the Constitution was submitted online. It was made around 1920. It appears to be signed on the lower left "Hugo Carlborg SC." If so, a pair of these bookends currently sell for $100 to $300. One bookend would sell for less than half.
Because people are distilling their book accumulations, the surviving few favorites are often bracketed by bookends, causing sales and values to increase.