Dear Connie,
My mother inherited some pieces from a woman in Chicago who was a millenary in the 1920s. I was wondering if there is any market for these kinds of things. I've sent some sample pictures along with a picture of the lady, Julia Zimmerman.
Barbara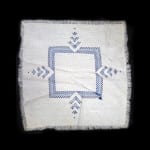 Barbara,
Small doilies, hankies and tea towels sell for a couple of dollars each if they are crisply laundered and cleverly marketed. From a tag sale, they sell by the box of a dozen for less than $20. If Miss Julia had made hats for someone we all recognize, the values would be higher.
Connie,
Would you take a look at the attached picture of a music box that was given to my husband about 30 years ago? We really do not know anything about its origin or purpose. Thank you for your time.
Sincerely,
Vivian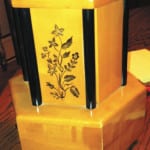 Vivian,
Back when smoking cigarettes was a national pastime, clever dispensers were popular coffee table décor. Your hexagonal music box, while playing, should release the six doors of the carousel to reveal neatly offered cigarettes. Just as deftly, at some point during the song, the doors will close. You've got to be quick to snag a smoke! Similar novelties sell for around $40.
Hey, Connie!
I have a 1946 Revere Movie Film projector Model 85 with case and empty reel. When plugged up, the light and fan run good. They were in my Pa's building, so I have no idea how to use the projector and need to sell it. Can you tell me how much it's worth or if you know of a collector who would be interested?
Hollie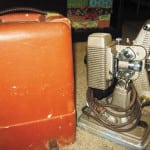 Hey there, Hollie,
Movie projector collectors currently have much to choose from, both online and from tag sales. They might pay from $15 to $45 for a working Model 85 like yours. You can obtain owner's manuals from these sources as well.
It might be fun to shop secondhand stores for old boxed 8 mm movies. They sell for $5 to $10 each. Sometimes you can buy a box for less than $15. Movies and cartoons of the era and armchair travel films could provide you with a real home movie night. I can almost smell the popcorn and hear the film flapping after it breaks!
Dear Connie Sue,
I recently went to an auction and bought a box of mostly junk but did find an interesting item within. I think it might be a "level," but I could be wrong. The company and location are carved on the bottom. Can you help me determine what it is and what it is worth?
Thank you,
Sandy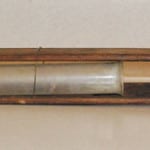 Dear Sandy,
The wooden, boat-shaped item is a shuttle used to slide thread or yarn through the warp thread of a cloth-weaving loom. The piece inside it — a glass test tube — simply found a comfortable place to rest and resist breakage. The shuttle is worth $6, the tube $1.