Dear Connie Sue,

Dolls

These sweet babies were given to my daughter by an older neighbor around 1963. I had them cleaned and also repaired the crackled finish and a finger nibbled by a puppy.

The clothes are in original condition, and I keep the dolls under a plexiglass dome.

The mark on their back is "EFFAN BEE PATSY ETTE." They are 9 inches tall. I'd love to know something about them. I enjoy your antiques "show" in our Tennessee Magazine.

Zamah, Smyrna
Dear Zamah,
Effanbee made Patsy dolls from 1928 to 1946 in a dozen different sizes. Like your PatsyEtte twins, most of the Patsy dolls were made of composition, a mix of wood flour, cornstarch, sawdust and glue. The cornstarch must have been added to absorb moisture, but in Tennessee, it's difficult to win that fight. Composition doll bodies were said to be less breakable than bisque. However, moisture often accumulated over time and expanded the mainly wood interior. Cracking ensued.
Your shoeless boy and girl twin dolls might sell for $40 to $115.
Plate

Dear Connie Sue,

I am a Nashville schoolteacher, and I saw your article in The Tennessee Magazine.

This plate is about the size of a dinner plate, and I believe it's from the 1950s.

Can you identify it and possibly its worth? I found it in my mother's house while cleaning out the attic on this nice cool afternoon.

Thank you,
Marcia, Nashville
Dear Marcia,
Your mother's Depression glass plate was made by the Federal Glass Company between 1933 and 1937. The pattern name is Patrician or Spoke, and it was made in clear, green and pink. The company name for the color of your plate was Golden Glow, but everyone else calls it amber.
Dinner plates sell online for between $8 and $20. Replacements.com offers plates for $10, but the covered round butter dish in that color and pattern is $50.
pitcher

Dear Connie Sue,

I received this vase from my brother-in-law about 40 years ago. It stands 6.5 inches tall and reads "guaranteed 22 karat gold USA" with a number 647. I would like to know its value.

Wilburn
Dear Wilburn,
The majority of ceramic items marked "USA" were made by Shawnee and McCoy and the Pearl pottery companies. To satisfy the middle class demand for colorful pottery in the mid-1900s, companies often helped one another with orders and may have shared the USA mark.
Your little urn, with heavy gold on the top edge and handle over a yellow glazed body, was also made with pastel pink or blue beneath the gold floral overlay. Measuring close to the same 6.5 inches, they sell for $7 to $25. Although the guaranteed 22 karat gold mark is enticing, there's no way to scrape off the glitter and sell it for cash. It is simply a pretty, sparkly little thing.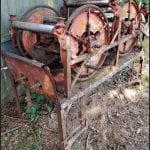 Dear Connie Sue,

We recently purchased a home, and this piece of machinery was in the backyard. We cannot locate any markings or names to give us a beginning into determining what it may be. We were hoping you may have some insight or know what it is.

Angela
Readers,
Do you know the name or use of this farm equipment? Email me with any clues at [email protected], and I'll determine a value in the coming months.