Dear Connie Sue,

This razor belonged to my wife's grandfather. We don't know how or when he obtained it. He passed away around 1961, and it had been in his possession as far back as my wife can remember.

The box shows that it was made by the Dixie Manufacturing Co., Union City, Ga. On the inside of the box it shows, "The number identifies record of this razor: 330020." The handle appears to be bone but is probably a celluloid that was used in the late 1800s to early 1900s. One side of the handle is slick, but the other side shows a nude woman standing on what appears to be a flower blossom.

At the hilt of the blade, there is an imprint that shows the blade was made by the Pennsylvania Knife Co., Alioute, Pennsylvania.

Can you give us any information as to when this razor was actually manufactured and what the value might be?

Neil, Medina
Dear Neil,
Sons and grandsons treasure their patriarchs' razors, and I see them often displayed. Intact razors with their original boxes sell for $10 to $20. Razors with a pretty girl, especially a nude, sell for $25 to $60.
The blade was made in Tidioute, Pennsylvania, by the Pennsylvania Knife Company between 1897 and 1906. I did not find any Dixie Manufacturing Company history, but quite a few straight razors made by it are for sale. They are often referred to as cutthroat razors. People used straight razors for a couple of hundred years until the 1950s when safety razors became the norm.
Dear Connie Sue,

I love your column! Can you help me with information regarding the pie safe I purchased this summer? It was part of an estate sale in Grundy County, and the realtor could only tell me it was a very old family piece. I don't know its age or value. I'm sure the tin is not original. Would any repairs devalue this piece of history? Thank you for your insight.

Stephanie, Bradyville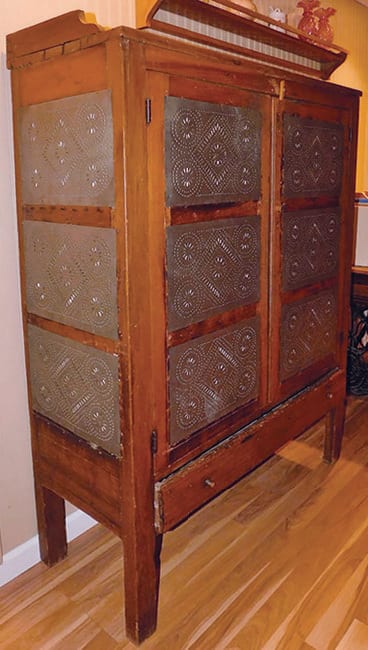 Dear Stephanie,
I'm glad you like the column, and, yes, I can help with the pie safe. Although it may have been made in the mid-1800s, it has been refinished and re-tinned and lost the original pulls. I think it is made of pine and poplar. As a cupboard, it has possibilities and needs a bit of a spruce-up.
The tin would look better if it were tacked on the inside, and the wood could be painted black with porcelain pulls to show off the shine. Don't gasp; the refinished wood will still be there for future generations to discover. You probably already have a plan. I give you permission to alter as desired. Similar pie safes in this condition struggle to sell for $200.
Dear Connie Sue,

This mirror belongs to my mother and was given to her by a great-aunt back in the 1960s, I believe. It has gold leaf and a marble shelf. We hope you can tell us where it was made and what it might possibly be worth.

Anna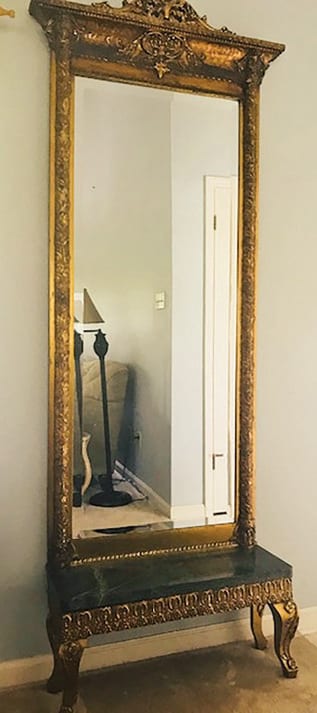 Dear Anna,
Your mother's gift is called a pier mirror. Early tall mirrors were placed between two windows. To make the mirror even taller, they were placed on a shelf or pier, thus the name. Bright gold and elaborately formed pier mirrors were popular in America during the Victorian era. Ceilings were tall, and so were the mirrors.
Because your mirror seems to be pictured in a modern, shorter-than-12-foot room, I think it is 20th century. The black marble is striking as is the beveled-edge mirror. Today, I see pier mirrors in entries or at the ends of halls. Yours might sell in the $300-to-$650 range.