Dear Connie Sue,

I have a woven tapestry I inherited from my great-aunt. I have no idea of its value. It has a stamp on back that says "Made in France." Any information you could provide me would be greatly appreciated. Thank you so much!

Amy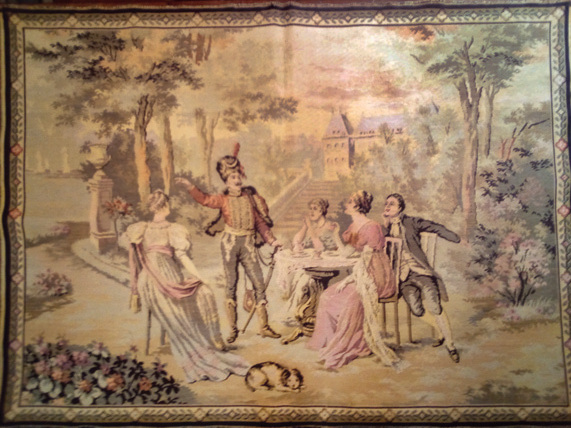 Dear Amy,
The French have excelled in the production of fine tapestries for centuries. Early wall hangings typically included lush gardens, groups of people and breathtaking color. The skill and time required to create large textile tapestries meant only the wealthy or royal could afford them until well after the Industrial Revolution.
The mark "Made in France" indicates your great aunt's tapestry was made after 1914. There may have been a paper label applied onto the back of the piece as well. I've seen remnants of them on other tapestries. In the second quarter of the 20th century, small industries were busily making beautiful things by machine that were once made by hand. The cost for these goods was within reach of some working people. Similar tapestries sell today for $20 to $100.
Dear Connie Sue,

You're very generous to provide this service. I have a chopping block from our family home. It was purchased by my parents from a butcher in the 1960s. My dad lathed the legs to add some pizazz to it.

When I was 10, I started burning the recipe for sourdough waffles in the side of it and finished burning the recipe while my dad was ill. The block is about 30 by 30 inches and about 35 inches tall. I'm interested to know what you think.

Polly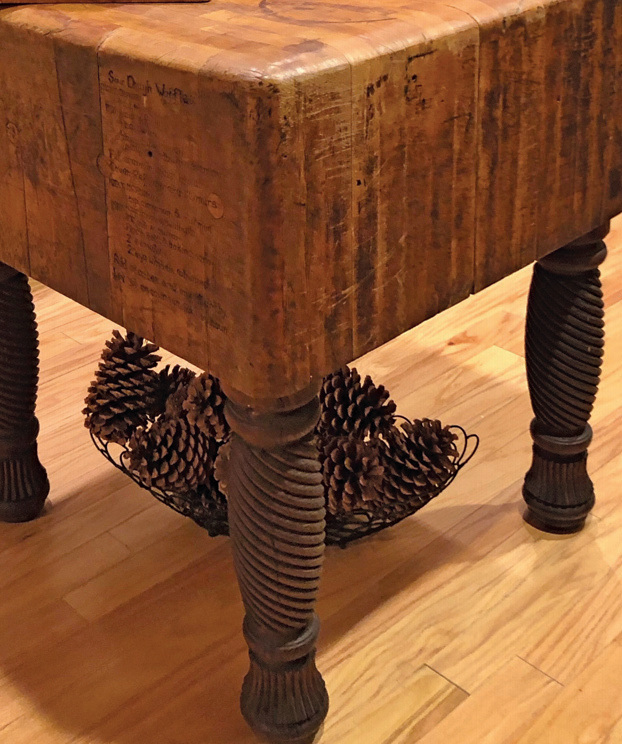 Dear Polly,
First, let me say that those legs are exquisite. The form, legs, condition and burned-in recipe are fine features if ever you decided to sell. Similar butcher's blocks can bring as little as $150 at tag sales. They are heavy to move and difficult to squirrel away unnoticed. But they can also bring $850 if the right buyers can be found.
Dear Connie Sue,

These two vases are 20 inches tall and have original stickers on them: "Florentine Original, Made in Italy." I would appreciate any information you might have about these.

I enjoy reading your appraisals in The Tennessee Magazine!

Lisa, Franklin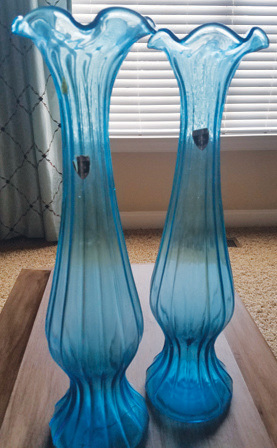 Dear Lisa,
Your tall blue vases were made in the 1970s. In my mind's eye, I can see a window sill full of tall glass vases all in a row. It's a groovy blue, and with the labels intact, the pair would sell for between $10 and $45.
Dear Connie Sue,

This is my husband's grandfather's tool chest. It was made in New York City in the early 1900s. He carried this to Long Island homes and hotels to build their cupboards and woodwork. Do you know the value of this with and without tools?

Irma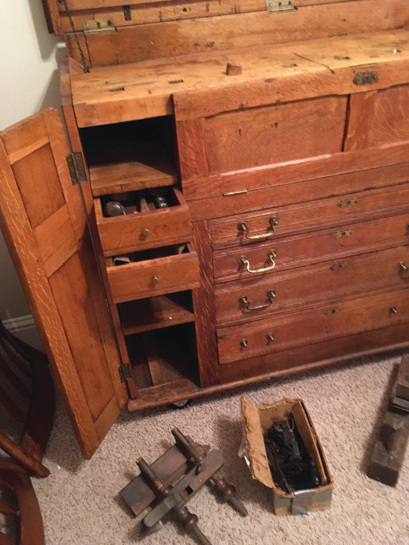 Dear Irma,
This Hammacher Schlemmer oak work bench could sell in the $1,500-to-$2,800 range from an antique mall, tag sale or to another person. However, from a nationally advertised auction of early tools, the value could be higher. Buyers assembled with a similar interest tend to be competitive.
With only a photo or two, it is impossible to determine value of the tools. I advise you not to simply throw the tools into the sale of the bench. Further research is advised.