Dear Connie Sue,

My great-aunt left me her antique china. I have contacted Replacements Ltd. and antique shops in Franklin, attempting to identify the name of this pattern. I have found nothing!

She told me she purchased it years ago at an estate auction in Georgia. I hope you will be able to help me identify this pattern and give me directions on obtaining an appraisal.

I would love to sell this set so that someone could display/use/enjoy it as my Aunt Dot did!

It's marked: "Haviland & Co, France, pour, R.J. Allen Son & Co., Philadelphia."

The pieces I have are:

5 dinner plates
6 salad plates
1 oblong small tray
4 butter individual plates
6 fruit/dessert bowls
1 rectangle tray
2 rectangle low bowls
1 gravy with tray and lid
6 soup bowls
6 saucers
4 cups
2 round casseroles with lids
2 square vegetable bowls
2 oblong casseroles with lids

Sandy, Hendersonville
Dear Sandy,
Production of dinnerware by Haviland and Co. began in France in the 1850s. Producers didn't think to name their patterns until the 1920s. The mark on your set indicates it was produced in France around 1891 for consumers in Philadelphia.
By the 1950s, Havilland had reproduced many of its most popular patterns with modern marks. Like you, brides were inheriting heirloom sets and wanted more pieces to match. A frustrated matching service seller, Arlene Schleiger, decided to write a pictorial catalog of patterns and the various blanks with assigned numbers. There are five volumes with more than 200 patterns. Her numbers are used by sellers today and on Replacements.com alongside pattern names.
I know you're curious, but the cost of paying an appraiser to find the pattern name would not increase the value of the dinnerware. However, your family history and the age of the set are great selling points.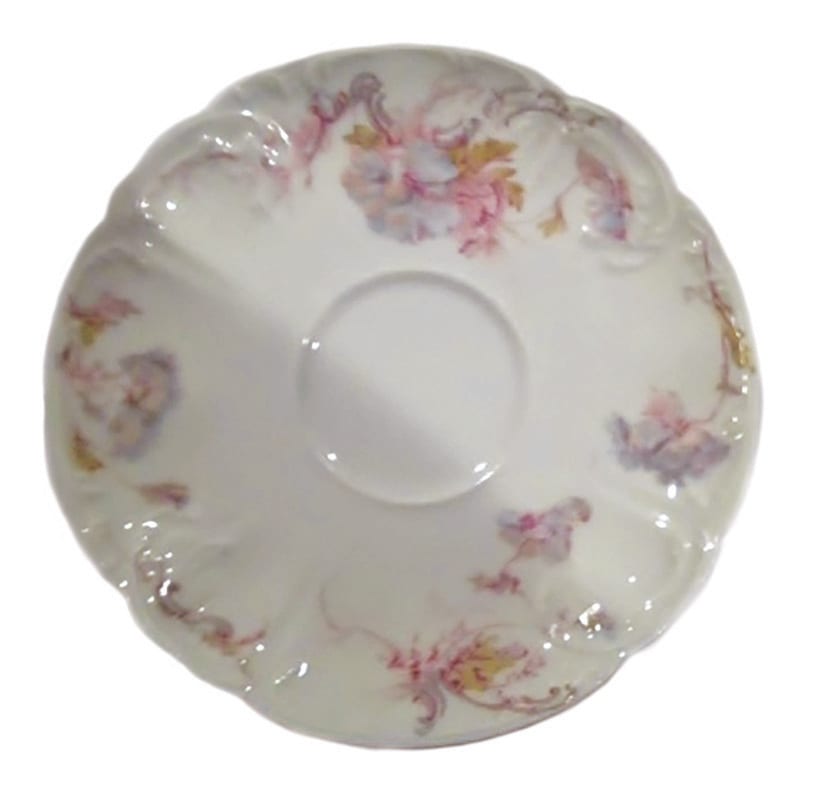 For the 52 pieces listed, you should expect to get no more than $175 to $375. You would make more money grouping parts of the set. Offer the serving pieces separately for $18 to $25 each or a seven-piece place setting for $45. Ask $12 for a cup and saucer. This way, more people could enjoy Aunt Dot's dishes.
Dear Connie Sue,

This table belonged to my great-grandmother. It has removable blue mirrored glass on the top and a shelf on the bottom. It also has a patent stamped on the bottom. Perfect condition. I keep it hidden so it can't get broken!

Vicki
Dear Vicki,
It's a flashy table.
You've almost kept it hidden from us. Deep blue mirror-top tables were made in the mid-1900s. Their art deco form and color are quite popular today. Online they can be found from $50 for damaged tables to more than $1,000 for a set of three perfect tables.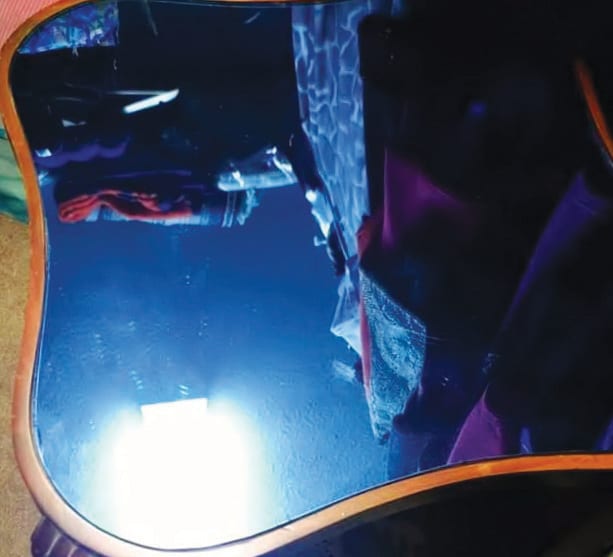 Dear Connie Sue,

Do you know the current value of this impressive silver centerpiece with a cut-glass bowl top on a central bowl support flanked by recumbent griffins on a quatrefoil footed base?

18 by 10.5 by 11.5 inches
Weight: 65 troy ounce silver
Marked: "Birmingham 1897 Ellington & Co"

Bill, Tullahoma
Dear Bill,
I found a half-dozen centerpieces and griffins made by Ellington & Co. sold at auction in the last three years. Although the size or pattern of the bowl varied, the four-foot base with griffin guards are identical in marking and design. They sold for $1,500 to $5,500 with most around $3,500.