Dear Connie Sue,

This piece has been in my family for as long as I can remember. It was my mother's great-aunt's. You can put a piece of lit cone incense on the stand under the lady, and smoke comes out of her mouth. It's all metal.

— Joan
Dear Joan,
Your flapper incense burner was made between World War I and World War II. The same lady with bobbed hair and short skirt was cast onto a stool or without a seat to sit alone on a shelf. She was cold painted after casting and offered with different hair and dress colors. They sell for $50 if worn and chipped to nearly $100 if perfect. Your lady is near perfect.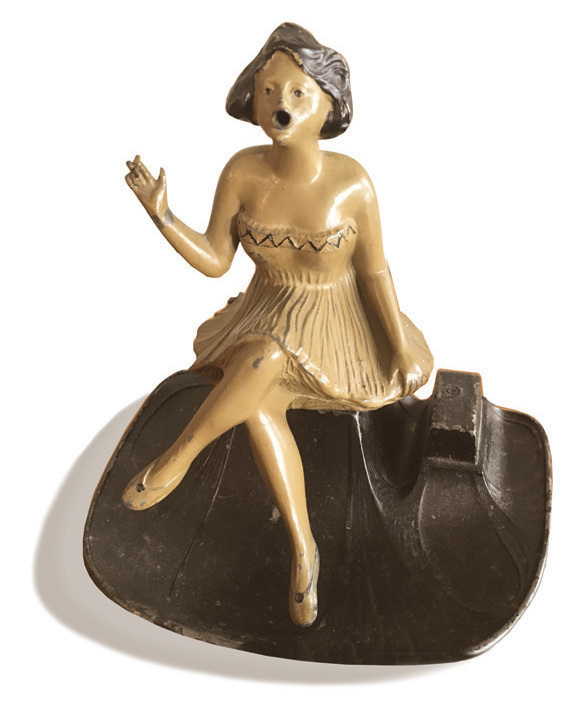 ---
Dear Connie Sue,

My great-grandfather, who served in the Army of Tennessee under Gen. Lee, purchased mother-of-pearl coin purses for my grandmother and great-aunt on Confederate Day of the Tennessee Centennial in 1897. Inside on the paper lining is the word "mein." It is 2¼ by 1½ inches. Can you give me more information about it?

— Barbara, Sewanee

Dear Connie Sue,

I inherited this owl compact from my paternal grandmother's estate. My uncle had been overseas in his early 20s, so perhaps that's where it was acquired.

I am very curious about what the little compact was used for as it does not appear to have ever had a mirror inside. It has a carving inside.

— Joni, Middle Tennessee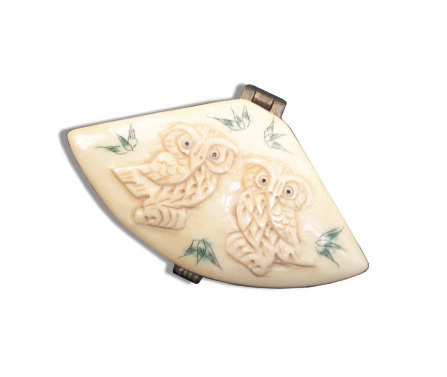 Dear Barbara and Joni,
Mother-of-pearl shell compacts and coin purses were popular gifts from gentlemen to ladies from the 1880s through the World War years. They were available in shops where travelers might choose gifts small enough to take home in one's pocket.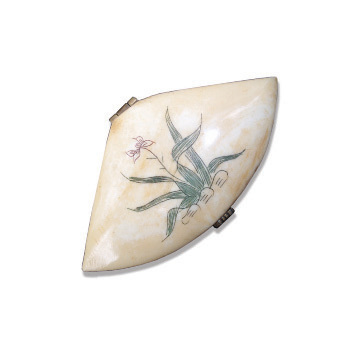 Joni's triangular compact might have held a ticket, coins or a dance card. It has incised lines to intensify the pastel and yellow flower on one side and an owl carved in relief on the other side.
Barbara's compact is an obvious purpose. It has corners of pastel flowers and a fitted red leather interior to contain coins. The tiny slip of paper with the printed word "mein" translates from German to "my" or "mine." This may indicate but not confirm the country of origin.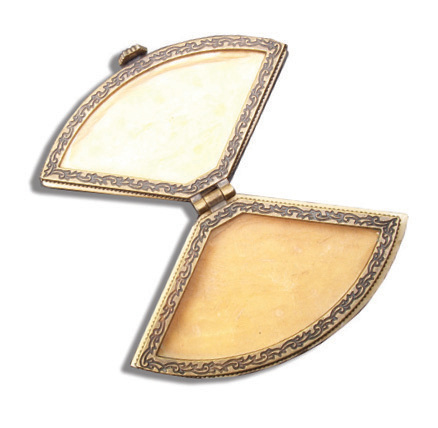 These "smalls," as they are called, might sell for $18 to $45 in shops. I see groupings hung on walls and displayed on Victorian dressers.
Compacts are personal items. They remind us of beloved matriarchs and the gentlemen who thought of them while traveling.
---

Dear Connie Sue,

This shaving mug and brush belonged to my great-grandfather. Mid to late 1800s. No markings or damage. That's all the history I have.

— Steve
Dear Steve,
Your great-grandfather's stag, or elk, motif shaving set was made before 1890, the year the McKinley Tariff Act was passed into law. In addition to taxing foreign imports, the rule required items to be marked with the country of origin.
Antique shaving accoutrements are gaining popularity for sentimental reasons. If offered at an antiques mall, I'd expect to see a price of $45 to $85.
I don't think they came together. The brush handle is hand-painted. The mug has a decal. It is European, not American.