Dear Connie Sue,

I am a fan of yours from The Tennessee Magazine that I receive from North Georgia Electric. I acquired this cabinet when my father passed away a few years ago. It was stuck back on a shelf, and we have been unable to find out anything about the piece. There is no information available for Charlotte Linen Service. It appears to be a towel cabinet of some sort. Could you tell me what it is and how old it might be?

Darla
Dear Darla,
In the early 1900s, linen service companies leased or loaned little cabinets like this to their customers, often barbers. The label on your cabinet notes the Charlotte (North Carolina) Linen Service was a division of National Linen Service. The cabinets were used in businesses, not homes. Similar cabinets can sell for anywhere from less than $100 to over $400.
The metal towel bar replaced a broken wooden bar.
Dear Connie Sue,

I read your column in The Tennessee Magazine and am hoping you can provide me information on this pig, which I think is a match/cigarette holder. I believe it originally belonged to my grandfather, but my father wasn't sure of its history. The only marking I can locate is what appears to be the number "685" stamped on the underside. I would greatly appreciate any information you can provide — when it may have been manufactured, what it is made of, value, etc.

Judi, Murfreesboro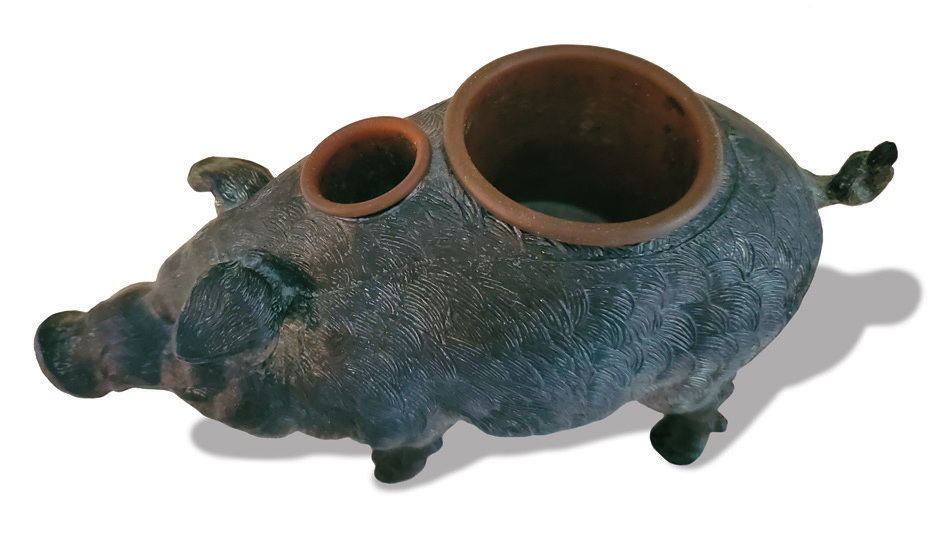 Dear Judi,
He's a boar-shaped cigar and match holder made of white metal around the World War II era. The inserts are brass. An exact match of your figural boar smoking set is offered on eBay for $199. The number under his neck, as the seller sees it, is 635.
Another with a silver wash finish is offered by an antique shop and priced at $357.50. For some reason I can't get that 50 cents out of my mind.
I did not find a sold listing to bring this range of value into reality.
Dear Connie Sue,

This desk has been in my family for 60 years, but I imagine it is much older. Can you tell me about this?

The maker's mark on the back is reminiscent of a cabinetmaker scribe tool (arched) but is very faint.

The desk is craftsman style and measures 27 inches wide by 52 inches tall by 11 inches deep.

There are two drawers inside with multiple cubbies and a locking door. The drop table has a lock as well. All construction is mortise and tenon. It's made of quartersawn golden oak.

Paul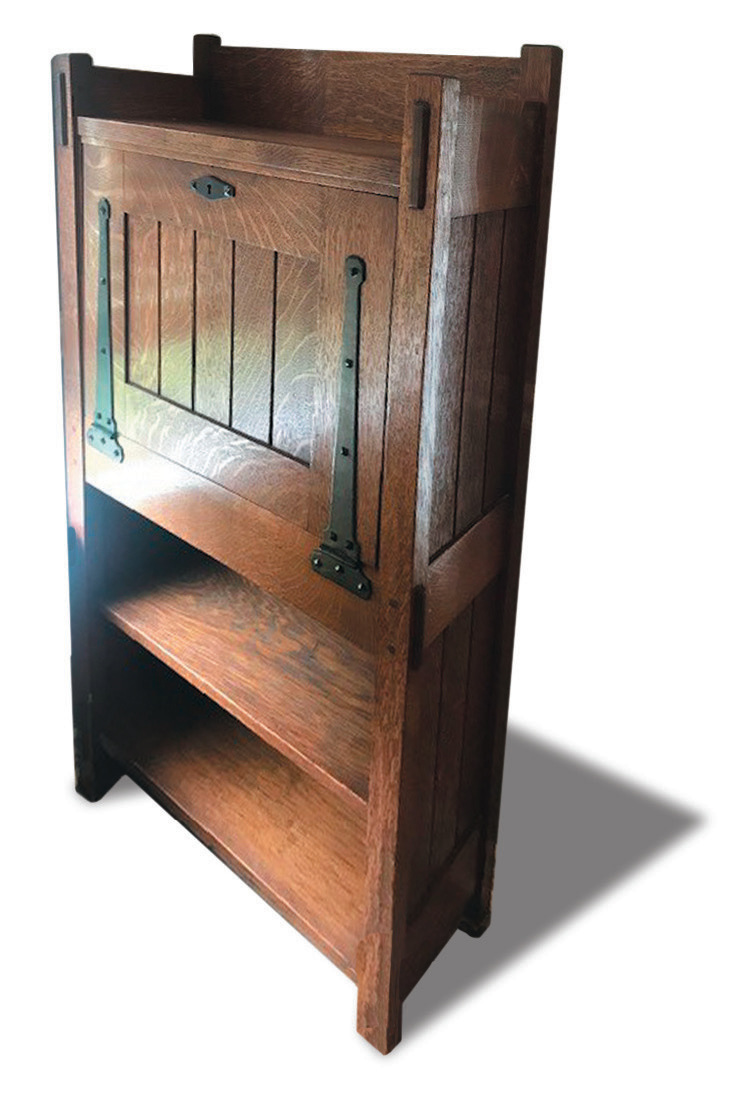 Dear Paul,
First made by Gustave Stickley in the early 20th century, this desk is known as his No. 518, strap hinge drop-front desk. It had hand-hammered straps. Stickley furniture is clearly marked, often in red. I wasn't able to identify the incised mark on your furniture.
I think your desk may be after Gustave. And this is where values run amok. Marked desks easily sell for more than $8,500. However, desks with no mention of a mark also sell for $2,000 to $5,000. Seemingly insignificant damage and implied shortcuts to construction will keep the value below $2,000.
From the photos sent, your desk appears to have slightly smoother hinges, and the fitted interior configuration is different than early, marked Stickley furniture. Offered at auction, you have a four-figure (over $1,000) desk, but I'd keep looking for a mark or remnants of such.