Connie Sue,
Can you tell what furniture type or style this chair is? I have four of them. My grandmother bought them in the 1920s. They still have the tax stamps on the bottom, as they were shipped from Hickory, N.C.

Thank you,
Laurie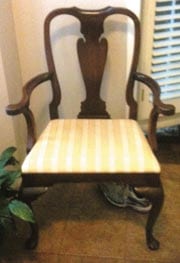 Laurie,
Your grandmother's chairs were made during the Colonial Revival period, which dates from 1880 to 1940. During this time, furniture-makers imitated America's 17th- and 18th-century styles by using modern tools and factories. The chairs should be well made and can be updated by reupholstering the slip seats. With the cabriole leg, pad foot and slip seat, the chairs are circa-1920 reproductions of Queen Ann dining chairs that were originally made from 1730 to 1760.
Dear Connie Sue,
The art deco candy/nut dish and ash tray have been in my family for quite some time. The bottom is stamped "Noritake. Made in Japan." The iridescent finish is still in pristine condition. What can you tell me about these pieces, and do they hold much value?

Thank you,
Carrie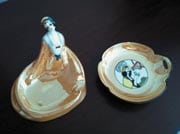 Dear Carrie,
In an auction of a large collection of Noritake porcelain held in Ontario on June 1, consistently high values were shown for colorful pieces — and especially figural pieces. Your art deco lusterware woman on a trinket bowl sold for $550. Although simply holding out your hand to receive that much money is not realistic, the sale does affirm that significant money is possible. The portrait pin dish might sell for $150. Condition is important, so mind the scratches.
Ms. Connie,
Hi, my name is Ashton from Hickman. I'm not sure what this is. My grandfather recently died, and we found it in his stuff. It was in a box that had my great-great-aunt's things. My mother said it might be a collar to a shirt or dress but wasn't sure. I would like to know anything about it, what time it is from and how much it is worth, although I don't want to sell it. I think it is very neat. I would appreciate your help. I love your articles in The Tennessee Magazine.
Hello, Ashton,
Your great-great-aunt's beaded collar with rhinestones was attached to a simple collar of a sweater or blouse. In the 1940s, ladies had fewer clothes but added variety to their wardrobe with accessories. They would baste-stitch the collar to attach it or use snaps and hooks. Similar collars sell for around $18. A label would double this value.
---
Want to learn more about your antiques?
Send your inquiry with photos to the mailing address or email below. Only published appraisals are free. Private appraisals are available for a fee. Call 615-672-1992 for an appointment. No appraisals are given over the phone.
Connie Sue Davenport, P.O. Box 343
White House, TN 37188
615-672-1992 • email: [email protected]
Connie Sue Davenport, ISA AM, offers antique appraisal events, private appraisals and estate sale consulting services to individuals, businesses and organizations. Sign up for "IT'S JUST STUFF," her FREE quarterly newsletter at: www.ConnieSue.com.