cookbooks

Dear Connie Sue,

These cookbooks were used by my grandmother and mom. I was wondering if you knew the value. The "Pillsbury 5th Grand National 100 Prize-Winning Recipes" is a first edition dated 1954. It is stapled at the spine. The "American Everyday Cookbook" is still intact, slightly yellowed and dated 1955.

Thank you for your help.

Bonnie
Dear Bonnie,
Many of us have family recipes in a little metal box on the counter or have kept the recipe book most used by a beloved matriarch. The ease of finding a recipe online and the trend toward clearing bookshelves have rendered the accumulation of cookbooks less appealing.
This trend is evident in the price asked for your family cookbooks. One very hopeful seller has listed a pristine 1955 "American Everyday Cookbook" for $89.95! Enthusiasm for the black-and-white covered first-edition "Pillsbury Grand National Recipes" is more subdued with the highest asking price of $12.95. Both are actually selling for around $5.
cast-iron trucks

Dear Ms. Davenport,

My late father had these cast-iron automobiles, and I believe they belonged to either his father (born 1920s) or his grandfather (born 1880s). I was hoping to get some information and/or find their value. Can you help?

Online submission
Dear reader,
I'm pretty sure the cast-iron trucks were made mid-1900s or as late as the 1970s. Early iron toys were sand-cast. The original pieces, made by skilled craftsmen, were used to make molds of fine, tightly packed sand. Molten iron was poured into each mold to make separate halves of the toy. The halves were then joined and secured with bolted screws.
Reproductions were made from the original toys. Each time a new batch of reproductions was produced, the detail of the original, finely crafted toy became less distinct.
Original toys fit together with amazing perfection with very little gap between the halves. The features and moving parts were finished with greater care. Most were painted with multiple colors. The molds for later pieces were made using an original toy into which iron was poured into coarser sand.
Looking carefully at the back and base of your trucks, you can see what I am describing. Mismatched sections and crooked wheels are the first clue followed by the pristine black paint without wear or oxidation. The set of four trucks indicates a 20th-century reproduction as well. Their production was made to appeal to our nostalgic yearnings of both old trucks and sturdy cast-iron toys. We had it bad in the '70s during the ramp-up to our nation's bicentennial.
Old toys can sell for thousands of dollars and are hard to find with original paint and minimal rust. Your toys are fun, functional and from your family. They might bring $10 to $20 each.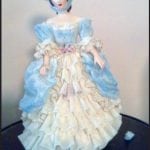 Dear Connie Sue,

The statue was from my late grandmother. After all these years, some of the skirt has broken off. On the bottom of the statue is: "Theresa, #1814, China."

Can you tell me the worth?

Debbie
Dear Debbie,
The technique for adding lace to the skirts of pretty-lady figurines was developed near Dresden, Germany, at the Meissen porcelain factories. Decorators developed a method of dipping paper lace into liquid porcelain, then applying the wet lace to the figurine. When fired, the paper lace burned away, leaving luscious layers of furling, porcelain lace. Early pieces are marked with the maker's name and often the country of origin. Perfect ones can easily go for well more than $1,000. Most pieces are damaged and sell for $25 to $500. Earlier pieces have a bisque finish on the face and arms.
China got to this party a bit late, I'm afraid. Our mothers' and grandmothers' love of lacy figurines does not appeal to today's market. Your slightly damaged Theresa #1814 would struggle to sell for $20.