From smoothies to spritzers, salads to sherbet, this versatile summer fruit will delight and bedazzle your family and friends
It's hot! Grills are fired up so the kitchen doesn't get extra heat, and if you're lucky, there's a refreshingly cool watermelon in your fridge. Melons arrive just in time for the dog days of summer, and they'll be here at least through Labor Day. Enjoy them all season long with recipes that let you showcase that cool watermelon flavor in salads, drinks and throughout the meal.
August Recipes
Cooking tips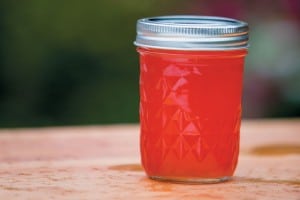 Botany: Watermelon is a member of the cucurbitaceae family and is related to pumpkins, squashes, gourds, cantaloupes, cucumbers and chayote. The family is very large and includes 90 genera and more than 700 species.
Origin: Food historians believe watermelon originated in the area that is now India.
Growing: Watermelon is a trailing annual with long stems and branched tendrils. The root system is extensive but shallow.
Selection: Depending on the variety, the color of the rind may vary from a deep emerald green to various shades of green with stripes. The underside where the melon rested on the ground should be yellowish in color. Shape is determined by the type and is not an indicator of quality. Some seedless melons may contain small white seeds, which are edible. Although uncut melons can be kept at room temperature for a couple of days, it is best to serve the melon chilled since it enhances the flavor.